DUNKIRK, N.Y. — A first-of-its-kind research boat on Lake Erie is headed toward Western New York after setting sail on July 14 and tracking fish populations from Toledo to Cleveland, Ohio.
The boat doesn't have a captain but that's kind of the point.
The bright orange boat called a Saildrone Explorer is an entirely autonomous research ship that once towed out into the lake sails on its own, along a GPS-charted path.
After covering the western basin of Lake Erie, the boat is headed toward the eastern basin and could be visible on the water between Erie, Pa., and Dunkirk through early September.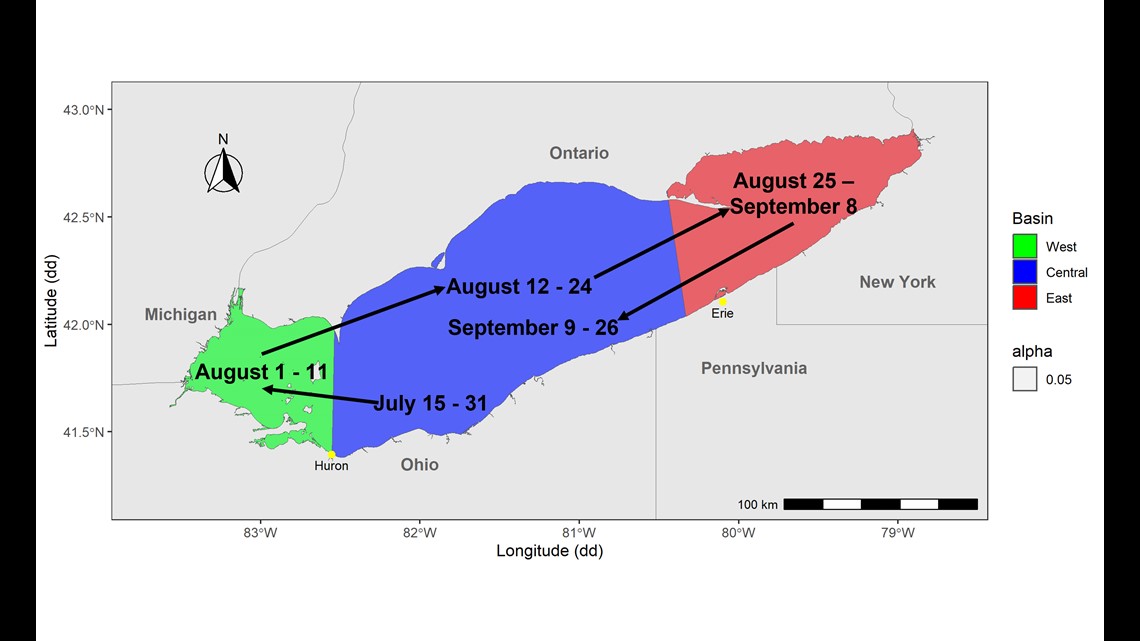 The vessel is equipped with several sensors both under and above the water, including a fisheries echosounder that uses sound to detect fish.
"It's very similar to a depth finder or a fish finder on a recreation vessel," DuFour said.
He added that the Saildrone essentially shoots out sound waves that bounce off of fish and return to the boat as a reading.
"Our equipment just has a little bit more specific information to determine the size and the number of fish that are out there," DuFour said.
The technology is not able to tell what type of fish are below the boat but coupled with traditional fish surveys like gill netting and bottom trawling, the cited goal of the project is to improve how Lake Erie's fish population is managed.
"Any kind of extra information that we have can be beneficial to understanding how the populations are working. Then that translates into good management practices, so we're working really closely with the fisheries managers around the lake from the all different jurisdictions," DuFour said.
Those striking numbers are almost as striking as the Saildrone's paint, the bright orange is purposeful, DuFour said. The color makes it visible from as far as 5 miles away. If you do spot the boat, however, steer clear.
"It moves relatively slow. We are asking folks to give it a nice buffer of about 1500 just so we can complete our mission," DuFour said.
While he could not provide any of the initial data from the western end of Lake Erie, Dufour is hopeful that the results will answer questions they couldn't get without the autonomous boat.