BUFFALO, N.Y. — Get ready Western New York: the first major fall weather system arrived Friday night, and it brought strong to severe storms, heavy rain, gusty winds and cooler temperatures through Sunday.
A low pressure system developed over Indiana early Friday, got picked up by the jet stream, and shot our way Friday night. This system will intensify as it does, bringing the chance for inclement weather to the eastern Great Lakes primarily Friday night through Saturday night.
The rain will be the first thing that you notice across Western New York. The rain will be scattered but moderate in nature. As we get later into the evening, around 7 p.m., the potential for thunderstorms increases with heavy downpours, gusty winds, and the possibility of some hail as well.
A few of these storms could grow and intensify to severe strength with damaging wind gusts up to 60 mph as one of the main concerns along with heavy rain. There is a small tornado threat as well especially across the Southern Tier.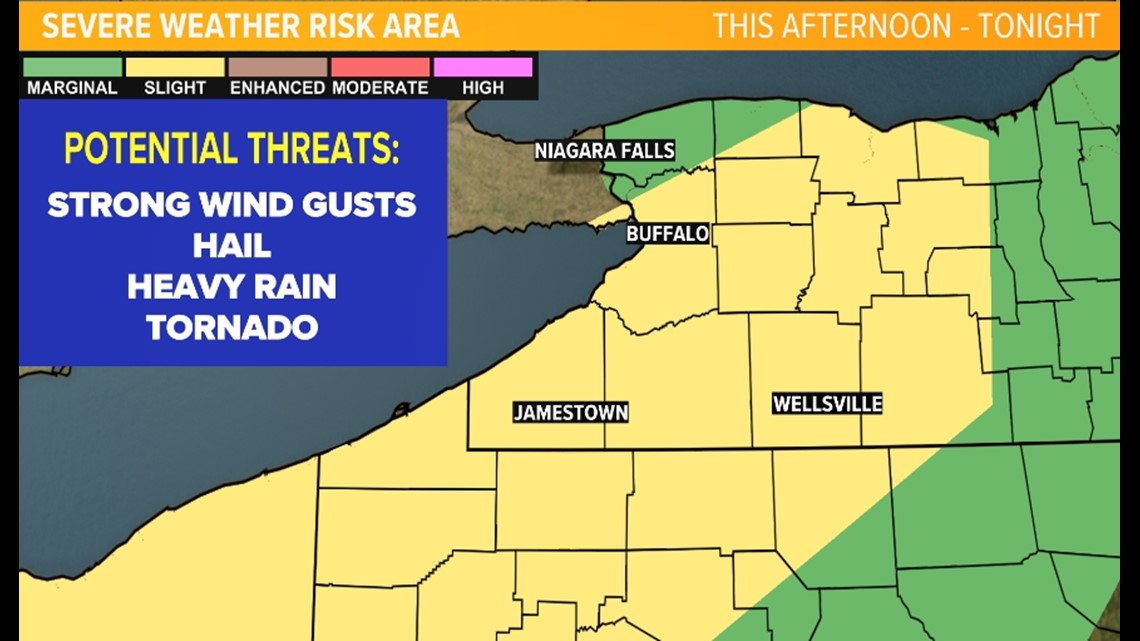 The Storm Prediction Center has Western New York within a severe weather risk area of 2 out of 5, or a Slight risk for severe weather Friday and Saturday.
These showers and storms will last throughout the day Saturday, weakening to just showers in the late afternoon and evening as a cold front moves through and the system lists to our north and east. There way even be some dry time tomorrow afternoon. As this happens, a few showers will linger into Sunday but winds will pick up and temperatures drop bringing that fresh fall feeling into Western New York.
By the end of the weekend, Western New York will have picked up between 1 to 2 inches of rain, upwards of 3 inches of areas that receive some of the biggest storms. Flash flooding could be a concern for those areas.
Next is the wind. With the chance for sustained gusty winds after the rain clears, there is the small chance for localized power outages and minor tree damage. Mostly, weak branches and fall foliage could be lost in this storm.