BUFFALO, N.Y. — An active and unsettled weather pattern will continue to rule Western New York's corner of the atmosphere this week. A couple of weather systems will pass overhead, renewing the chance for scattered showers and a few thunderstorms. It appears that Tuesday's setup has some of the ingredients needed for a few stronger thunderstorms in parts of our area. This threat will target the Southern Tier and northern Pennsylvania. The Buffalo metro area is not expected to see any severe weather.
Forecasters with NOAA's Storm Prediction Center have highlighted the Southern Tier and some of the Southtowns as a region where isolated severe thunderstorms are possible later this afternoon and evening. The risk level is relatively low, a one on a scale of one to five, but a couple of storms could produce damaging winds and small hail.
As of 4:00 p.m. Tuesday, a line of thunderstorms has been moving north towards Western New York's Southern Tier. Storm Team 2 will be watching this carefully through the evening as they have a history of producing gusty winds and frequent lightning in addition to heavy rain.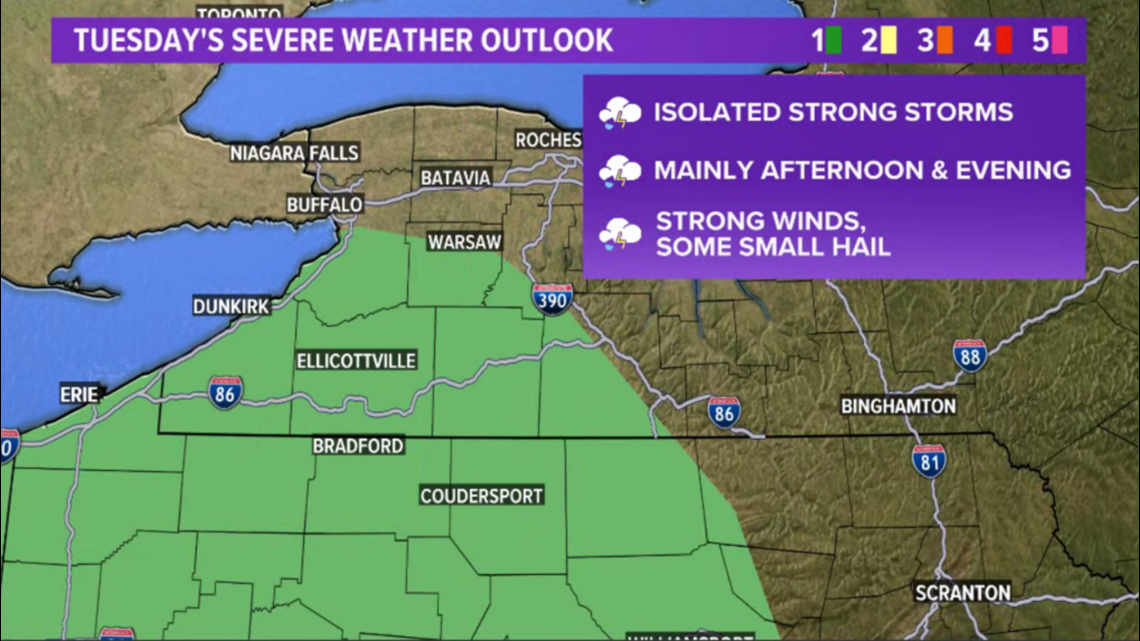 Buffalo and other locations that aren't highlighted in this risk area could still see a few thundery downpours. Wherever you are in Western New York, Tuesday will be a good day to have easy access to a radar. You can use Storm Team 2's radar through the free WGRZ app on your favorite mobile device.
Tuesday's storms will be scattered meaning most places should still have plenty of dry time. If you want to get out for a bit, it'll be mild with a high near 70 degrees and a slight touch of humidity. The breeze will be light, too.
A cold front will come through on Wednesday, bringing another round of just plain rain and then cooler air for the rest of the week. Check out the seven-day forecast anytime at wgrz.com/weather or on the WGRZ app.