BUFFALO, N.Y. - In the Buffalo Police Department, specialized SWAT and narcotics units often conduct some of the most dangerous police work. These officers pursue armed suspects during high-pressure search warrant executions, and they constantly have to evaluate their surroundings as they enter homes of potential drug dealers.
These officers are also the ones most likely to encounter dogs -- sometimes very large dogs, like pit bulls -- during the course of their normal operations.
Three years ago, a 2 On Your Side investigation revealed that Buffalo Police officers opened fire on dogs at a pace of about once every two weeks, killing the vast majority of the animals. According to department records obtained by 2 On Your Side through the Freedom of Information Law, one officer alone had shot as many dogs in 2011 and 2012 as the entire New York City Police Department. In an interview in Nov. 2014, the department did not indicate that it offered any training for aggressive animals in the line of duty, even though many law enforcement agencies across the United States had started to prepare their officers for these situations.
In the three years since that story aired, though, it appears major changes have occurred within the Buffalo Police Department.
Training has been implemented, and the department has placed a greater emphasis on saving the lives of animals during high-intensity search warrant executions.
The new methods appear to have made an impact: According to documents obtained through three subsequent Freedom of Information requests made by 2 On Your Side, incidents of officer-involved dog shootings have declined drastically over the course of the past three years.
In the department's first on-camera interview about animal encounters since Nov. 2014, Lt. Jeff Rinaldo explained last month that members of the narcotics and SWAT teams now receive extensive aggressive animal training. These officers often encounter dogs that are specifically trained by their owners to attack law enforcement.
Recruits in the police academy also receive aggressive animal encounter as they embark on their new careers. For example, they watch videos derived by the U.S. Department of Justice about how to read a dog's body language and other "use of force" considerations. That training took effect in late 2014, as 2 On Your Side has previously reported.
"I think you're starting to see more animal rights groups and SPCAs put their heads together and try to find solutions for law enforcement," Rinaldo said. "And so far, those seem to be having a good impact."
The numbers prove that. According to the Firearms Use reports reviewed by 2 On Your Side, incidents involving dogs have been cut in half since 2014.
Use of deadly force against animals has not been entirely eliminated, however. The latest batch of Firearms Use reports, spanning July 2016 through July 2017, reveals that officers shot 10 dogs and killed five of them during that time frame.
Last March, for example, the Buffalo Police Department's narcotics team searched a home in the city's Black Rock neighborhood and encountered a "large aggressive mastiff/pitbull." According to the Firearms Use report filed by the police officer, the dog "broke out of a bedroom and tried to attack officers. I fired three shots from my City issued .12 ga Mossberg shotgun to end the threat."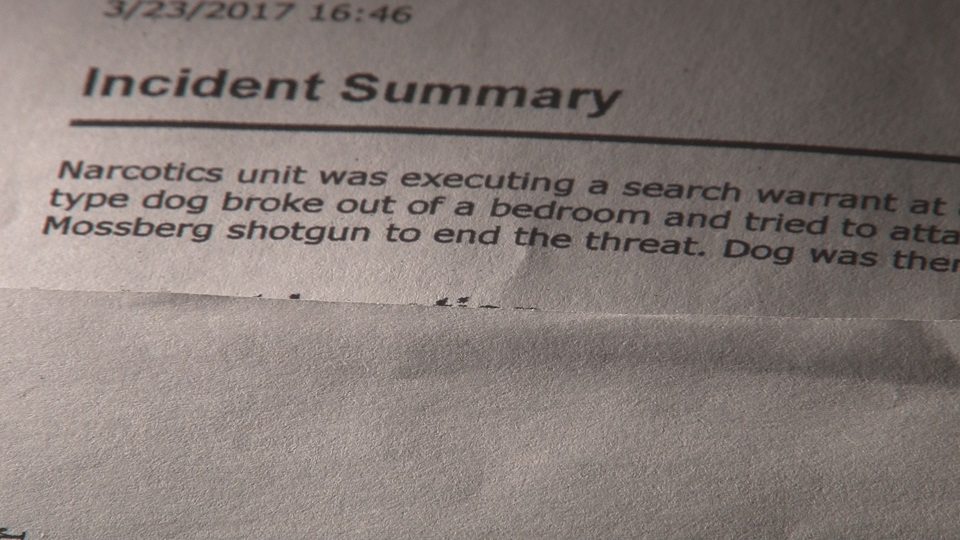 Lt. Rinaldo said sometimes these incidents are inevitable -- however unfortunate they may be.
"I can tell you, it's something that no officer enjoys doing," Rinaldo said. "The animal is truly the innocent bystander in that situation."
Buffalo Common Council Member Joseph Golombek, who represents the North District, began researching this issue of animal encounters after police shot a dog in his neighborhood. He then sponsored a resolution this fall, titled, "New Standards for Handling Companion Animals While Executing Warrants."
According to the language of the resolution, officer-involved dog shootings have "been a cause of concern for constituents in The City of Buffalo." The resolution calls on Buffalo Police to continue seeking new training methods, citing a study in Kansas that showed dog behaviorist training had helped reduce the shootings of dogs by 80 percent.
"Things change in the world of policing, and they'll continue to change. I want to make sure Buffalo continues to be on top of them," Golombek said. "If there is a way to deal with dangerous dogs or potentially dangerous dogs, that doesn't kill them, I'd like to take a look at that. As long as it doesn't put any of our officers in harm's way."
Golombek said he's been pleased with the department's willingness to implement new training methods for animal encounters.
The Buffalo Police Department, unlike other agencies, still does not equip officers with Tasers, spray or fire extinguishers as alternative means of containing dogs.
Rinaldo said those tools have been proven to be ineffective in the line of duty. Tasers, for example, do not work well against animals, he said.
The training for Buffalo Police officers is not technology based, but rather intelligence and awareness-based.
"It's more of making officers aware and kind of having in your head to look for animals, more so than finding yourself in a situation where there is one," Rinaldo said. "It's just a readjustment of how we conduct ourselves when there may be a vicious animal around."