BUFFALO, N.Y. — As promised, the second of two storms for this week has been much gentler on Western New York.
As of Thursday afternoon, the center of the storm system bringing our light snow today has been tracking through the Mid-Atlantic, keeping the heaviest precipitation well to our south. This system will continue to move to the Northeast, sending a couple of waves of light showers through our region tonight and then again on Friday. Shifting winds may stir up some more scattered lake snow showers Friday night into Saturday.
Snow accumulations will be very manageable: expect 1 to 2 inches tonight into Friday morning and then another 1 to 2 inches Friday evening through Saturday morning.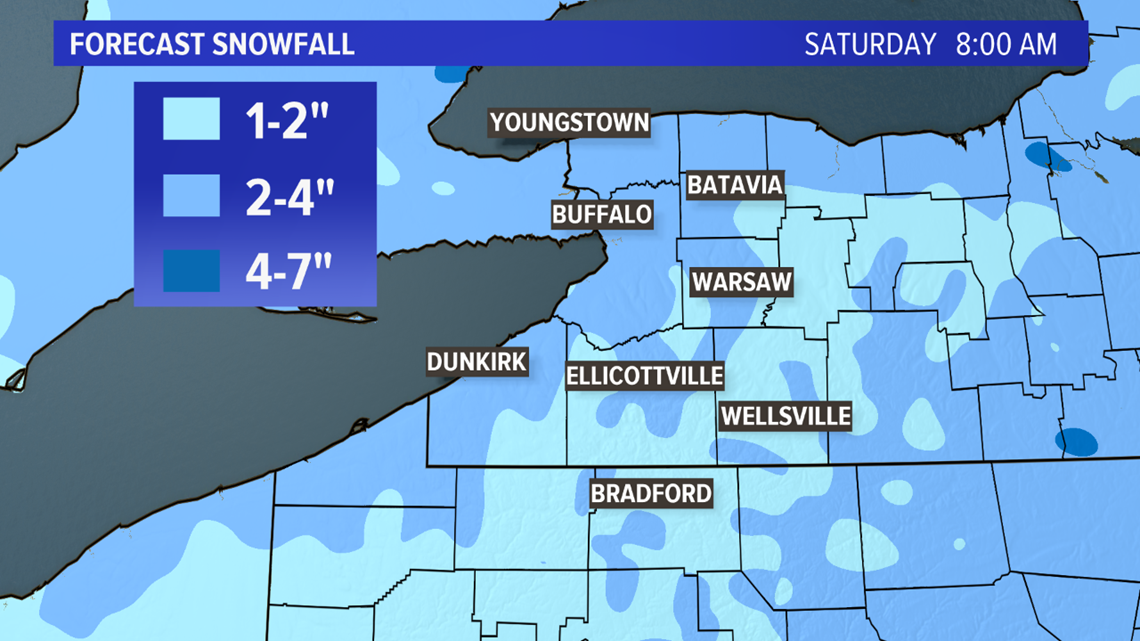 While snow will be light, there may still be travel issues tonight and Friday. There may be patches of freezing drizzle mixed in with snow, which could make road conditions deteriorate very quickly.
Travelers should plan for poor road conditions throughout the region late Thursday evening through Friday. Pockets of snow-covered roads and poor visibility will continue Friday and Saturday for areas that see lake effect showers.
Wind is once again not a big worry with this system. Winds will be from the east at 10 to 15 mph on Thursday, then shift from the northwest on Friday and Saturday. That northwest wind may gust to 30 mph near the lakeshores.