BUFFALO, N.Y. — This year's Storm Team 2 Winter Weather Outlook will follow the zone-specific forecast approach with hyper-localized winter outlooks for four unique regions of Western New York. Specifically, how much snow each zone could receive this winter and why.
First, let's start with the big picture. This winter will be the third in a row with a La Niña, second of the current La Niña event. This weather phenomenon over the Equatorial Pacific Ocean is one of the primary large scale climate drivers for the entire country.
This La Niña, like many before, could shift the jetstream in a way that would mean slightly above average precipitation for winter across the Great Lakes and Northeast. But specifically looking back at previous third La Niña winters, does not serve as much help because history has shown they've been so vastly difference.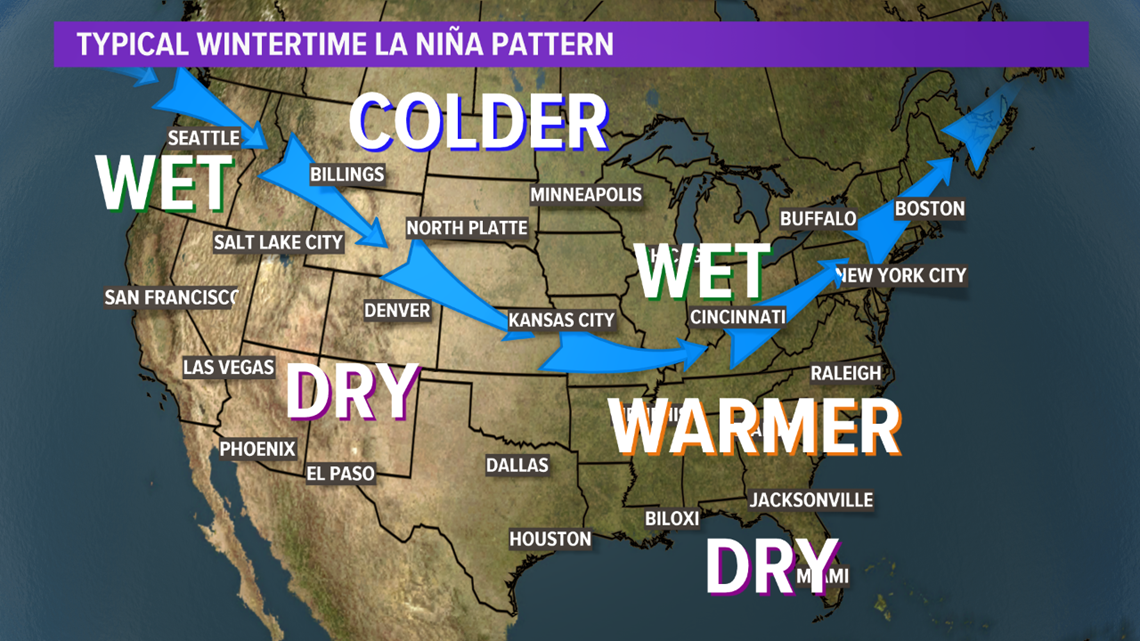 One third year La Niña winter was the winter of 1975 to 1976. That winter started off its usual cold and snowy start, but February of 1976 came with an early welcome to spring... the ninth warmest February on record and only 8 inches of snow to show for the month too. Then, another third year La Niña was the winter of 2000 to 2001 which ended up being the second snowiest winter on record for the city of Buffalo.
However, one constant of third year La Niñas is related to temperature. Specifically, cold air outbreaks. While this winter is looking pretty seasonal temperature-wise for Western New York, it wouldn't be surprising if there were some bitterly cold blasts from the north.
For Western New York, it's Lake Erie and Lake Ontario that greatly influence the impact each winter, and even of the large scale weather systems too. It's also why the weather can be entirely different from county to county, town to town.
Keeping in mind the large and small scale impacts for this winter's outlook, here's what Storm Team 2 is expecting snow wise for each zone this winter. For more on these zone forecasts, click here.
The Niagara Frontier typically receives the smallest amount of annual snowfall in comparison to the rest of Western New York. This is mainly, in part, due to the difference in the prevalence of lake effect snow. While lake effect snow showers can develop off of Lake Ontario, the most prominent and heaviest snow bands the region typically sees are from Lake Erie, and those don't always reach Niagara and Orleans counties.
For this winter, Storm Team 2 is forecasting slightly below average snowfall for Niagara and Orleans counties, around 65 to 75 inches for the winter season.
Buffalo (northern Erie County, Grand Island and Genesee County)
Buffa-loved the snow last year with the city receiving a total of 97.4 inches of snow last winter. Two-thirds of that snow came from large scale weather systems. More impressively, a third of the total snow came from two major lake effect events for the city that each dumped over 17 inches of snow on Buffalo.
This year, Storm Team 2 is forecasting 85 to 95 inches of snowfall for the greater Buffalo-area with most of it coming from larger weather systems. But, seeing as the atmosphere has already given way to one lake effect rain event this past October that brought rain and graupel to the city and areas south, that same scenario this winter could lead to some major snow.
Southtowns (southern Erie County and Wyoming County)
And speaking of lake effect, that brings the Southtowns into the conversation. And if there is a setup up like the lake effect rain event from this past October early on, this season could easily start off quite snowy. But that's a big if, as it always is for lake effect.
Speaking of Lake Erie, the last time the lake completely froze over was over 20 years ago in 1996. Last year, the highest amount of ice coverage on the lake was 93.8 percent in February of 2022, which was a huge improvement from just two years prior where the lake didn't even freeze over by more than 20 percent.
Keeping that in mind... for the Southtowns, Storm Team 2 is expecting near average snowfall, which for this region is usually between 75 to 100 inches.
Also known to many as "ski country," the Southern Tier could be in the running again for snowiest spot in the United States this year. A few towns, like Perrysburg, can pick up over 200 inches of snow any given winter.
The Southern Tier will likely to receive the most snow again this winter of all of Western New York with totals greatly ranging from town to town. Portions of Chautauqua and Cattaraugus counties close to the lake and within the Chautauqua Ridge could receive 150 to 200 inches of snow. Areas inland and into Allegany county, around 75 to 95 inches of snow.
Back to wrap this up. Meteorological Winter will begin on December 1st with astronomical Winter beginning Wednesday, December 21st this year. that's when Storm Team 2 is expecting some of the onset of these conditions and impacts.
As for the transition month of November, looks like it'll be off to a warm start with the potential for record high temperatures the first weekend of the month. And while long term climate models hint at a warmer than average November, we'll have to wait and see if there's a swing in the other direction too.