BUFFALO, N.Y. — In what is setting up to be the most important game of the Buffalo Bills season, weather conditions will be a huge hurdle for both teams.
Gusty winds, light snow showers, and falling temperatures are all potential impacts for both the game and tailgaters. A strong area of low pressure will pass by Western New York during the day today which will spawn these weather changes.
The winds have already picked up and will be a factor through this evening as a cold front pushes through the area. Temperatures will continue to fall throughout the day too and change any of that rain into snow showers by the early evening. For tailgaters, it will be a tough go on Monday afternoon and evening. Tents and canopies may not be sustainable with those gusty winds and a few bursts of snow.
The likelihood of these strong winds has led to the High Wind Warning being issued for Southern Erie County until 7 p.m. Monday, just before kickoff. This doesn't mean the winds will immediately diminish once the game gets underway, but strongest of the winds will be backing off during the evening.
There may be a few bursts of snow towards the beginning of the game but then the snow should settle south of the stadium tonight.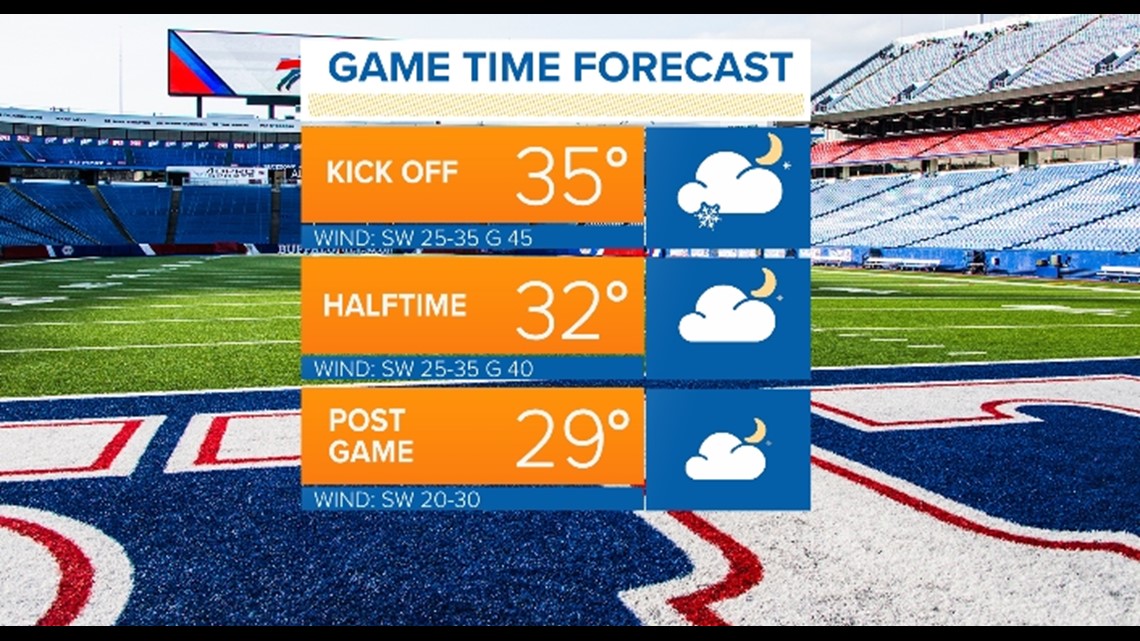 There is more confidence that this will be more of a wind event with some snow to set the mood. One thing is for sure and that is to quote Steve Tasker, "it's going to get chilly."