BUFFALO, N.Y. — The National Weather Service has confirmed that an EF-1 tornado touched down in the Town of Portland Thursday afternoon. Maximum winds were estimated at 100 mph.
The tornado formed around 4:50 p.m. in a wooded area in the town of Portland and then moved northeast, severely damaging several structures including two barns on Barnes Road. No fatalities or injuries were reported, although some livestock did suffer minor injuries.
The tornado was on the ground for roughly 1.5 miles before dissipating. The same storm caused other straight-line wind damage and flooding as it tracked along the Lake Erie shoreline.
John Kane spoke with 2 On Your Side about his close encounter with this force of nature. He thought it was directly heading for his home on Barnes Road.
"My wife and I were just looking out the window, which we shouldn't have been, but we were and we saw it hit the farm down the road and then come across the road. And then it was heading straight for us and we were watching as it was just spinning ten yards away from the house. And we watched it just take the roof off the barn. Board by board and metal by metal. We could see things flying around inside of it. And we thought it was going to take the whole roof off. But all of sudden it didn't. And then off to the northeast it went."
Kane said he was worried about his neighbor across the road where the twister took out the first barn on her property.
"She was in the house with her two year old son. The house didn't get touched on them either."
In the light of day Kane inspected his barn.
"We went out this morning and walked around the foundation of the barn. It actually twisted the whole barn lightly off the foundation. Cracking cinder blocks and so it's not repairable."
But again he points out it was only the barn and not his home. "We only lost a shingle on the house - that was it."
Several other storms brought torrential rain and damaging winds Thursday evening, causing flooding and damage, mainly in the Southern Tier.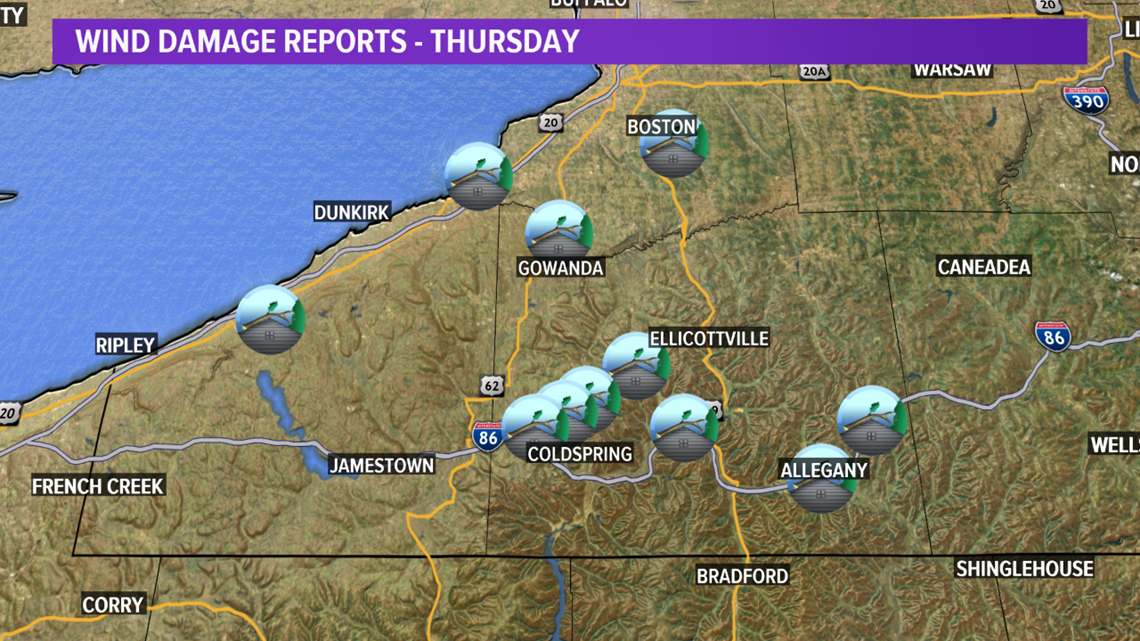 Repeated rounds of rain in some spots resulted in nearly a month's worth of precipitation in just a few hours. Many roads had to be closed due to standing water.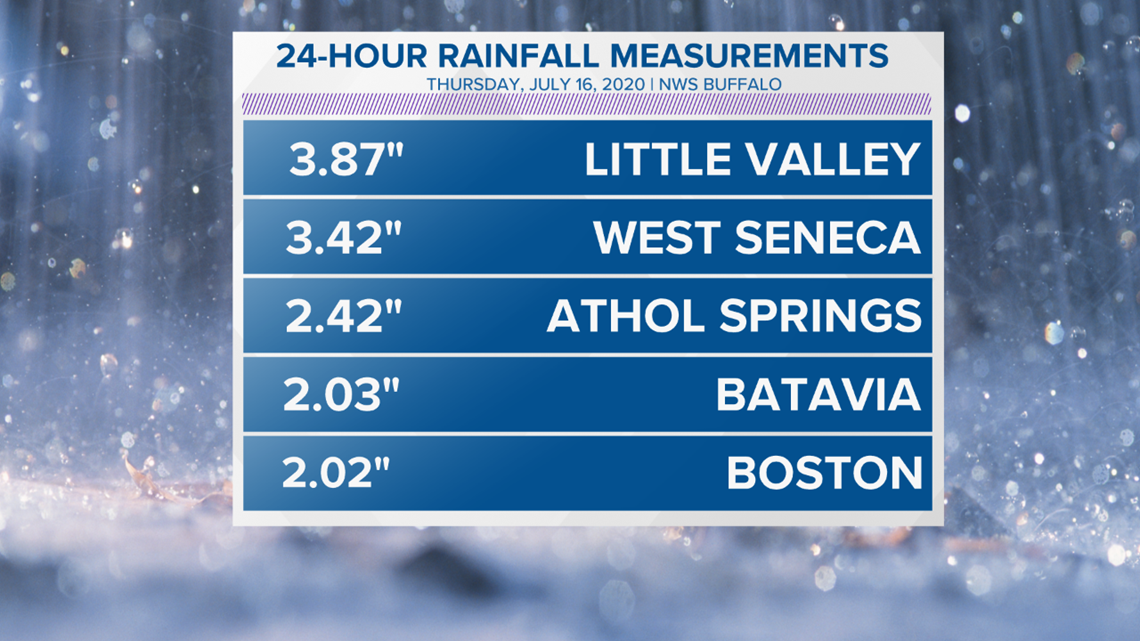 Officials in Cattaraugus County said they saw trees and power lines down in addition to the flooding throughout the county. A barn had its roof ripped off in Chautauqua County. Overall though, officials in Chautauqua county said that the damage wasn't as bad as they anticipated.
The forecast calls for calm but very warm and increasingly humid conditions through the weekend.