Whether they're hoping that it's development will limit the lake effect snow machine or checking in on a seasonal staple for the region, it's around this time of year when Lake Erie and the entire Great Lakes region as a whole typically starts to see an increase in ice formation.
But this winter in Buffalo has been anything but typical, and the same can be said for Lake Erie's current ice coverage too.
After reaching a peak ice coverage of nearly 25 percent after the winter storm that brought the Blizzard of 2022, Lake Erie's ice coverage has slowly declined since. On Monday, Jan. 16, just under 10 percent of Lake Erie had any ice on it. A few days later on Jan. 19, that number dropped to 3.11 percent, and that ice is not locally in Buffalo but on the lake's western end.
Furthermore, the entire Great Lakes has only 3 percent total ice coverage as of Jan. 19. Typically by this time of year that number is just above 20 percent, but that's the average.
Comparing last year's total Great Lake's Ice Concentration to what's currently observed, it's extremely similar. Ice began to develop across the region at the end of January in 2022 with a fast peak in mid-late February.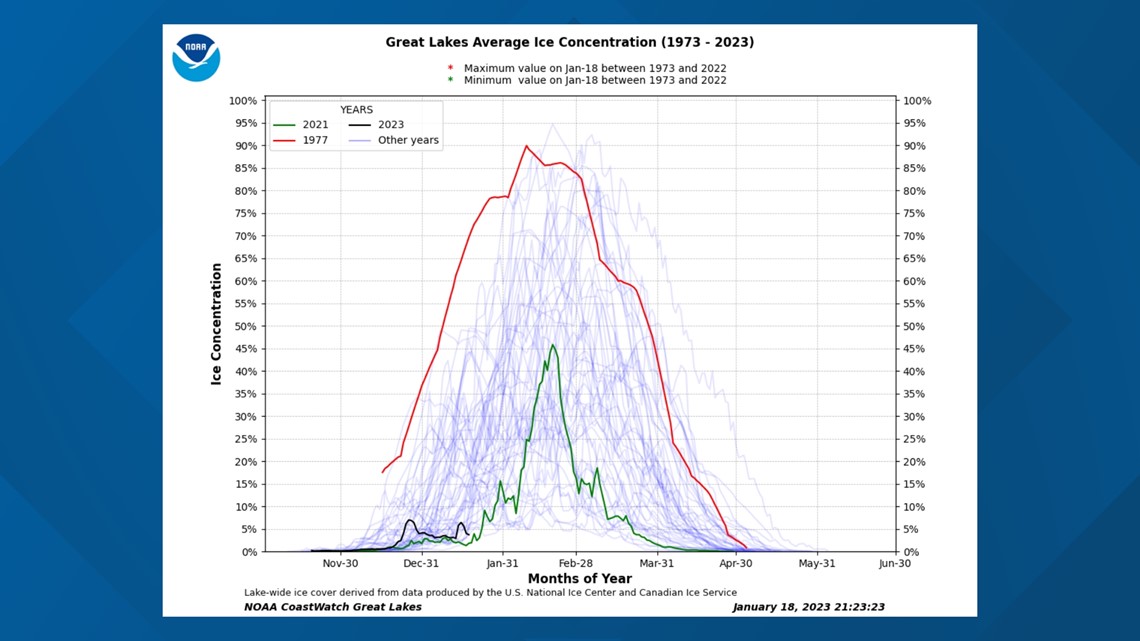 Unfortunately, some cold and consistent stretches of temperatures will be needed to really get some ice to develop on Lake Erie, and that's not in the forecast for another week.