This is the time of year when weather-savvy Western New Yorkers start asking about the ice cover on Lake Erie.
The greater the ice cover and the thicker the ice, the less likely we are to see a big lake effect snow storm. Of course, conversely, any wind coming off the ice-covered waters has a little extra bite into the spring.
But it's the last week of January, and Lake Erie's ice cover is still almost non-existent. Satellite measurements taken by NOAA show that total ice cover was hovering around 5% as of late last week. The average ice cover by that point is 45%.
The lack of ice to this point isn't surprising when you consider how mild December and January have been overall. December finished 3.4 degrees milder than normal. As of late last week, January was running over 7 degrees warmer than normal. Only a handful of days have had high temperatures stay below 30 degrees.
What's remarkable about the lack of ice now is how long Lake Erie has been lacking in ice to this point. Last winter, peak ice cover only reached 15.9% on Lake Erie. The water temperature near Buffalo measured 32 degrees just one day!
That means it's been nearly two whole years since Lake Erie has been considered "frozen" near the Buffalo shoreline.
There have been several other winters without a freeze on the lake, but the last back-to-back "no-freeze" winters were all the way back in the 1950s.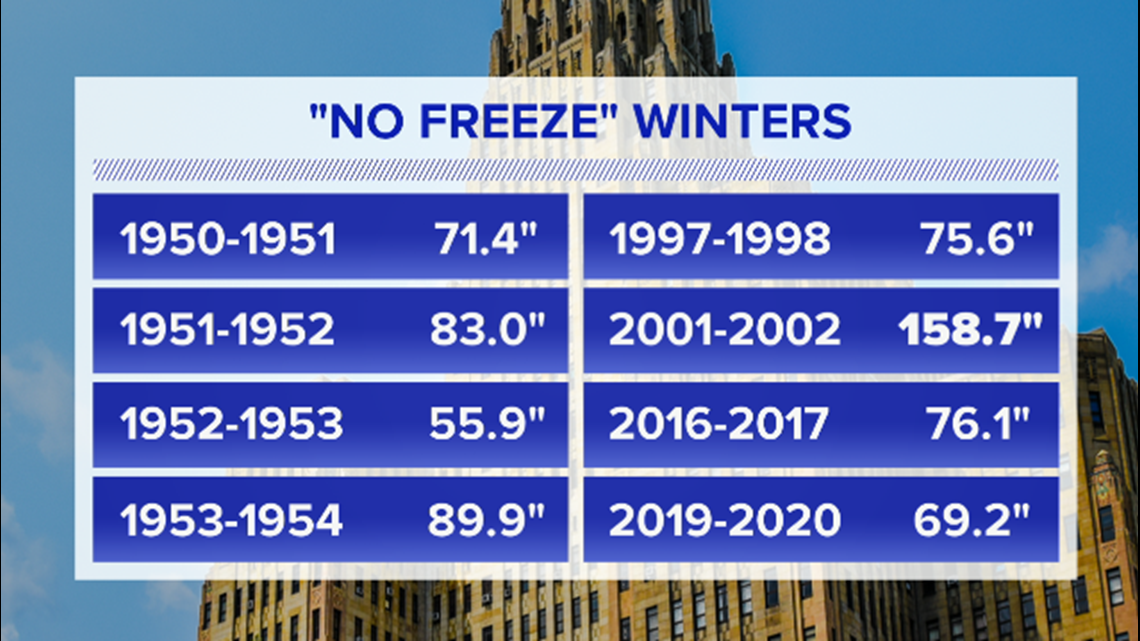 Many may be surprised to learn that all but one of those eight winters had below-normal snowfall for Buffalo. Lake effect is a big part of our winters' reputation, but it's not the whole picture. Data going back to the 1950s shows that only about one third of Buffalo's total snowfall comes from lake effect.
Looking forward, there may be a longer-term weather pattern developing to allow more ice to form in the coming weeks. Models run and maintained by NOAA are predicting peak ice cover on Lake Erie to reach 60% within the next four to six weeks. That would be slightly above normal ice cover for a winter season.
But keep in mind, even if the ice were to cover 90% of the lake surface, that open 10% could still be enough for lake effect snow to develop!