BUFFALO, N.Y. — "In like a lion, out like a lamb."
It's a sweet saying that marks the start of March, but more often than not, it's just far too optimistic for how early spring tends to go in Western New York. This year, it's more like "in like a lion, out like a wildebeest"
In between the hectic weather patterns, conditions were actually remarkably calm for a couple of weeks. Up until March 24, just 0.17" of rain had fallen at the Buffalo Airport. When considering sky cover, only 17% of the time from March 1 through March 23 was completely overcast. That same time period is typically cloudy 42% of the time, at least going by the last five years.
The true sign of tranquility, and the true oddity was the lack of wind: Between March 1 and March 23, the average windspeed was just over 10 mph.
March and April are both transition months, meaning big temperature changes and the blustery storm systems that come along with them. We've certainly seen much more of that in the last week, but why were things so calm during the first half of March? The answer is in the big picture weather pattern.
There are several major pattern trends that forecasters monitor, especially during the cold season. One of those patterns is called the "Arctic Oscillation," or "AO" for short. If the AO is in a positive phase, the winds around the northern branch of the jet stream are very strong, This locks the coldest arctic air closer to the poles, preventing it from plunging south to our latitude. The AO was indeed overwhelmingly positive when March began.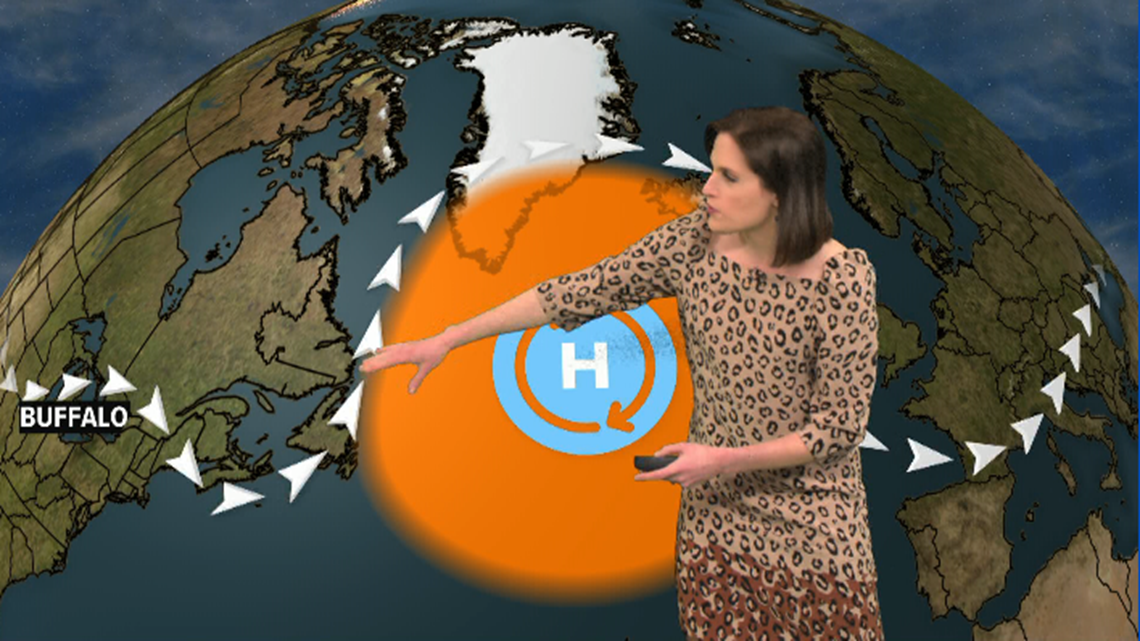 Additionally, a "blocking pattern" had been set up over Greenland. The "block" was an unusually strong area of high pressure that acted like a big rock in a stream. As weather systems tried to move from west to east along the jet stream, the block forced them to slow down and flow around rather than passing eastward more quickly.
In our case, those weather systems tended to be ridges of high pressure that got stuck over the eastern United States and got stronger for several days. Those ridges were responsible for the sun, light winds and unseasonably mild air that we got to enjoy.
It seems the more typical ups and downs of spring have resumed, with our first chance for accumulating snow in almost a month coming up later tonight into tomorrow. Stay ahead of the game by checking the forecast frequently. You can do that anytime online or on the free WGRZ app.