BUFFALO, N.Y. — Spring brings warmer weather to the Northern Hemisphere and for parts of the United States, surges of warmer air often clash with lingering chill to create some explosive severe thunderstorm setups.
Unfortunately, that has happened a couple of times already this year with tornado outbreaks occurring on March 17 and March 25 in an area known as "Dixie Alley."
The Storm Prediction Center issued the following threat forecasts on the morning of each event. A "high" risk area (pink shading) has only been used a couple dozen times in the history of this particular forecast product.
In both cases, the potential for dangerous thunderstorms was forecasted and communicated by the National Weather Service and local television stations several days in advance. That's evidence for how far short range forecasting of severe weather has come.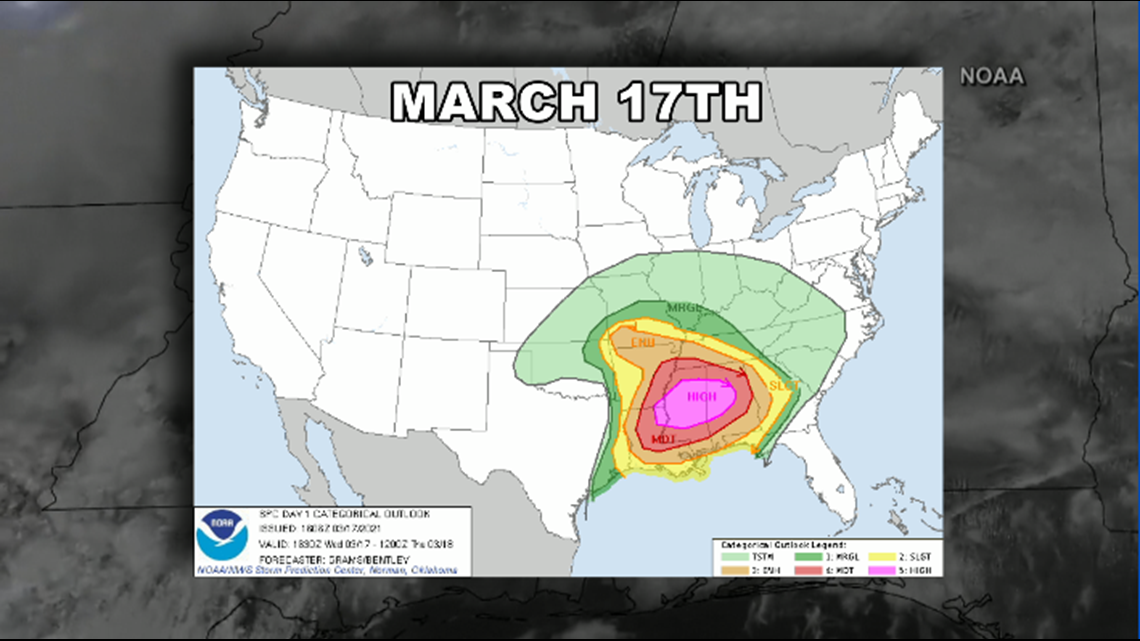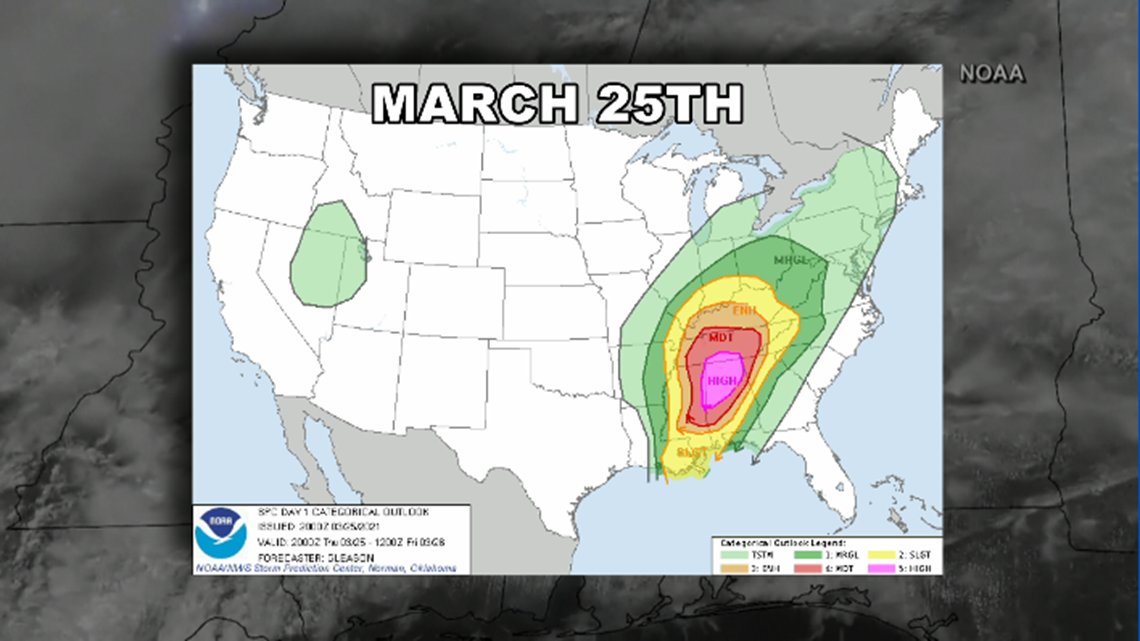 But looking into the medium and longer range patterns is a lot fuzzier. We certainly can't predict where thunderstorms will pop up 2 to 3 weeks from now, but we can track the patterns that would supply the ingredients for severe thunderstorms. Those main ingredients are moisture, lift, instability and wind shear.
Moisture is fairly easy to track. For the Southeastern U.S., it tends to be supplied by the warm waters of the Gulf of Mexico. This year, a La Nina pattern may make that Gulf moisture even more available than a neutral or El Nino pattern.
That's because a La Nina pattern tends to force the southern branch of the jet stream farther north. That part of the jet stream is often responsible for transporting Gulf moisture northward into the Southeast and sometimes into the Northeast.
So if the southern jet stream is making more trips to the north, there may be more chances for those clashes between hot, humid air and cooler dry air through the summer. That supports a forecast for a severe weather season that is more active than normal in the Southeast, Midwest, Ohio Valley and maybe even parts of the Northeast.
It is important to remember that this is just one factor. There are many other variables to consider and severe thunderstorms require a very specific mix of conditions with just the right timing to occur.
Still, it is always good to be prepared. Make sure you have a way to get severe weather alerts through a NOAA Weather Radio and locally through the free WGRZ app for your favorite device. Know what to do if a warning is issued and know where the safe shelter locations are in your home or anywhere else you visit frequently.