BUFFALO, N.Y. — Tuesday was a big one for Punxsutawney Phil and his loyal band of followers. Pennsylvania's most famous groundhog continued its now 134-year tradition of predicting the arrival of spring.
In case you missed it, he saw his shadow when he was summoned from his den bright and early on February 2. According to Phil, that means six more weeks of winter.
Phil has been at this long-range forecasting thing for a long time, and he's got quite a reputation. But human forecasters have been testing their own mettle over the last few decades, and they've developed a few pretty reliable techniques that are used to predict how weather patterns may behave over the next couple of weeks, months or even an entire season.
These techniques are called "teleconnections." It's basically pattern recognition on a global scale. Scientists who have been closely observing the atmosphere season to season and year to year have noticed that certain winter weather patterns correlate to the strength and position of certain semi-permanent areas of high and low pressure.
One of these teleconnections is called the North Atlantic Oscillation, or "NAO" for short. As the name suggests, the NAO looks at the relationship between a semi-permanent area of low pressure over the north Atlantic Ocean and another similar area of high pressure in the central Atlantic.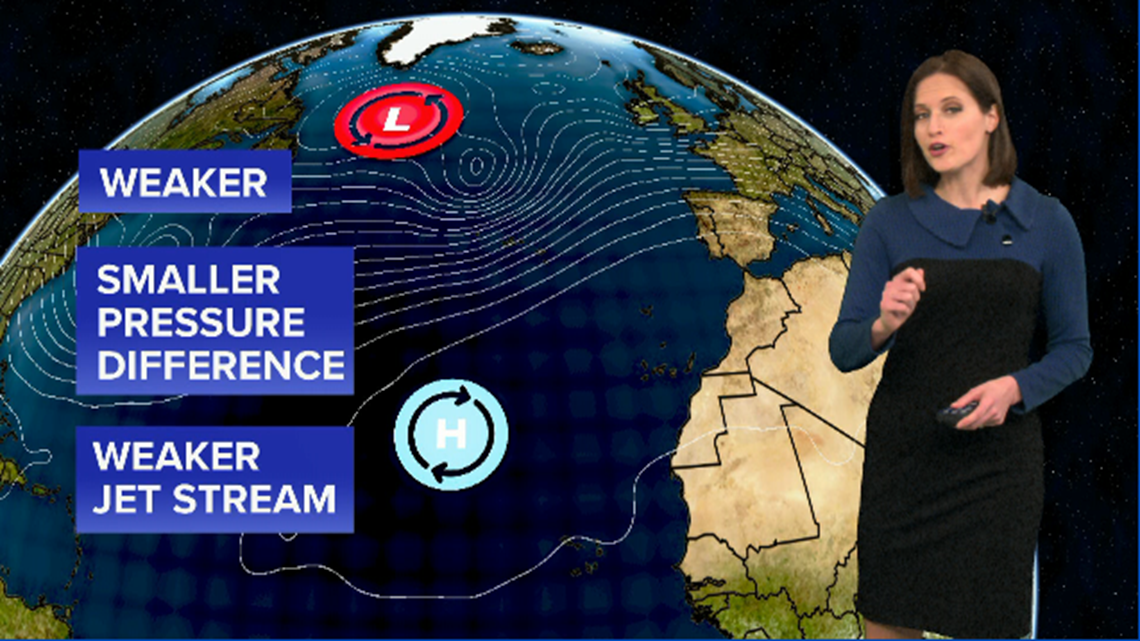 If both the high and the low are relatively weak, the pressure difference between them is low and the jet stream winds are relatively weak. When this happens, the NAO is said to be in its "negative phase." The weaker jet stream in this case is more prone to buckling southward, allowing shots of cold air into the mid-latitudes. More simply put: when the NAO is in a negative phase, our region may be more prone to outbreaks of Arctic air.
Another teleconnection is known as the Arctic Oscillation or "AO." This one specifically looks at the strength of our old friend, the polar vortex. Watch this week's episode to see how that plays into our weather outlook around Western New York.
Based on the latest data from the NAO and the AO, both are in a slightly negative phase and have been for the last several weeks. Sure enough, the last couple of weeks have brought about some colder spells for us. Scientists have also observed a "splitting" and weakening of the polar vortex recently, a sign that pieces of it may drop southward sending us more shots of cold in the weeks to come.
Or in Punxsutawney Phil's lingo: this forecaster has seen her shadow and is predicting another six weeks of winter in Western New York.