BUFFALO, N.Y. — There are a lot of weather variables to cover when talking about the forecast for the week ahead and limited time to do so live on TV.
Meteorologists focus on what's most important to viewers: whether or not it will rain or snow, whether or not wind will be an issue and of course how warm or cold the coming days will be. Most times, that leaves overnight low temperatures in the dark.
But a big part of the climate change story is unfolding in daily low temperatures here in Buffalo and in nearly every other U.S. city.
Earth's global average temperature is rising. A warmer atmosphere holds more moisture. Air with more water vapor in it warms and cools more slowly than a drier atmosphere would. Air with more moisture also tends to have more clouds. Both of those factors have contributed significantly to a trend of rising low temperatures and a rising global temperature overall.
If you consider dairy high temperatures and daily low temperatures separately, low temperatures are warming about 20% faster than afternoon high temperatures. That's according to data collected and maintained by NOAA.
This trend holds for Buffalo this past year. Just two of the past 12 months had monthly average low temperatures fall below normal for the respective month. Several months had average low temperatures more than 6 degrees above normal including November and January.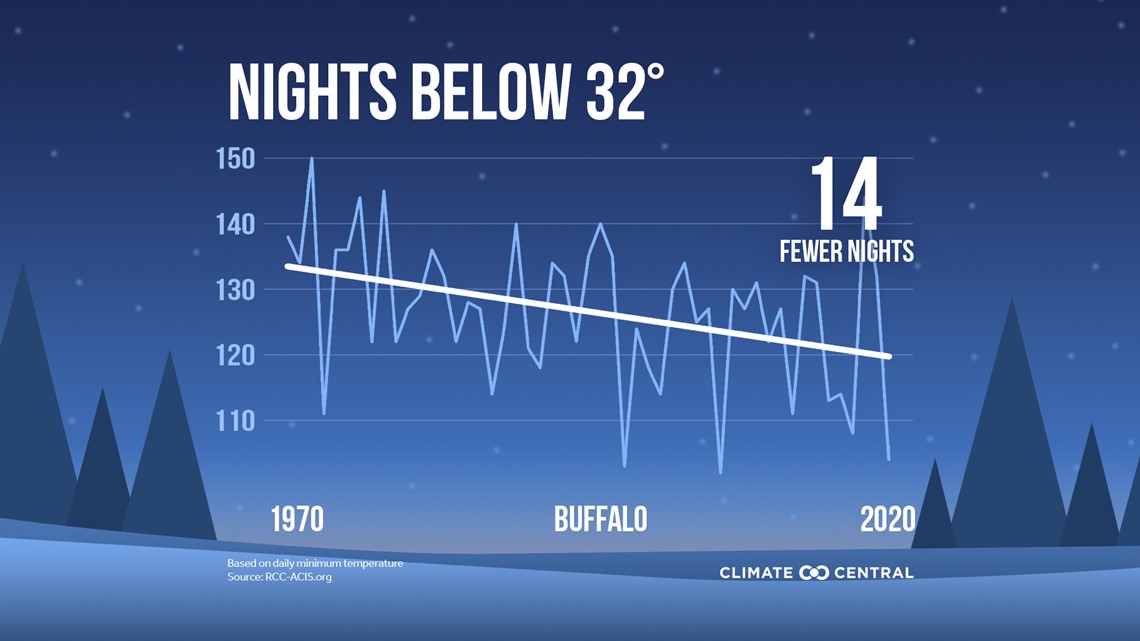 That trend can be traced back decades here in Western New York. Over the past 50 years, the coldest nighttime low for an entire year has warmed close to 5 degrees. According to Climate Central, Buffalo is experiencing 14 fewer nights with temperatures below freezing now than in 1970.
Fewer cold nights and less intense cold overall could lead to even less ice forming on Lake Erie in coming winters. It would also mean more snow melting and the potential for more precipitation to fall as rain or a mix rather than snow. Some may be glad to hear that sort of long range prediction, but plenty of Western New Yorkers rely on a healthy snow season for good business each year.
New episodes of Heather's Weather Whys are posted to the WGRZ YouTube channel every Wednesday evening.