BUFFALO, N.Y. — Not only has ice been lacking on Lake Erie this winter, but much of the Great Lakes as well.
In fact, the lack of ice coverage just reached a new record low.
In a recent press release from NOAA Research on Friday, it was announced that the observed ice coverage on the Great Lakes on Feb. 13 was only 7 percent. That marks a new record low for ice coverage since records began in 1973. The average ice coverage across the Great Lakes for mid-February is around 35 to 40 percent.
The reason for the lack of ice is due to generally above average temperatures that have been present this winter across the region. While there have been a few cold snaps that lead to ice development, fluctuating air temperatures thereafter allowed for ice to fade away. And when ice did develop, it wasn't able to grow or thicken due to the relatively warmer winter temperatures.
That's been the case for Lake Erie too. There have been two peaks in ice concentration on the lake this winter: one after the Christmas blizzard and another after the arctic blast earlier this month.
The seasonal peak for ice coverage on Lake Erie this winter was on Feb. 5, with just over 40 percent. The current ice coverage on Lake Erie as of Feb. 16 is 0.1 percent.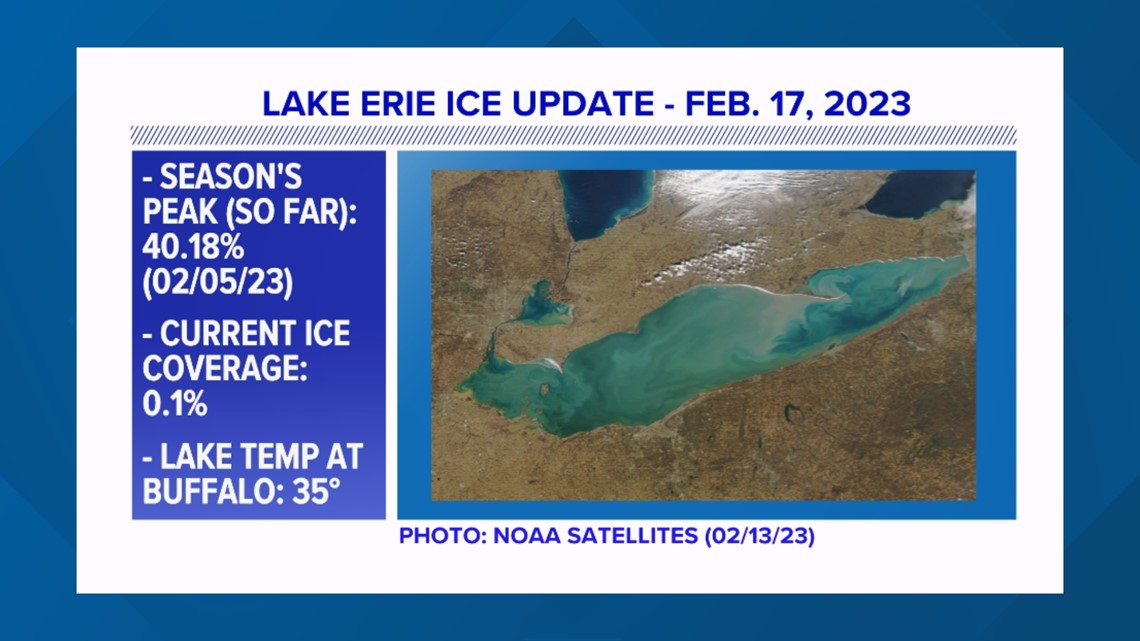 Two concerns that are a result of the lack of ice on the lake is the potential for lakeshore flooding due to wind storms and lake effect snow. Lake effect snowstorms, while not typically the extent of those earlier in the winter season, have occurred as late as early-mid April for Western New York.