Meteorological fall began everywhere on September 1, but summer has hung on much longer than usual this year in the U.S.
Officially, September 2019 is the second-warmest September on record for the United States as a whole. A powerful heatwave in Ohio Valley and Southeast regions is a big part of why that happened.
Cincinnati, O.H. set a new heat record every day from September 27 through October 3, hitting 90 degrees each afternoon. Atlanta, G.A. has set 17 new heat records since mid-September. Dozens of other cities in that region set new monthly record highs for October during the first weekend of the month.
Meanwhile in Buffalo, September's temperatures were quite a bit tamer and October so far is keeping that pace, with the exception of the 81 degree high on October 1.
The difference-maker between sweltering heat in the south, and the more typical fall weather Buffalo has seen, is the position of the jet stream. Lately, the weather pattern has been set up in such a way that weak fronts have crossed through the interior Northeast and knocked back the temperatures before they got too high. A powerful area of high pressure farther south has kept the heat on in those record-setting cities.
The heat over the past couple of weeks can be attributed to an anomalous short-term weather pattern. But there's no denying longer-term climate trends. Over the past several decades, the number of record highs has started to significantly outnumber the record lows. That applies to the country as a whole, and interestingly even more strongly so to Buffalo.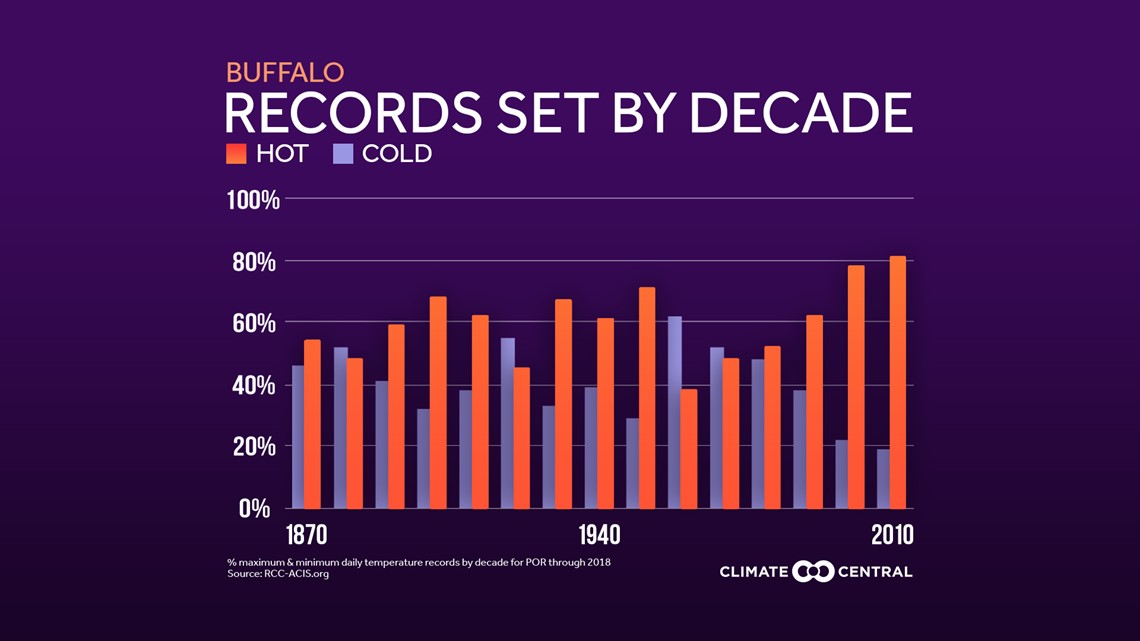 Just 22 record lows have been observed at the Buffalo Airport since the year 2000. Compare that to 76 daily record highs and an additional 71 record warm low temperatures.
That disparity on a local and national level can be attributed to rising global temperatures due to climate change. Earth's average global temperature has risen 1.4 degrees Fahrenheit over the past century. When the average increases, the extremes also increase on both ends. New record highs are more easily reached while new record lows tend to be harder to come by.
Lake Erie may be part of the reason why Buffalo's ratio of record warmth to record cold is more extreme than the national average. Warmer air means higher water temperatures. Sure enough, Lake Erie has seen an increase in the number of summer days with water temperatures in the 70s.
Buffalo is close enough to Lake Erie that its air temperature is often influenced by the nearby water temperature. Lake Erie is able to stay warmer later into the winter season, buffering some of the harshest cold from setting in and possibly preventing records from being broken.