BUFFALO, N.Y. — November 2020 was another warmer-than-normal for Western New York, finishing with an average temperature of 46.5°, nearly 6° higher than the 30-year average. That makes the month Buffalo's 6th warmest November on record. If you're counting at home, 2020 has had 5 different months finish in their respective "top 10 warmest" lists in Buffalo. Locally, we may be on our way to 2020 being dubbed the warmest year on record.
But Western New York hasn't been the only region searching for colder weather this season. Huge areas of incredibly warm conditions in northern Asia and much of the Arctic Circle have officially made November 2020 planet Earth's hottest November on record. That is according the the Copernicus Climate Change Service in Europe, which uses satellite data to track the surface temperature of Earth both over land and water.
In a report earlier this year by the National Oceanic and Atmospheric Administration (NOAA), this past October ranks as the fourth hottest on record globally. The average temperature experienced across the Earth in October was 58.63 degrees, which is 1.53 degrees above the 20th century average for the month.
A few of the notable shifts that contributed to this above average global temperature were the record lack of Arctic Sea ice and extreme heat waves across the globe. An active Atlantic tropical season and a wetter than normal month for Australia as a whole contributed to the unusual warmth as well.
There were some colder trends, although they have been far less influential. Antarctica Sea ice grew throughout October and record snow cover occurred across much of Canada.
All of this helped to secure 2020 as the second hottest year on record for the Earth so far. Records for this category go all the way back to 1880.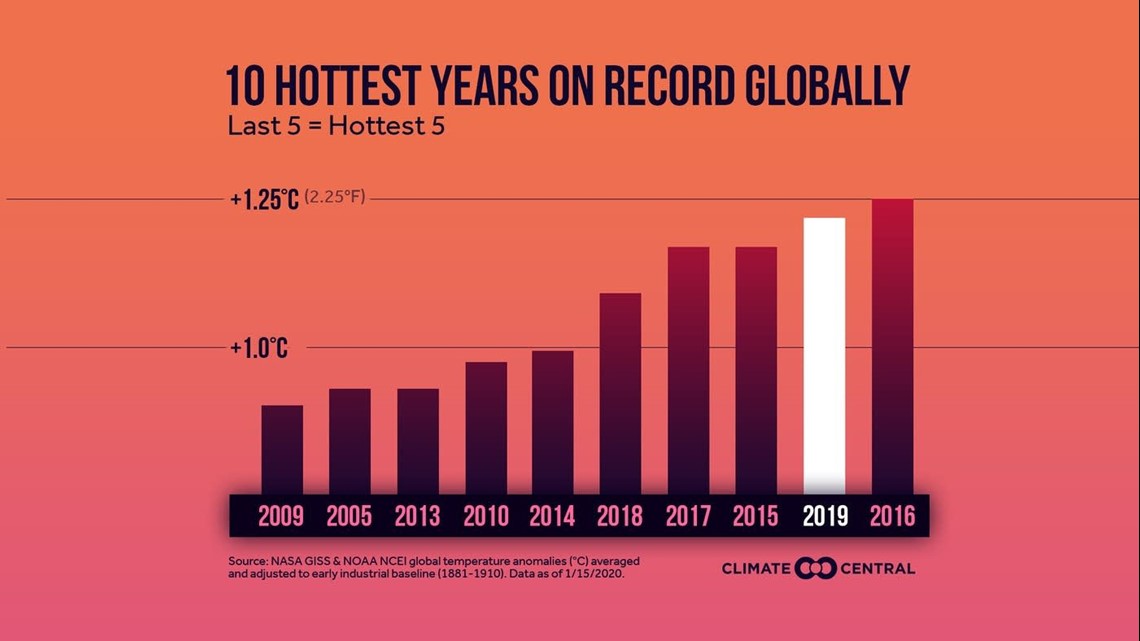 The warmest year recorded over the past 141 years was 2016. It is worth noting that the 7 warmest years on record are the most recent 7 years.
Earlier this year the National Centers for Environmental Information (NCEI), who help organize these reports, stated in February that more record warm years for the Earth are on the horizon.