HAMBURG, N.Y. — The Japanese Knotweed is an invasive plant that sadly has become almost common. First introduced to Europe from Japan, this enormous plant has been in North America for quite a long time.
"It was brought over from the UK in the late 1800s, so it's actually been here for a couple hundred years," said Andrea Locke, Western New York PRISM coordinator. "It feels like it's been very quick, say in the last 20 years, suddenly you see it everywhere. But its really been a long process where it was first established."
Knotweed was brought over as an ornamental plant, animal fodder, and for use as erosion control on riparian areas. It quickly got out of control, and Locke says it has been difficult to eradicate.
"It has very robust roots and so it spreads underground, but even an eighth of an inch or a quarter of an inch piece of root, a fragment of a root can reestablish a new plant," she said. "So it's very easily spread by things like flooding or water, if a stem is broken it can float downstream. But it's also very easily spread by humans or human behavior."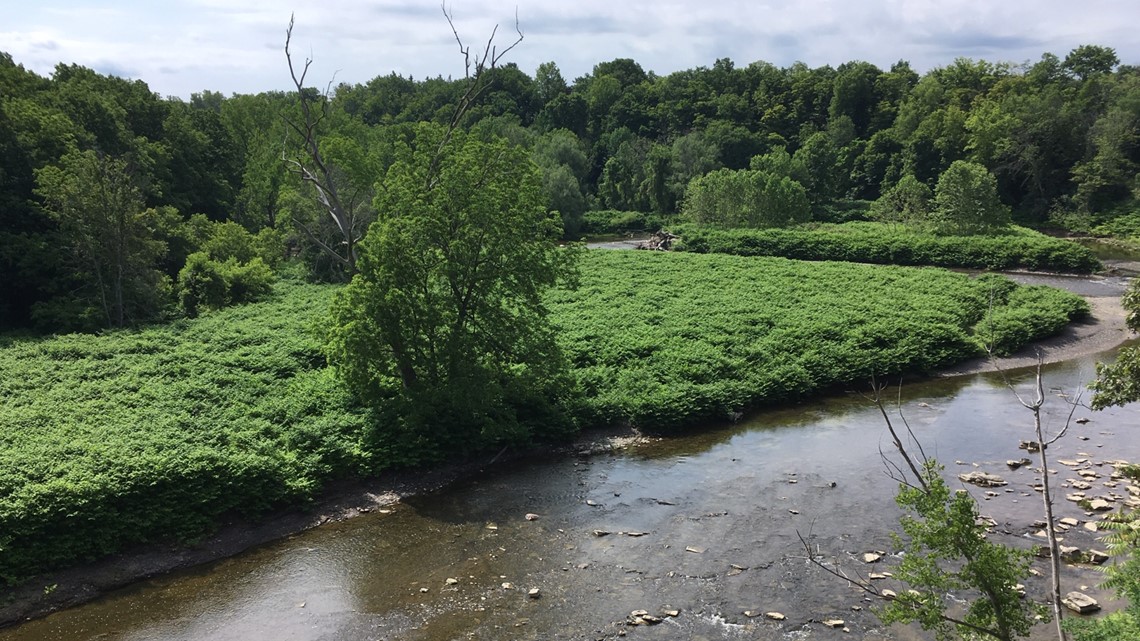 Though the invasive can be found almost anywhere on our landscape, the enormity of its effect seems most overwhelming in open areas, such as this habitat along 18 Mile Creek in Hamburg. Once an invasive species takes over a landscape, it can completely dominate native plants. It also has a negative effect on wildlife and insects.
"On the surface, you can see the loss of native plants," Locke said. "That's the first thing you see. And then you start to listen, and you're hearing fewer and fewer insects, and you're hearing fewer and fewer birds. But in the end those native plant communities, they support all life, they provide us with cleaner water, they provide us with cleaner air. "
Restoration of the native plant community along this stretch 18 Mile Creek is difficult but not impossible, even on such a massive scale. The alternative is even more daunting, given that the creek is overrun with more than just one invasive plant species. The future, if left unchecked, is disheartening at best and devastating at worst.
"And so I think what you'll start to see is the invasive species starting to sort themselves out, and you'll probably lose what you have left of the native plant community, and probably just have an assemblage of eight to ten dominant invasive species," Locke said.
There are no current plans to manage this stretch of the creek, but as a living laboratory, Locke thinks its demise can be useful to all that care to listen to its lesson.
"I think that this offers a unique learning experience for people to be able to come and recognize that this is not what this should look like," she said.