The tweet, which said "Lynch @LorettaLynch let a Grand Jury decide" was posted at 11 a.m. and deleted about a half hour later.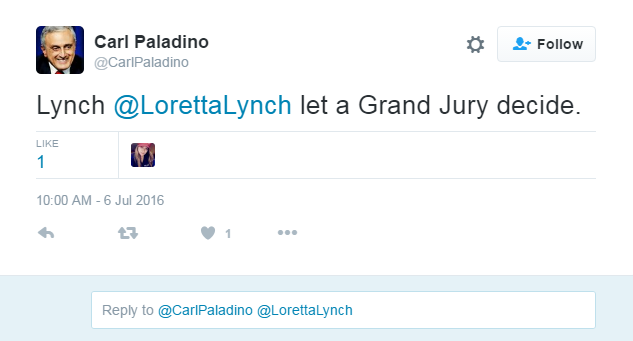 In response to a message from 2 On Your Side, the @CarlPaladino account said, "I work for Carl, I'm new to twitter & tweeted what Carl asked but made mistake of adding Lynch. My bad."
2 On Your Side asked for further clarification, but Paladino did not respond to our messages and emails seeking comment.
Some critics on Twitter called for an apology, while others didn't believe Paladino's explanation.
Alan Bedenko -- an attorney, columnist and liberal political analyst -- said the tweet "proves again how abhorrently racist he is, calling for African-American AG to be 'lynched'."
Loretta Lynch is the U.S. attorney general and will make the final decision on whether or not to pursue an indictment against Hillary Clinton over her email scandal.
Stay with 2 On Your Side on Twitter, @WGRZ and @wgrzMichael, for updates on this developing story.