When Star Trek Beyond enters orbit on July 22, John Cho's Hikaru Sulu will be going where no main character from that franchise been able to venture: out of the closet. He'll be depicted as a loving dad in a same-sex relationship.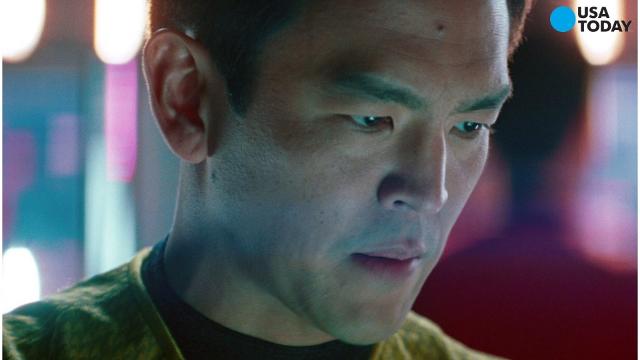 "I liked the approach, which was not to make a big thing out of it, which is where I hope we are going as a species, to not politicize one's personal orientations," he told Australia's Herald Sun. 
Cho's publicist, Jillian Roscoe, confirmed the quote's accuracy to USA TODAY. Paramount wouldn't comment, citing director Justin Lin's desire that the film's revelations be a surprise to the audience.  
Cho said the decision came from Lin and co-star/writer Simon Pegg, who wanted to acknowledge the pioneering George Takei, who originated the Sulu role in the 1960s and has long been a vocal advocate for LGBT equality. 
Takei, now 79, acknowledged how things have changed since his early Hollywood days in a 2015 interview with News Corp: "If I wanted to work as an actor I had to keep it a secret. Back then I couldn't marry a white person — that was against the law here, miscegenation. But now I am married to a white dude, so we have changed."
That being said, Takei wasn't in total support of the new twist.
"I'm delighted that there's a gay character," he told The Hollywood Reporter. "Unfortunately, it's a twisting of Gene's creation, to which he put in so much thought. I think it's really unfortunate."  
It's not because Roddenberry was homophobic: "He was a strong supporter of LGBT equality," Takei explained. In fact, he pitched the idea of a gay character to Roddenberry back in 1968. "But he said he has been pushing the envelope and walking a very tight rope — and if he pushed too hard, the show would not be on the air." 
He added that when Cho called him last year to share the news, he tried to steer him in another direction. He tried the same approach with Lin.
"I told (Cho), 'Be imaginative and create a character who has a history of being gay, rather than Sulu, who had been straight all this time, suddenly being revealed as being closeted.'" (The change also tampers with the timeline, since this iteration of Trek is supposed to happen before the original TV series. It would imply he was gay and then went into the closet.)
"I said, 'This movie is going to be coming out on the 50th anniversary ofStar Trek, the 50th anniversary of paying tribute to Gene Roddenberry, the man whose vision it was carried us through half a century. Honor him and create a new character."