ALBANY, N.Y. — Editor's Note: The above video first aired March 3, 2021.
Four New York State Senators representing Western New York are now among Senate Republicans calling for the resignation of Governor Andrew Cuomo after recent sexual assault and harassment allegations have come to light.
The four senators include Senate Republican Leader Robert Ortt (62nd District), George Borrello (57th District), Patrick Gallivan (59th District), and Edward Rath III (61st District). They're all a part of the Senate Republican Conference which as a whole is calling for the governor's resignation.
The conference says that if he doesn't resign, the next step they would seek is impeachment.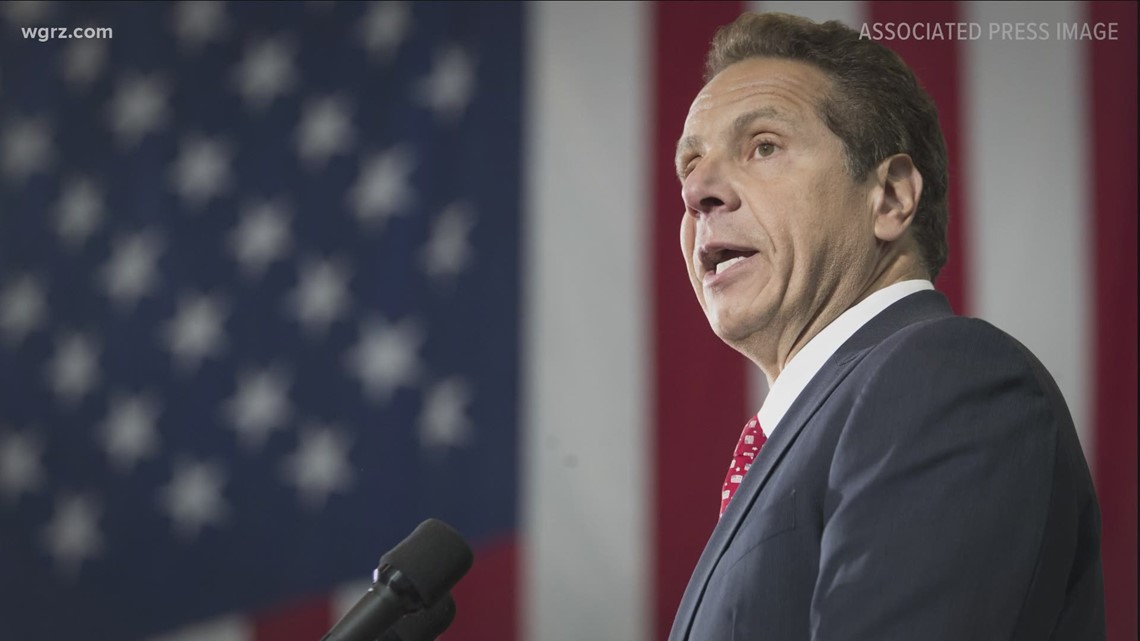 Here's the full statement from the conference:
The Governor's office is under a cloud of multiple scandals and ongoing investigations. New Yorkers need a leader to focus on the important work facing this state, but the ability of this Governor to be anything but a distraction is damaged beyond repair. He must resign for the good of all New Yorkers. If the Governor does not resign, the next step is impeachment.
Senator Rath followed up the State Republicans' statement with his own. He shared his perspective as a father and added his opinions on the nursing homes debate.
"As I have said previously, these allegations that have surfaced surrounding the Governor are extremely alarming," Rath said.
"As a father of three daughters, you hope that the described behavior does not exist in our world but unfortunately, we are reminded all too often that it does. The alleged actions describe a toxic and unhealthy work environment," Rath added.
He went on to say that he is thankful the FBI and Department of Justice are looking into the Cuomo administration's handling of nursing homes during the pandemic. He said the investigations into nursing homes and the harassment allegations against the governor are "paramount."
"I have been vocal from the beginning that these investigations need to be immediate and thorough and no matter what happens, they must continue," Rath wrote. "If the Governor continues to refuse to justifiably step down, impeachment is necessary. Resignation does not equal a free pass; the Governor must answer for his actions."
As for the two Democrat Senators representing WNY, Sean Ryan (NY-60) and Tim Kennedy (NY-63), their latest statements have only shared their stance on the investigation of the Governor.
2 On Your Side quoted Ryan on March 8 saying "Stepping in front of the attorney general's investigation and the work of the Senate Investigations Committee will only prevent all the facts from coming forward."
What appears to be Ryan's most recent tweet about the allegations against the governor came on February 28:
Kennedy's last tweet about the allegations was similar to Ryan's tweet, and came a few days later on March 2:
On Thursday afternoon, New York State Democratic Chairman Jay S. Jacobs also chimed in, speaking on the calls for resignation within the Democrat party in New York.
"I recognize that within our Party there have been differing views as to how we should proceed and as to what course of action the Governor should take. I respect the personal decision made by Senate Majority Leader Andrea Stewart-Cousins and a large number of Democratic lawmakers calling for the Governor's resignation," Jacobs said.
He added that he will also be convening a meeting of county chairs to discuss the controversy regarding the governor.
In terms of the State Assembly, 2 On Your Side has been able to identify statements from four of the seven Assemblypeople representing New York State Districts 141 through 147 showing that they also are advocating for Cuomo to step down.
As 2 On Your Side previously reported, Pat Burke (D-Buffalo) broke rank from other Democrats on Sunday, calling directly for Cuomo's resignation.
In that same report, we shared that Angelo Morinello (R,C,I-Niagara Falls) believes that Cuomo doesn't have "the ability to focus on the tasks at hand while trying to protect his legacy."
Morinello also expressed concerns about Cuomo's ability to work with leaders who are calling for his resignation. However, he didn't expressly say he is calling for Cuomo's resignation.
Unlike Morinello, David DePietro (R-East Aurora) explicitly called for Cuomo's resignation on March 7.
A day later, Mike Norris posted a video on Facebook calling for the impeachment process to begin if Cuomo doesn't resign.
In contrast, Assembly Majority Leader Crystal D. Peoples-Stokes (D-Buffalo), and Assemblywomen Karen McMahon (D-Amherst/Pendleton), and Monica P. Wallace (D-Lancaster) have made statements in support of the Attorney General's investigation. They have not made statements about his resignation.
Peoples-Stokes and McMahon both signed onto a letter penned by Democrat women legislators in New York in support of the AG investigation on March 8.
"I was very quick to say there needed to be an independent investigation. I still believe that to be true. I'm glad that there is one being conducted. I think the governor's office has to stay completely out of that investigation. But I do believe we need to let this investigation continue," Wallace said on Hardline.
"I will stay this, as you will probably remember, I had a unique distinction of representing a district that had not one but two previous sexual harassment scandals," Wallace added. "In fact, that is one of the reasons I ran to begin with, left a career to come run for this office because I believe that has no place in our government."