BUFFALO, NY - There's a lot of controversy over a local school's decision to not let a student walk across the stage at graduation wearing a military sash.
A post shared around Facebook claimed Orchard Park senior Dillon Donovan "had to leave early" because he was wearing his United States Marine Corps sash at graduation Saturday. The post prompted outrage both local and beyond, getting more than 2,000 shares.
But Orchard Park's superintendent says the district has historically had a policy against students wearing "sashes, cords, and individually decorated caps" during the ceremony.
And in a post that has since been deleted, Dillon clarified on Facebook, "I did receive my diploma, I just was not allowed to walk the stage wearing my USMC sash. It was 100% my choice to not to take it off and to leave early after not letting me walk with it on."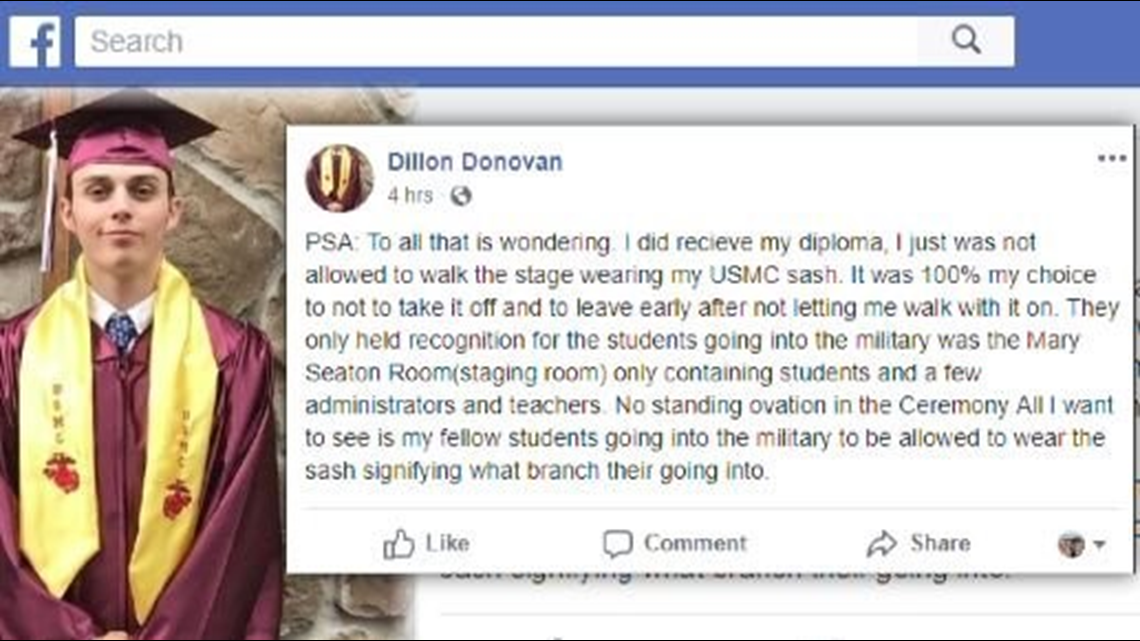 The next day, Orchard Park Superintendent Matthew McGarrity posted a letter to the district website, saying in part, "Immediately prior to yesterday's Orchard Park graduation ceremony, a request came forward from a student to wear a military sash at the ceremony [...] Historically, the District has focused on the graduating class as a cohesive group, with sashes, cords and individually decorated caps not being part of the ceremony."
He said that a week ago, the seniors had a graduation rehearsal where expectations were outlined, and Dillon's request the day of graduation did not give the district "the chance to consider changing its historical practice."
McGarrity reiterated that the incident would "prompt further discussion into our graduation ceremonies moving forward."
You can read the letter in full here.