BUFFALO, N.Y. —
Internet operators develop infrastructure and networks with municipalities through a franchise agreement.
The current franchise agreement between the City of Buffalo and Spectrum expired in 2017 and to date, has not been renewed. Most of the infrastructure that was put in place when Adelphia Communications was the operator in the city has not been updated.
"Well, it's getting behind the times," said Councilman Richard Fontana. "That was state of the art, but that was 20 years ago."
Buffalo is also behind other similar-sized markets in terms of options.
Municipalities like Chandler and Scottsdale, Arizona, Madison, Wisconsin, Lubbock, Texas all have multiple internet providers offering consumers a variety of high-speed broadband packages.
Buffalo remains one of the last vestiges of an old franchise agreement system that only allowed one cable and internet provider in a municipality.
"This council has not been thrilled with the company we have now," said Buffalo City Council President Darius Pridgen. "You don't know the amount of people that have asked for public hearings for this company."
Pridgen said he is open to public hearings regarding the current provider, Spectrum, to hold them accountable for advertised speeds and services delivered.
"I need it for the alarm., I need it for the computers, I need it for the phones," Pridgen continued. "So, I have no choice and when there is no choice, I stopped short of the word monopoly. however, I will say that there is a strong smell of monopoly"
With the current franchise agreement expired, Spectrum is allowed to operate its internet network in what's called a layover, meaning the old agreement is grandfathered over until a new agreement is reached.
2 On Your Side has learned that negotiations for a new agreement have begun since we began asking questions about it in August. The status of the negotiations is unknown because city officials have refused to answer questions on the matter.
The city refuses to talk about the issue to the degree that they are currently in violation of a Freedom of Information Law request that was filed by WGRZ on October 15, 2019. The city was legally bound to provide the information by November 12, 2019, or ask for an extension by that date.
The City of Buffalo has done neither.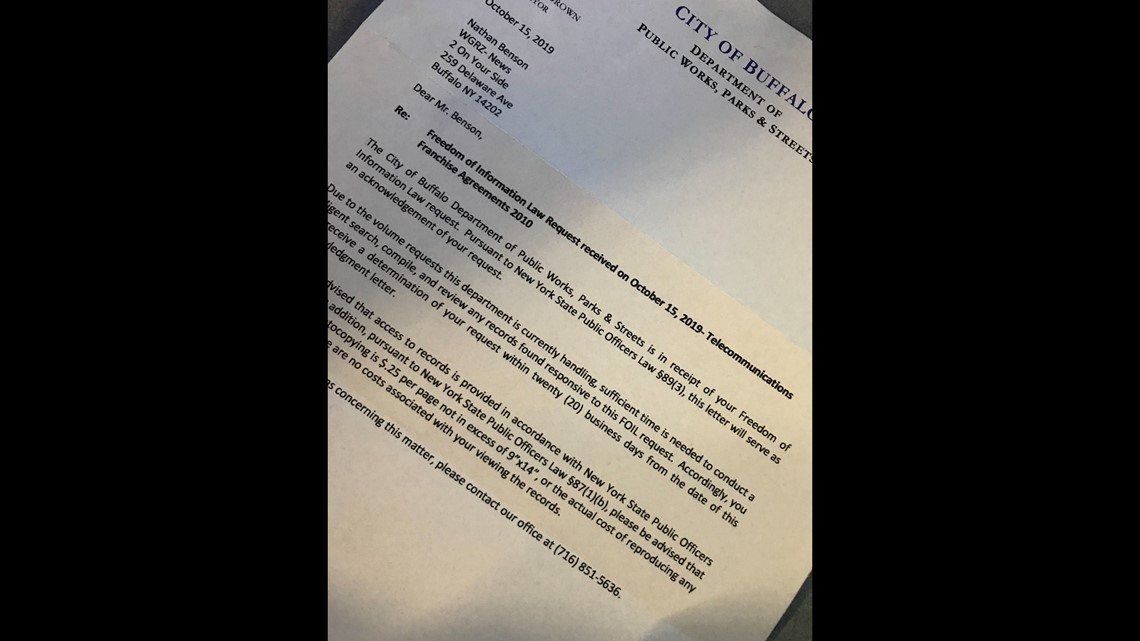 Sources tell 2 On Your Side that multiple vendors want to install new infrastructure and telecommunications networks to expand internet coverage to residents in Buffalo. Because of this, in our FOIL request, we wanted to know the following:
All companies that have applied for access to the City of Buffalo Telecommunications Registration since 2010
All letters of intent from telecommunications companies seeking a franchise agreement with the city of Buffalo to provide telecommunications services, including internet and fiber-optic or optical fiber, within the city of limits since 2010
All pending telecommunications franchise agreements between the city of Buffalo and telecommunications companies, including fiber-optical or optical fiber companies since 2010
All draft agreements between the city of Buffalo and telecommunications companies that also include any and all fees/costs the applicant would be paying the city since 2010.
All finalized franchise agreements between the city of Buffalo and telecommunications companies that include any and all fees the applicant would be paying the city of Buffalo since 2010.
The most recent franchise agreement between the City of Buffalo and Verizon that also includes any and all fees Verizon is paying the city of Buffalo.
Data listing how much conduit or right of way access is available in the city of Buffalo.
The Department of Public Works oversees all telecommunications and franchise agreements in the City. Director Tom Tarapacki is the person that directly handles incoming requests.
One source, who asked to remain anonymous in the event the city of Buffalo responds to them, told WGRZ that they submitted a plan for a fiber-optic build-out that would come into the city in the summer of 2018. As recently as November 1st, the city of Buffalo had not responded to that company's request after what they say were "dozens of phone calls and emails."
Joshua Ferry is the Co-Founder and CEO of CloudInsyte, a New York City-based startup that has relocated to Buffalo.
"We're a business-to-business marketplace that utilizes data to more accurately and intelligently match its executives in their companies, with the vendors in the emerging tech space," Ferry said in an interview with 2 On Your Side.
They act as a middleman for telecommunications companies looking to expand their networks with municipalities or other entities. Ferry says that vendors think Buffalo is ripe for competition and expanded internet providers..
"They look at this as a primary area that they could grow their business," he says. "And they have the opportunity to connect to other locations that they're already doing business in."
But there's a problem - the fees the city of Buffalo reportedly wants to impose on companies looking to expand infrastructure in the city.
"When we talk to vendors that said, 'oh, we saw you moved to Buffalo, we thought about going there a couple of years ago, and we just couldn't get over the fees that were associated with it," Ferry said.
Ferry went on to say that vendors told him that the Buffalo was charging fees that were higher than other cities.
"We charge on the cable side, not the internet side, we don't receive funds for the internet," Councilman Fontana said.
The city of Buffalo currently charges Spectrum a percentage of its gross revenue from its Buffalo operations, per the expired franchise agreement.
Sources told 2 On Your Side that one company looking to expand fiber-optic coverage in the city was quoted with a rate of $3/foot to access the city's infrastructure. We couldn't confirm what Spectrum or Verizon (for the phone-line right of way access) are charged by the city.
In our research, a similar situation played out in the City of Baltimore - Verizon was being charged $0.07/foot and another company was charged over $3/foot.
We also came across an FCC comment from Extenet, a Chicago-based telecommunications company that said: "many jurisdictions, like Rochester and Buffalo, New York have proposed or require a five percent gross revenue fee, again unrelated to the cost of wireless attachments, for accessing local rights-of-way."
WGRZ reached out to Extenet for comment regarding this statement to the FCC. However, they said: "We have no desire to be a part of this story." We've since learned that a project with the City of Buffalo fell through in recent years.
"I would love to see even the federal government weigh in on this a little heavier," Council President Pridgen said.
The FCC has guidelines for municipalities seeking to accelerate wireless and wireline broadband internet, called the third order. No relation to the first order from Star Wars.
The third order seeks to clearly resolve some of the issues that is reportedly stalling Buffalo from allowing competition and growing its internet infrastructure, such as:
Conclude that Sections 253 and 332(c)(7) limit state and local governments to charging fees that are no greater than a reasonable approximation of their costs for processing applications and for managing deployments in the rights-of-way.
Identify specific fee levels for small wireless facility deployments that presumably comply with the relevant standard.
Provide guidance on certain state and local non-fee requirements, including aesthetic and undergrounding requirements.
This story doesn't have an ending. Normally a reporter will tell you what officials say, or what a company will do. None of that happened here.
The city won't talk on the record and answer basic questions regarding its internet infrastructure. Some companies are wary to go on the record because they fear their proposed projects will get rejected - even though the city reportedly isn't responding to them. Some companies simply refuse to talk.
And all the while, 1 out of 5 Buffalo residents lack access to the internet at home or have smartphone access.
While there is consistent messaging regarding a Buffalo renaissance, it remains the city of bad internet.