BUFFALO, N.Y. — Back in 2017, Jalonda Hill was looking for a safe space to heal mentally and physically.
"Just being a Black woman, honey, in America can be very stressful," Hill said.
She eventually found it from her bike but felt she could do more.
"I also wanted to give that gift to other Black women," Hill said.
"I feel the heaviness of our neighborhoods and I'm able to just get away for a while by riding my bike," Broughton said.
"This is a really nice space for us to just connect and fill each other back up, heal, and go back to where we're going."
The women do monthly bike rides, finding a little peace through activity, leaning on one another, and also making a difference in the 14208 neighborhood by soon providing more transportation options in an area without them.
This summer, Colored Girls Bike Too is opening up Holistic Cycles, a for-profit bike shop co-op in the area that will also sell whole foods.
It will help to fund a free mobility bank around it.
"That space is going to be a space where we can store more bikes, we can store other mobility options to give the community our gift of mobility," Hill said. "Wheelchairs, scooters, just all forms of mobility options."
When the bike shop is open, Colored Girls Bike Too will then begin funding a capital campaign to bring their larger vision to life which includes a Holistic Mobility Hub. It will include a wellness center and travel hub in the 14208 neighborhood, but they do not have a location yet for it. A student at UB environmental student designed the renderings for the whole project through the university's Champions of Change program.
Colored Girls Bike Too hopes to eventually move the bike shop into a larger building with the mobility bank around it as part of the hub.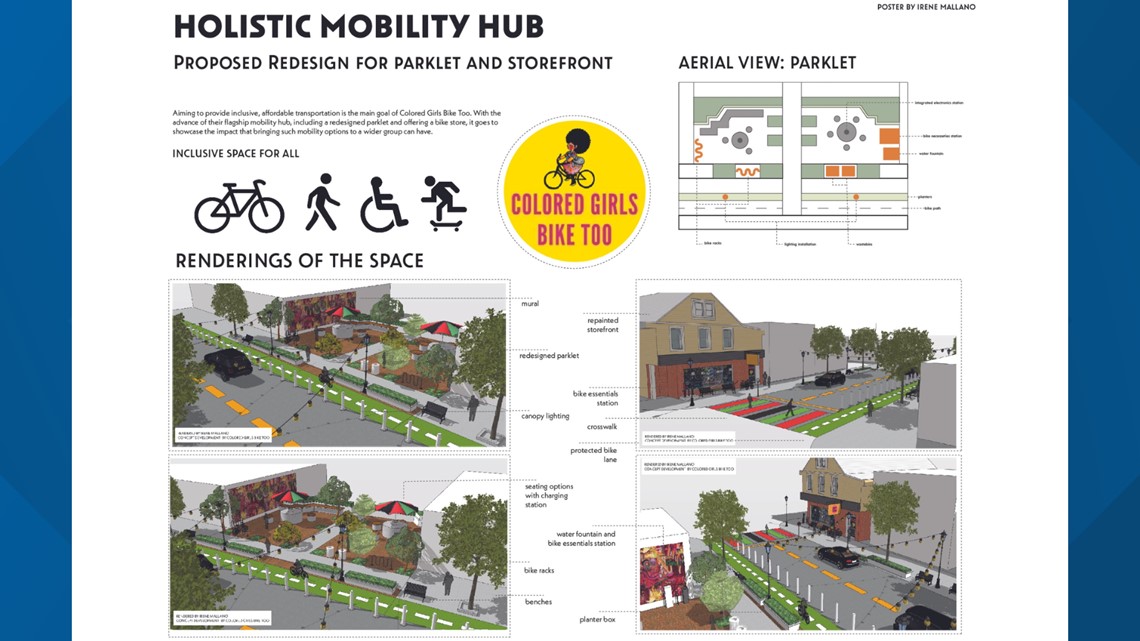 "We were thinking about this idea prior to the racist terrorist attack on May 14 but after it happened, it really encouraged us more to really push this," Hill said.
The City of Buffalo is also doing a streetscape project for Jefferson Avenue, so Colored Girls Bike Too hopes to collaborate with and support the city on the project. They also hope to work with the city to eventually get bike lanes around the mobility hub someday.
Six years ago, Hill was able to find a safe space for herself and other women of color.
Now she just wants to help an entire neighborhood feel some peace it deserves.
"Despite what's going on in the world, as corny as it may sound, it's good to know I have an option which is to get on my bike and move anywhere I please," Hill said. "It really does change your perspective on how you see your city, yourself, and your community."