BUFFALO, N.Y. — The Buffalo Police Department said a 16-year-old male student was arrested after fights broke out outside McKinley High School Tuesday afternoon.
Officers were called to the school right after classes were dismissed for the day.
BPD said the student is facing charges of obstruction and resisting arrest.
McKinley's principal released this statement on today's fight and the actions they were taking: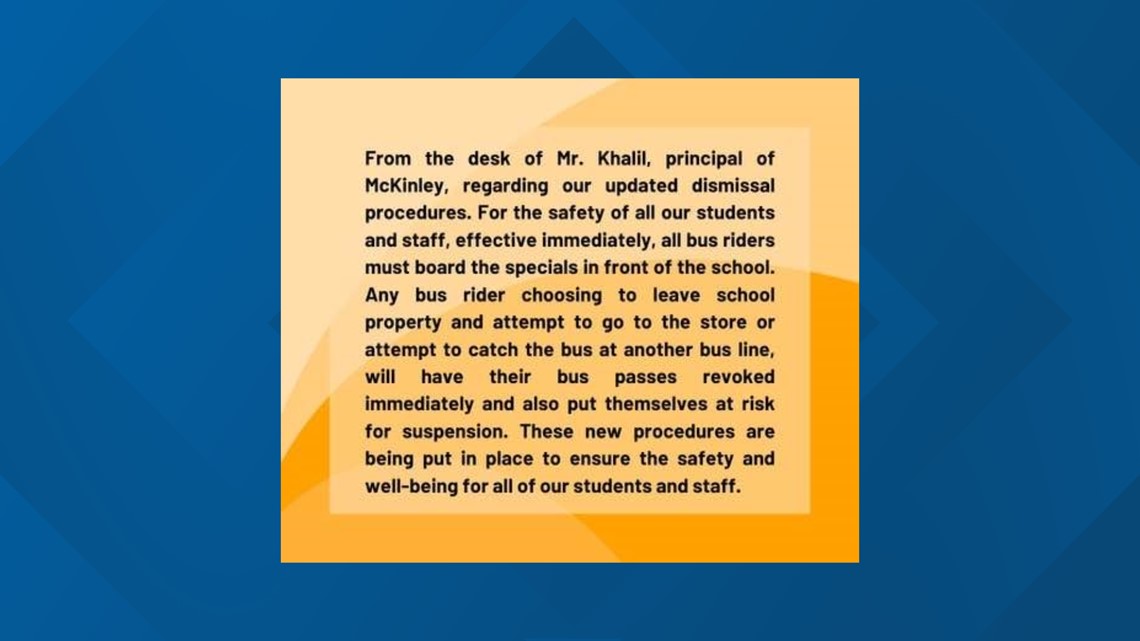 Buffalo Public Schools released a statement that described the fights that broke out during dismissal saying students "bypassed their special NFTA busses" and "traveled to the Elmwood and Amherst Street intersection where they created an unsafe environment by participating in multiple fights."
That statement went on to say, "School leadership will prioritize identifying every student who was directly involved and disciplinary measures, per the Student's Code of Conduct, will be issued."
BPS reminded parents via robocall and text that students approved for busing are expected to board their assigned special NFTA bus, in front of the school at dismissal. Those who don't follow the new dismissal guidelines may face disciplinary consequences.
Murray Holman, the Executive Director of Stop the Violence, said the school's proposed changes of ushering students to the metro buses may not solve all the violence issues.
"I don't see this happening in the suburbs when kids are being bussed on yellow buses," he said. "They've gone directly home. Here with the Metro buses, they have the opportunity to get a little bit out of control, and the metro bus people don't have the personnel or the time to control that."
Holman said the violence can be reduced by keeping students occupied in after-school programs or jobs.
Other community leaders like Nekia Kemp, the Executive Director for the Buffalo Police Athletic League, believe it starts with building a relationship between students and law enforcement.
"I think the more you're able to build that trust and those police community relationships with residents, you begin to start to see that the residents begin to trust officers more, and you see more crimes being solved," she said. "You see people more willing to speak to police officers, so I do think it has a huge impact."
BPD said the incident is still under investigation.