Is it time for New York State to legalize pot?
With a growing number of elected officials in favor, is it time for New York State to make recreational marijuana legal. 2 On-Your-Side traveled to Colorado to have a look at the impact legalized pot has had on that state.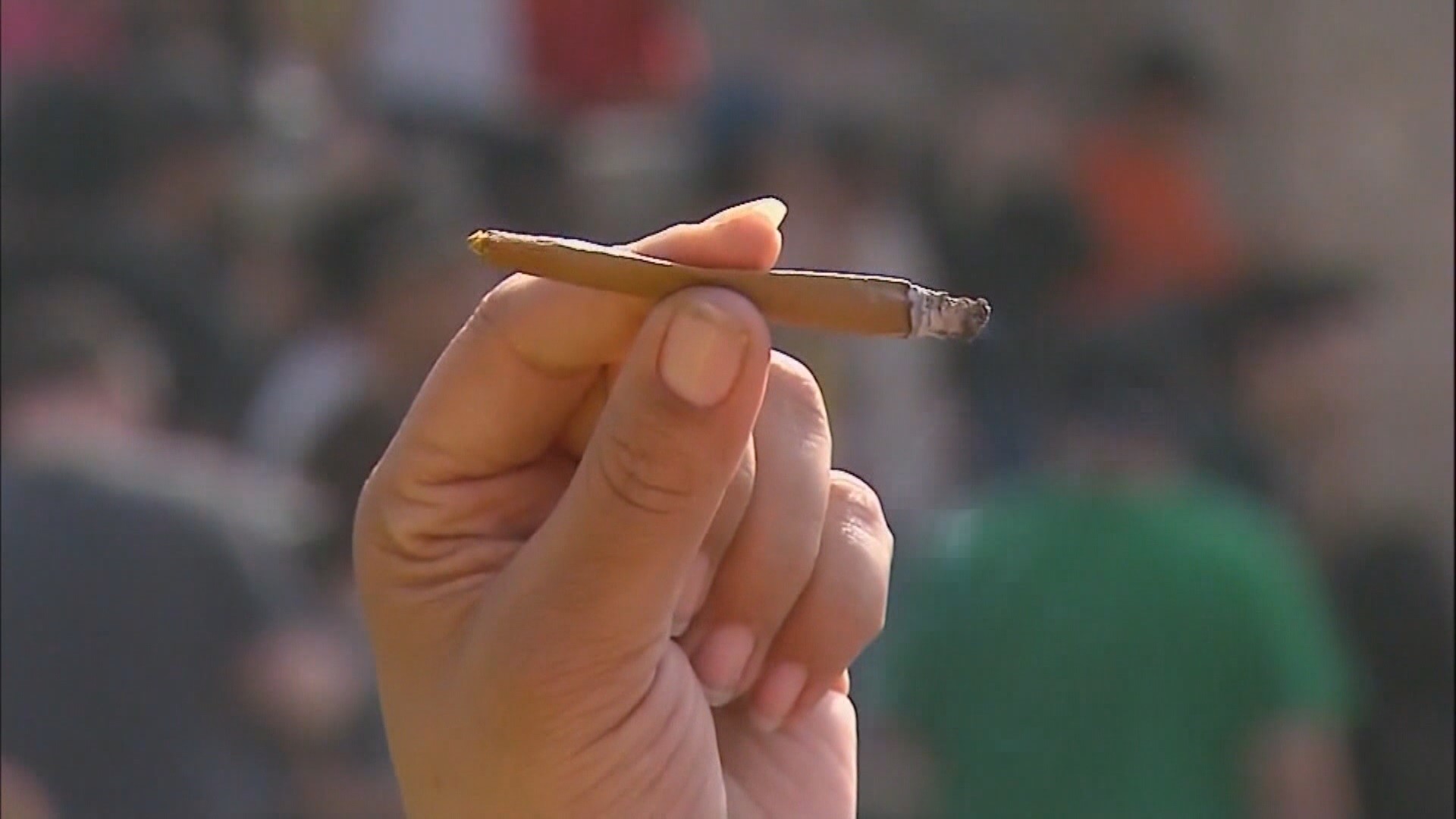 Should New York state legalize recreational marijuana?
A growing chorus of political voices say, "yes."
An April poll from the Siena Research College Research Institute found 52-percent are in favor of legalizing recreational cannabis. Opposed voters number 44-percent. But, with a margin of error in the poll of 4.3-percent, mathematically, that's a tie meaning opinions are split.
So, what happens when a state decides marijuana should be available for people to legally purchase and use?
2 On Your Side traveled to Colorado to find out.
BEHAVIORS: How pot changed (and didn't change) Colorado
The Colorado governor did not like the idea of legalized recreational pot.
"Like almost every elected official in the state, I was against it," said John Hickenlooper in a recent 2 On Your Side interview in the state capitol in Denver.
Despite reservations from officials, in 2012 Colorado voters said "yes" and the state's legal cannabis business was born.
"I'm from the school that says once the voters express their desires clearly, my job is to do the best I can to deliver that," said Hickenlooper.
Five-plus years later, legal marijuana is a $1.5 billion business. There is a cluster of pot dispensaries in Denver's Antique Row District, a very short drive from the capitol building.
"It is illuminating to see all the red flags and all the extreme consequences that we've been warned about, really haven't happened," said Hickenlooper.
One of the worries was whether making recreational pot legal would just create more recreational pot users.
But, state officials say that has not happened.
"When people think about legalization, they think about starting from zero. That nobody's using marijuana and that's just not realistic way to think," said Dr. Larry Wolk, executive director of the Colorado Department of Public Health.
Wolk says before legalization, one in four adults in the state used marijuana at least occasionally. After legalization, same story, one in four adults using.
A bigger concern was teen marijuana use. Early data from a bi-annual survey of teens called the Healthy Kids Initiative saw an increase in under-age marijuana experimentation. But Wolk says that use among young people has returned to the pre-legalization rate: one in five.
But marijuana use by teens and young adults remains an important issue. Multiple studies and data reviews show a link between marijuana use and diminished brain functioning.
Hickenlooper said, "Almost every brain scientist I've talked to thinks that if you're brain is rapidly growing and you take even just once a week, it'll get in the way of how your synapses are forming and you run a very serious risk - a probability that you'll lose a slice of your long-term memory which is in essence your IQ."
Although much of the human body completes its growth by the teen years, brain function can continue developing through the mid-20's. The damage potential increases with more powerful strains of marijuana now commercially available in Colorado and other states where it's legal to use recreationally.
Dr. Torin Finver, medical director for Horizon Health and Renaissance House, says a young person can literally smoke him/herself stupid.
"There is a drop in IQ. Some of that tends to come back in the adult brain, but when we're dealing with a brain that's still developing, we don't know what the consequences are long term or if we can even repair that," says Finver.
By the way, there is a segment of Colorado's population which has seen increased marijuana use: seniors.
And for those who hope legal marijuana might put a dent in use of illegal opiates like heroin, Colorado has not seen that switch.
"There's no evidence one way or the other, as of yet. It's definitely a study question that we're looking at," says Wolk.
So, in Colorado, marijuana use is flat. Same numbers using now with weed legal as it was when it was illegal. And the black market? It has not totally disappeared says Governor Hickenlooper, but he says it's a small fraction of what it once was.
But what about the voices in New York calling for legalization? Does Hickenlooper think recreational marijuana is worth the trouble? He's not sure.
"It's a bunch of trouble, but it's a lot easier now because these others states, they can come and they can take our laws, our mistakes and they can pretty seamlessly go from zero to sixty pretty fast. So, it's certainly not as much trouble as it was."
THE MONEY: How much revenue could NY State government make?
Like a number of elected officials in this state, Buffalo Assembly Member Crystal Peoples-Stokes thinks it is time for New York to have legalized recreational pot.
In an opinion piece she authored for Albany's Times-Union, Peoples-Stokes noted marijuana "has generated millions in tax revenue" in the states that have legalized it.
So, how much money could New York's state government expect to bring in?
For starters, Colorado's cannabis biz is now a $1.5-billion industry. But state government there only gets a small portion of that.
The Denver Post reported that last year Colorado collected $247-million in marijuana taxes. But New York is bigger, with a population three and a half times larger.
So, if the Empire State had the same proportion of pot sales and taxed it in the same fashion, it theoretically would bring about $874-million into the state coffers.
It's a lot of money - until you consider the state's current budget which is $168-billion. That means our estimated legal marijuana revenue would be less than half of one penny of every dollar in the massive spending plan.
Another thing to consider is a big chunk of that revenue will be spent before it reaches Albany.
And marijuana still remains illegal in the eyes of the US government. There is a lingering tension between the US Justice Department and states that have legalized, but so far Attorney General Jeff Sessions has taken no action to crack down on dispensaries.
But marijuana's federal outlaw status means services like the Food & Drug Administration are not available to help with regulating the safety or potency of pot in states that have moved to legalize.
So, Colorado had to build-out it's own regulatory infrastructure from scratch. Establishing dose sizes, labeling THC levels, licensing all manner of pot business employees - that all fell to state government. That says Governor Hickenlooper currently costs Colorado government $50-million a year.
And, "We're spending $10-to-15-million doing TV ads and other promotional campaigns to make sure teenagers don't think it's okay for them to do this," says Hickenlooper.
Colorado pot tax proceeds also go to public safety initiatives, drug treatment, and marijuana research.
And off the top, getting dibs on the marijuana money is a state school building fund which gets the first $30-million that comes in.
State government's own accounting of the cannabis related spending stands at $102-million or over 40% of the total pot tax take.
For those readers who think New York would tax legal marijuana heavier and bring in more money, let us introduce you to Wanda James.
"Tax us. Be fair. Allow us to be able to bring more small businesses into play."
James and her husband started off in the medical marijuana business and are transitioning their dispensary, Simply Pure, into a recreational-pot-only outlet.
They are located in Denver's trendy Highland Park neighborhood, where residential buildings have sprung up seemingly in every direction.
But James says the pot biz is not a place where people get rich.
"Thank God I have not been reliant solely on the cannabis industry for food or for clothing over the last eight years," says James.
As an example, James points out state regulations requires her 1,200 square foot dispensary to have 38 security cameras which eat up her internet service. She says she was forced to install an expensive, high-speed T-1 line.
And while James says taxing her industry helps legitimize it, she also complains that the Colorado tax burden is too heavy.
"They effective tax us at a rate at 80, 90-percent of income. We have no write-offs. I can't write-off my employees. I can't write off my electricity. I can't write off my purchases. I can't write of anything that has to do with the selling of cannabis," says James.
That's another bi-product of marijuana's illegal federal status.
It is James' hope that if she and her husband can survive the headaches that sometimes come with opening a marijuana dispensary, eventually full nationwide legalization will happen - including at the federal level.
"We know this is the right thing to do and eventually we know that we will make money doing this."
STONED DRIVING: The questions about what the legal limit is
Patrolling the suburban interstates overnight is the usual assignment Colorado Trooper Ty Simcox.
"We get tons and tons and tons drunks coming out of here because they all leave the clubs and the bars in Denver," says Simcox.
2 On-Your-Side went for a ride recently with Simcox while he was on duty north of the city.
"Probably around midnight I'll be looking for strictly like impaired drivers," says Simcox, "both alcohol and drug impaired."
How does a police officer know if a driver is marijuana-impaired?
The active ingredient that makes users feel high is delta-9-THC. And the state of Colorado has set five nanograms as its definition of legally impaired.
"They're not necessarily impaired," says Chris Halsor, a former career prosecutor.
Halsor spent six-years specializing in D-W-I cases with an emphasis on marijuana-impaired cases.
He points to a growing number of studies, like the one the AAA Foundation released two-years ago which found no link between T-H-C level and whether a driver is impaired.
"One of the issues has to be is how are we equipped to deal with this? And from a law enforcement standpoint it's a struggle," says Halsor.
Especially when you consider in a recently survey of marijuana users, the Colorado Department of Transportation found 69% of users admitted to driving under the influence at least once in the past year.
Also, that 27% said they drive high on a daily basis.
Meanwhile, the number of fatal accidents where a driver is found with active T-H-C in their system continues to rise. In 2013, there were 13 people killed in these accidents. The number jumped to 77 in 2016.
And while recreational marijuana is not legal in New York, police are already familiar with its effect on drivers here.
"I've had as gentleman that was so impaired by marijuana he forgot he had a marijuana cigarette tucked behind his ear. And he adamantly denied he was smoking marijuana until I plucked it out from behind his ear," says Trooper Dean Scirri, a Drug Recognition Expert for the New York State Police.
Scirri and other officers must build a D-W-I case based on their observations, whether the driver may have slurred speech, bloodshot eyes or slow to respond to questions.
Then, there are the standard roadside sobriety tests: walking heel-to-toe, balancing on one-leg and with eyes closed touching the index finger to the tip of the nose.
But Colorado Trooper Simcox has experienced this, "I've had people admit to smoking, fairly recently, and their roadside (tests) will be a 100% perfect."
Halsor, the former DWI prosecutor says, "I would love my chances as a defense attorney in a marijuana impaired driving case."
Halsor says, right now, where public safety is concerned the politics of marijuana is way ahead of our science and understanding of marijuana.
"I think people have changed their mind about the drug but there's also a learning curve that comes along with that," says Halsor.
FINDING WORK: Marijuana users may find employment options limited
The Denver area has an astounding 3,000 job openings just in the manufacturing sector.
"We can't fill 'em," says Tim Heaton, president of the Colorado Advanced Manufacturing Association.
Even though the city is booming, housing going up seemingly everywhere, there is still not enough people to fill all the job openings.
Unemployment in Denver is at 3.1%. Buffalo also enjoys low unemployment at 6.4%.
Here in western New York, employers are bracing for a forecast 137,000 retirements in the coming years. And already, Buffalo area companies are at times seeing a third or more of their job applicants disqualified because of failed drug tests. Frequently, the failed tests are from marijuana use.
What happens if New York legalizes recreational marijuana? There are clues in Colorado.
"There's a lot of applicants that are failing drug tests right now," says Heaton.
Heaton says the response by some Colorado manufacturers is to not test. He cites statistics where 77% of state employers were screening for drug use in 2016. Last year, that dropped to 66%.
"In Buffalo, there are a lot more large manufacturers out there than we have here," says Heaton, "to them it's a different risk issue."
The risk includes workers compensation insurance. Most New York employers are required to carry this coverage in case an employee is injured on the job. But it's expensive.
In 2015, the non-profit news organization ProPublica looked at workers comp pay-outs by state and found New York pays more than almost any other state.
Example. If a Colorado worker lost a pinky finger in a workplace accident, compensation would be about $3,600. That same lost pinky would get a New York worker over $12,000.
It's better compensation for the Empire State worker, but higher pay-outs also means higher insurance premiums. That means New York employers would have to make decisions about whether a pot-smoking employee is worth the risk.
What appears certain is that marijuana will limit employment options.
"If you chose to partake in the legalized marijuana then you have to realize there are certain jobs you're not going to be eligible for," says Heaton.