CHEEKTOWAGA, N.Y. — Jim Roycroft's grandfather is missing for over 60 years now.
When Jim and his wife Evelyn set out on Ancestry.com, they hoped to find all their relatives. What they wanted to do is honor them with regular visits including leaving flowers and wreaths.
Evelyn's family was pretty easy to find. And they located Jim's busia (grandmother), Anthonina, but Jim's grandfather John Slomczewski – his grave was nowhere to be found.
A burial card from the funeral home indicated John's final resting place was St. Adalbert's Cemetery. There are actually two St. Adalbert's cemeteries on Dale Road in Cheektowaga. (They are separated by another cemetery.) An initial record search at the cemetery office did not turn up a map pinpointing his grave. The hand-drawn map labels only sections. Just south of the cemetery are CSX rail lines.
So, how does a deceased relative go missing? How could there be no record of where John Slomczewski was laid to rest?
A secretary in the cemetery's new office mentioned a story about hundreds of graves that were exhumed and moved when the New York Central Railroad expanded in 1956.
Genealogists believed the number of bodies moved exceeded 700. Initial documents 2 On Your Side uncovered suggested 838 graves. John was just one of them.
"[The secretary] said if you find them... let us know," Jim Roycroft said.
This would lead the Roycrofts on a months-long journey to find their missing dziadzia (grandfather), lost in a long-unsolved Polonia mystery.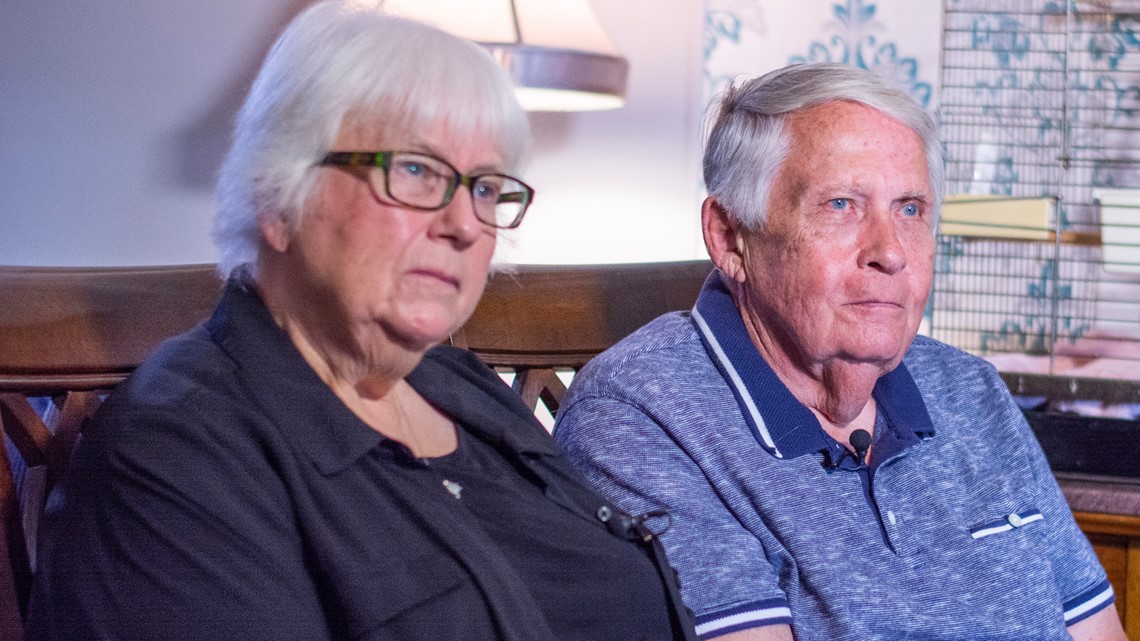 To Be Remembered
"The one thing that people want to know when they die is that people remember them," Jim Roycroft said, "It makes me feel good that... that I'm honoring my people."
Jim can remember trips he made as a child with his father to the "old folks' home" on Walden Avenue, where they'd visit his grandfather, John. They would sit, chat, and occasionally take a photo together.
"I don't think he spoke English... but I knew him," Jim Roycroft said.
John lived to be 90-years-old and passed on March 10, 1954 when Jim was around 15-years-old. O'Gorman-Lewis Funeral Home handled the arrangements. On March 13th, the funeral was held at St. Agnes. The burial at St. Adalbert's.
When the Roycrofts visited the cemetery office, there were some books to look at, but nothing about where John Slomczewski was buried or about any exhumation of graves.
"And we went through book after book after book... and his name wasn't there... the only place was on that little card," Evelyn Roycroft said.
A Google search at home turned up with a few results - mainly some articles written by Polish genealogists and historians. But still, nothing that could tell them where John was.
The Roycrofts walked the cemetery grounds repeatedly. They contacted the rectories that might have the now-closed St. Adalbert parish records, the now-closed St. Agnes records, and Catholic Cemeteries, which now manages St. Adalbert Cemetery's properties on Dale Road in Cheektowaga and a third cemetery in Lancaster that opened in the early 1970's.
But no new clues turned up. The trail went cold.
"I Want to Know Where He Is."
Months passed, and still no answers. That's when Evelyn Roycroft called 2 On Your Side hoping we might be able to help. While we went to work, the Roycrofts continued with their loving ritual of visiting their deceased relatives.
On a stroll this fall to visit Jim's grandmother, Anthonina Slomczewski, the couple made it clear they were not giving up.
"You know you're not forgotten. Everybody remembers you and that's the main point of our quest... of filing... finding your husband... John," Jim said, speaking to his grandmother's grave, with Evelyn by his side. "And if we find him, we'll be complete."
2 On Your Side placed calls to St. John Kanty's rectory, where we suspected St. Adalbert's records might be. No luck.
We tried the cemetery office. Again, no luck.
That's when 2 On Your Side reached out to Charles Mussen at Catholic Cemeteries. We explained we were looking to help the Roycrofts find a missing relative, he agreed to look into the matter.
Mussen and Mike Attea with Catholic Cemeteries began their hunt for St. Adalbert's missing records. They uncovered a large ledger. In it, the the roster of every St. Adalbert's burial (in chronological order) from the early to mid 1900s. The ledger shows John Slomczewski was originally buried in section D, line 2, grave 33.
Section D is is closest to the neighboring railroad tracks. That section is much smaller today than the ledger suggests. And the oversized book did not detail any exhumations or re-burials.
Growing, Growing, Gone

St. Adalbert's Cemetery formed in 1891. It was apparently very busy. Graves are close together, row after row. Its neighbor to the east is Holy Mother of the Rosary Cemetery. So, when St. Adalbert's sought to expand, it bought the next parcel of land to the east, creating a "new" and "old" cemetery on Dale Road.
The New York Central Railroad had also been expanding. According to original court document still in storage at the Erie County Clerk's office, in the 1950's the railroad had sought to condemn strips of property in the cemetery. The railroad intended to construct new electronically controlled freight yards on this land.
In September of 1956, then-Buffalo Catholic Bishop Joseph Burke, on behalf of St. Adalbert's, asked the court to approve a re-interment the bodies in other spaces in their cemetery, at the cost of the railroad. Moving the graves would not be a small job. Bishop Burke's affidavit indicated the cemetery had sold 838 burial rights in the section the railroad wanted.
Judge Michael Montesano ordered a special vote on the re-interment by the St. Adalbert's parish council. Also ordered, notices were to be placed in the Cheektowaga Times notifying next of kin for the month leading up to vote on September 28, 1956.
2 On Your Side found the legal notice of the parish council vote. But like John Slomczewski, newspaper coverage of what was a big story... was missing.
Microfilm searches of Dziennik dla wszystkich (Polish Everybody's Daily), Cheektowaga Times, Buffalo Evening News, The Courier Express and the Catholic Union and Echo for stories produced exactly one. A three paragraph article by the Cheektowaga Times about the graves being moved.
With State Supreme Court Judge Hamilton Ward signing off, Bishop Joseph A. Burke authorized the sale of the land at the rear of both Dale Road Cemeteries to the New York Central Railroad company. The price: $45,000. (With inflation, this would be over $420,000 today, for a little more than an acre of land.)
But before the deal was signed, over 900 bodies had already been moved.
A Gap in Records
Local genealogists, including the Polish Genealogy Society of New York State, have put together resources over the years, including an index of burials in the original cemetery based on rectory records. At the start of the search for John Slomczewski, Catholic Cemeteries had what few original records that were transferred from St. Adalbert's cemetery and a previous parish. But none of this produced a plot map showing John's precise location.
2 On Your Side even visited the New York Public Library in Manhattan to search through boxes of New York Central Railroad records for any indication of how the bodies were moved, or the land purchase. All that we found were references to the expansion of the railroad without details in the Buffalo-area.
Librarians at the Buffalo and Erie County Public Library did refer us to Maureen Gleason, a genealogist familiar with the Town of Cheektowaga archives. Through a Freedom of Information request, the town provided all of the documents on the exhumation and reburial of bodies at the St. Adalbert's Cemetery in 1956.
These records show, from October 1 through November 7, 934 bodies were moved. Routinely, dozens of bodies were moved daily. Handling the digging-up and reburying was Chestnut Ridge Nurseries. Two undertakers are named as overseeing the operation.
Then, on November 2nd, the documents accounting the day's exhumations shows "21 adults and 19 unknown babies" were moved. Among them, a "John Slumczewski." Despite the misspelling, it's believed this was Jim Roycroft's long-lost grandfather.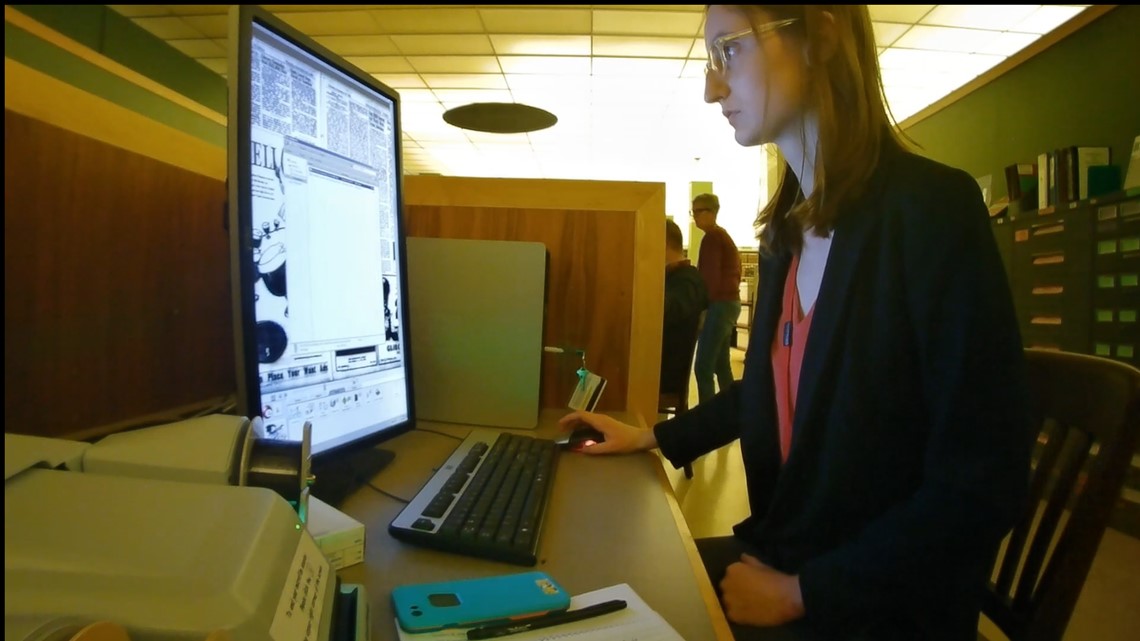 Probing For Possibilities
Charles A. "Chip" Mussen V, Director of Sales and Marketing for Catholic Cemeteries, sat down with 2 On Your Side on multiple occasions to share the progress on the search for John.
Mussen began exhausting the cemeteries' own resources, including contacting a law firm that has overseen Diocesan real estate transactions for many years and sifting through the rooms of the vacant former office and maintenance building at the old cemetery.
Mussen recovered a dusty, unassuming binder from the building, one that held more details on the 1956 reburials. With this in hand, himself and Director of Cemeteries Michael Attea started to put pieces together and went out to the cemetery, to probe for vaults and search for where John's grave could be.
Maybe John?
Documents show that the graves were assigned in the order the deceased passed, and that order was likely how they were moved. Catholic Cemeteries used the ledger, the un-earthered binder, and the records they collected to create a best-estimate plot map for where the graves were moved. Section D was moved to section C within the older cemetery, and John should be between Walter Zzakrzewski and Laura Mameszewska, in row 30, grave 8.
Unfortunately, this is just a best guess. Gaps in the records, Catholic Cemeteries says, leaves them not entirely sure that this is his grave. There is no marker. Records show John was supposed to get a new vault when he was reburied, but when probing from above ground was not able to confirm a vault at the suspected location.
Last week, Mussen and Attea met with the Roycrofts at Mt. Olivet Cemetery in Tonawanda to share the news.
"The frustrating thing for us, is, where we were able to recreate where almost everyone is... John is not 100 percent, in... uh... we weren't able to do that," Mussen said to the Roycrofts.
Mussen added it's possible if John's grave originally had a monument that weighed over 100 pounds, they weren't required to move it which would leave wherever he was placed, unmarked.
"This has been so disheartening... especially with the church teachings that we've grown up with," Evelyn said in the meeting.
Honoring Their People
"I can see that... we'll never know for sure," says Jim Roycroft about where his grandfather was re-laid to rest.
Amidst all the uncertainty, Catholic Cemeteries has decided to take a step to honor everyone moved back in 1956.
"We want to put this monument up for everybody who was moved. We'll put it over in Section C. It's dedicated to all the adults and the children who were relocated in 1956, due to the New York Central Railroad expansion," Attea told the Roycrofts in their meeting, as he handed them a rendering of the monument.
"I think we need to be their voice. They did live," Evelyn responded.
"Who knows, maybe someday, if this is televised... or shown, somebody's going to say... 'Oh, I know something'," Jim added.
"We can always keep our fingers crossed for that," Attea added, as him and Mussen voiced agreement with Jim.
The First Visit
In the fall, Catholic Cemeteries found the location believed to be the final resting place of John Slomczewski.
On July 31, 2020, the Roycrofts were able to visit their grandfather's grave and pay their respects for the very first time. After 64 years, his resting place finally had a marker: "In loving memory of John Slomczewski."
Jim and Evelyn, at last, have a place to go, to lay flowers, to remember their dziadzia. No longer lost, the family can now continue their tradition of remembering their relatives for years, and hopefully, decades to come.
The monument Catholic Cemeteries described in their fall meeting with the Roycrofts was also installed prior to the Roycroft's July visit.
Residing in Section C, the monument honors all of souls moved during the mass exhumation in 1956.
Roster of the Reburied
Catholic Cemeteries has put together a plot-map of the reburied bodies from the 1956 exhumations. It appears all the deceased adults were moved to Section C of the "old" St. Adalbert's Cemetery on Dale Road. (A map locating Section C is also below. The numbering of rows is unusual. For reasons we cannot explain, between rows 26 and 27, are Row 1-3.
A lingering mystery is what happened to the bodies of some 700 children that were exhumed. There is no clear indication what happened to them after they were dug up.