ROCHESTER, N.Y. — New York Governor Andrew Cuomo says some regions of New York are closer to reopening than others. Currently, no region meets all the requirements necessary to reopen safely and securely.
Cuomo says reopening the state is more complicated than it was shutting it down and if we open too quickly, we could see a rise in cases again.
He says reopening the state will be based, not on gut instinct, but on data and metrics that includes percent and rate of hospitalizations.
For Western New York, the region only meets three out of seven criteria to start phase one of reopening, according to the governor's office.
Right now, Western New York does not have a 14-day decline in hospitalizations, and it does not meet the three-day rolling overage for new hospitalizations. It must be under two per 100,000 residents. Western New York is at 2.20. Western New York also needs at minimum 30 contact tracers to every 100,000 resident.
2 On Your Side asked University at Buffalo's Chief of Infectious Disease Dr. Thomas Russo about the data.
"We are doing well, we've had a good week we are on the decrease of number of hospital admissions and we just have to keep on going and maybe even step up our game a little bit here too, so we can go ahead and meet this absolutely critical metric, so we can be on track to open things up around May 15th" said Russo.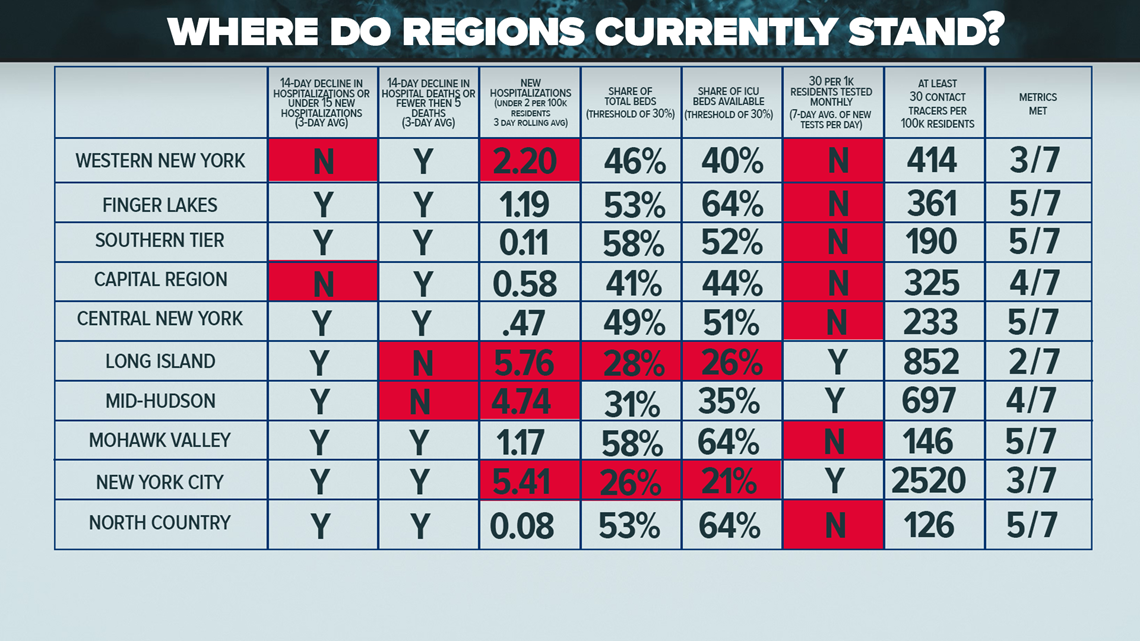 So far, one million New York State residents have been tested for COVID-19, and Governor Cuomo says New York is doing more diagnostic tests per capita than any other state or nation.
The governor also stressed again Monday, as he did over the weekend, that you should wear a face mask in public, if you can't socially distance. He says you don't wear one to protect yourself, you wear one to protect others.
Can One Region Open While Another Remains Closed?
The regional approach to re-opening expects to be slow and limited, with manufacturing and construction likely to be the first sectors of the economy allowed to resume their operations.
Cuomo has also indicated that those industries will only be allowed to resume by following many of the protocols adopted to fight the spread of COVID-19, such as provisions for social distancing, the wearing of masks, and limited occupancy.
The Finger Lakes Region, at this point, is ahead of the Western Region in terms of meeting the criteria along the path to re-open.
However, several of the counties in the Finger Lakes Region (Orleans, Genesee, and Wyoming) are adjacent to those in the Western Region (Erie and Niagara).
The question then becomes whether one region is allowed to "re-open," while its next door neighbors remain under a shutdown order.
Cuomo has often spoken of "attractive nuisances" and the need to ensure that when one region opens, it does not cause people from another region still shutdown to flock into one that is open.
Mostly, manufacturers don't open their doors to visitors and it would not expected that many people, even those with the most fervent case of cabin fever, would venture to another county just to watch a construction project. This makes them a good candidate to reopen first.
What this means is that restaurants, theaters, festivals, amusement parks, and other attractions which draw crowds won't likely be allowed to open anytime soon, possibly until the entire state is cleared.
In addition, Cuomo has entered into agreements with adjacent states pledging that one will not open its "attractive nuisances" until all of them are ready and agree to do so.
You can watch Governor Cuomo's entire 50 minute press conference from Rochester on Monday below: