BUFFALO, N.Y. — New York Governor Andrew Cuomo provided an update into the state's progress on the COVID-19 pandemic on a conference call late Friday morning.
During the call, Governor Cuomo stated the Western New York region continues to be a problem. He also stated that Erie County has the highest infection rate in the Western New York region.
Cuomo: Western New York at fault
Cuomo blamed the people of Western New York for failing to follow his edicts regarding face coverings and holding gatherings, and local officials for failing to enforce them
"How do you explain that Brooklyn, which was a red zone, got better?" Cuomo asked himself.
"Queens got better and Long Island stayed the same. Western New York got worse over the same period of time. How do you explain that? It's their behavior, that's how you explain it."
Cuomo offered no basis to make a such a claim, however, and provided no evidence that the behavior of Western New Yorkers is any different than that exhibited by residents in other parts of the state. Nor has any data been produced to demonstrate that compliance with Cuomo's rules is any lower.
The percent of tests that were positive for COVID-19 in the Western New York region on Thursday was 3.3%. The seven-day rolling average of the percent positive in the region is now 2.9%.
There were 305 positive cases out of 9,365 tests.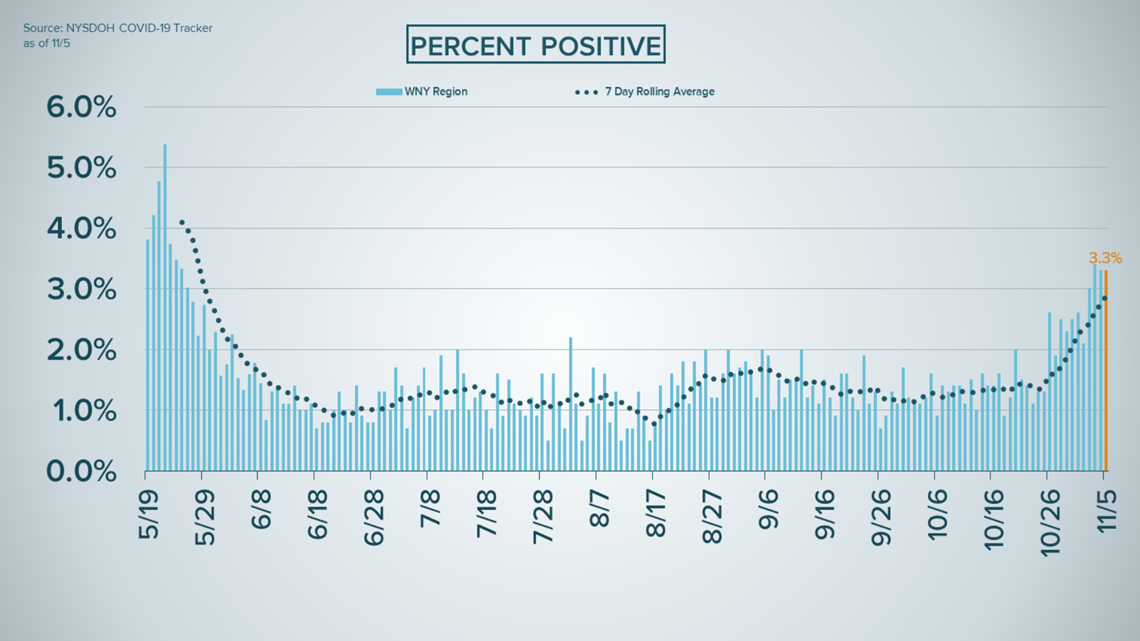 Of those positive results, 215 were in Erie County. The county now has a seven-day rolling average of 17 new cases per 100,000 residents, which is the highest average of any of the five counties in the region.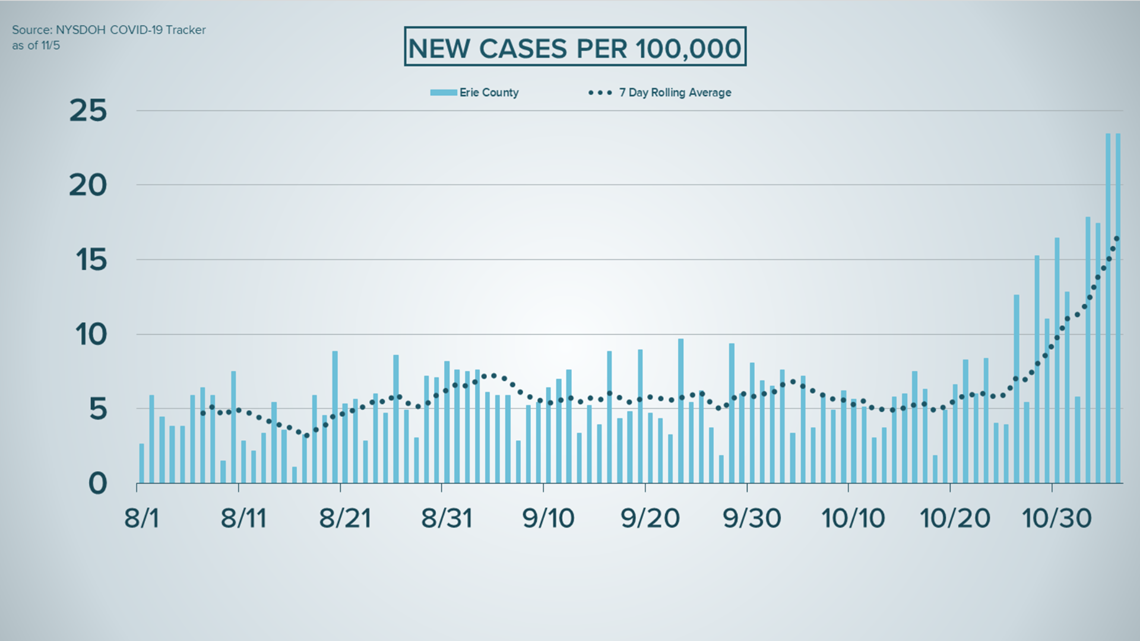 The Western New York region includes Erie, Niagara, Chautauqua, Cattaraugus and Allegany counties.
The number of people hospitalized with the virus in the region increased to 99 on Thursday.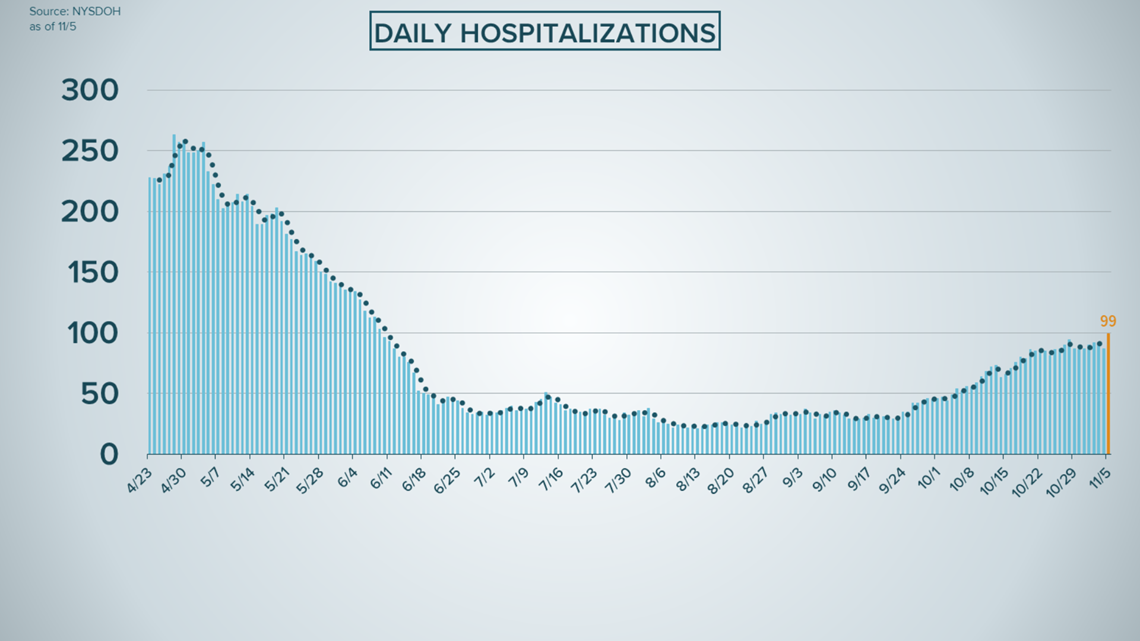 'Micro-cluster,' and what it could mean
The Governor pointed to four cities/towns in Erie County where the state is seeing an increase in cases: Buffalo, Hamburg, Tonawanda and Orchard Park.
Cuomo also announced health officials will study the data over the weekend and talk with local elected officials to find out what's going on, so they can design a micro-cluster strategy that is responsive. They will make an announcement on Monday about their findings.
In other areas of the state that were designated by Cuomo as micro-cluster, further restrictions were imposed which placed limits on gatherings and activities.
Much of it depends on how severe the state deems an outbreak to be.
In the past, the micro-cluster strategy also lead to schools being ordered to switch to remote learning and certain businesses, deemed nonessential by the state, have been forced to close.
Hamburg Town Supervisor James Shaw said on Friday that if there is a micro-cluster there it would be news to him.
"I'd be very happy to talk to the governor's representatives, our county officials, and our county health department to see what we can do to address this very concerning problem," Shaw told WGRZ-TV.
Tonawanda Town Supervisor Joe Emminger said that he was not surprised to be identified as a community of concern and that state officials have already been in touch with him.
"We do have some micro-clusters," Emminger said. "Two of our high schools paused (reverted to all remote learning) this week, and we have had more incidents among town employees this week who have tested positive.
Regarding Cuomo's assertion that residents are being lackadaisical about following protocols established by the state and that local leaders are failing to enforce them, Shaw said, "We have 60,000 residents in our town and people throughout our community have been very steadfast about observing social distancing and mask-wearing."
Added Emminger, "We are doing everything we can to enforce the governors executive orders. But we cannot go into people's houses. ... This is still America, I think."
At the same time, both supervisors stressed the importance of following the rules, which they say they fully support.
On Thursday, Erie County Executive Mark Poloncarz said the positivity rate for Erie County was 4.9% with 241 new cases reported.
Lieutenant Governor Kathy Hochul spoke to 2 On Your Side earlier this week, and she said there are no talks of a shutdown.
"We are in a different situation right now," she said. "We don't foresee the need to have a wholesale closing of businesses across the state or the region because we can be much more targeted now. If we see a cluster in an area we can bring in, deploy extra testing there, contact tracing to isolate and shut it down."
WATCH BELOW: Hochul: 'We are not anticipating' large-scale shutdown due to COVID-19 increase.