FALCON HEIGHTS, Minn. - On Wednesday night, a 32-year-old black man was shot and killed by a St. Anthony police officer during a traffic stop on Larpenteur Avenue.
Here's what we know so far:
PHOTOS: Philando Castile shooting: Day 2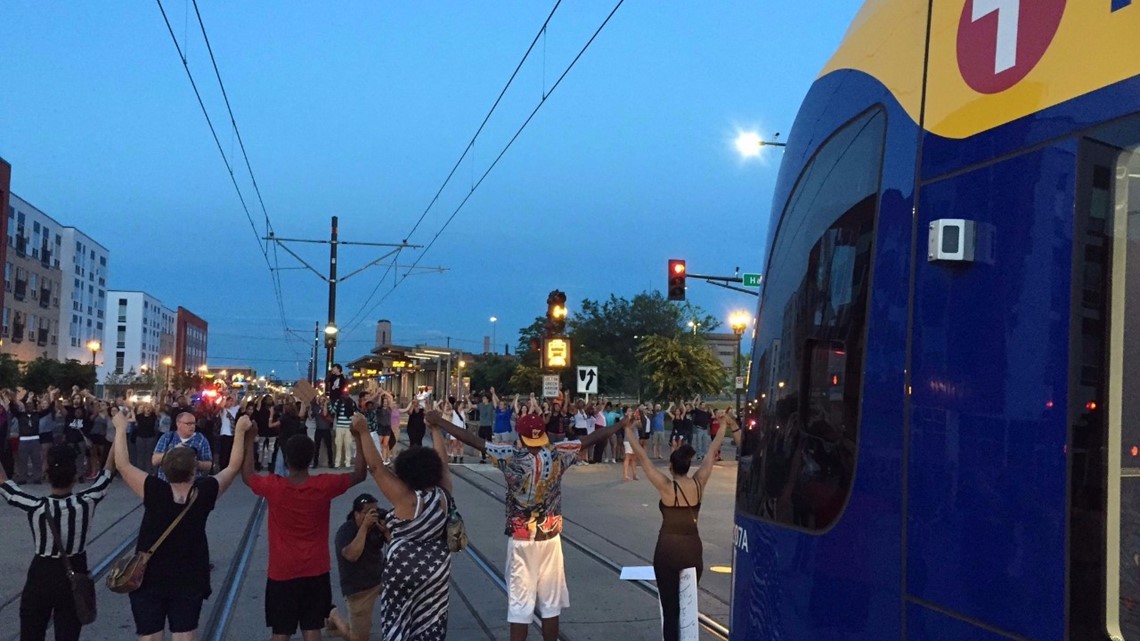 The victim
Family members identified the victim as 32-year-old Philando Castile, a cafeteria supervisor who worked at St. Paul's J.J. Hill school for the last 12-15 years.
Clarence Castile, the victim's uncle, said he was an "upstanding young man" and that even though he had a legal license to carry a weapon, he was not a "gun guy, not a shooter."
According to officials with St. Paul Public Schools, Castile started when he was 19, working as a nutrition services assistant from November 2002 until he was promoted on Aug. 11, 2014. Castile worked at Arlington High School and Chelsea Heights until eventually coming to J.J. Hill.
He was a 2001 graduate of Central High School.
Sources say he did have a license to conceal and carry.
The SPPS released a statement Thursday regarding Castile's death:
"Colleagues describe him as a team player who maintained great relationships with staff and students alike. He had a cheerful disposition and his colleagues enjoyed working with him. He was quick to greet former coworkers with a smile and hug."
Philando's mother called her son a "gentle soul," saying he was a really lovable person who rarely even raised his voice.
His sister Allysza said he would've been 33 next Friday.
The shooting
St. Anthony police officers initiated a traffic stop, allegedly regarding a bad tail light, around 9 p.m., pulling over a white vehicle with a man, a woman and a child inside.
Philando Castile was behind the wheel when an officer asked him to present his license and registration. Police say during the traffic stop, "shots were fired" and "one adult male was taken to the hospital."
According to a video posted to Facebook (Warning: Video in the link contains graphic images and language.) from Castile's girlfriend, Diamond Reynolds, the shooting occurred when Castile told the officer that he was going to reach for his wallet to get his ID but also notified the officer that he had a firearm on him, which he's licensed to carry.
In the video, the girlfriend says as Castile reached for his wallet, the officer fired "four or five times."
Castile can be seen in the video wearing a blood-soaked T-shirt. He's heard moaning and groaning until his girlfriend is ordered out of the vehicle.
Castile was transported to Hennepin County Medical Center, where he later died. Authorities say a handgun was recovered at the scene.
Reynolds and her 4-year-old daughter were in the vehicle at the time of the shooting, though neither were injured in the incident. Reynolds was taken into custody and said she was questioned until early Thursday morning, where she was treated like a "prisoner."
St. Anthony Police say the officer involved in the shooting has been with the department for more than five years. He has since been placed on standard administrative leave. The officer's name is expected to be released Thursday.
Department of Public Safety Commissioner Ramona Dohman said at a news conference in St. Paul that the officer who shot and killed Castile will be interviewed later Thursday and that his name will be released afterward.
The Minnesota Bureau of Criminal Apprehension is also conducting an investigation into the shooting.
In a release on Thursday, the BCA said they are interviewing witnesses and the officers involved, collecting evidence from the scene to analyze, including video evidence, and will provide information to the county attorney for review.
They say they will provide additional details once their interviews are complete.
Gov. Mark Dayton called for a federal investigation into the shooting and said his office is working to ensure "justice is served." He also said during a press conference that Castile would likely still be alive, if he were white.
The video
Castile's girlfriend, Reynolds, broadcast the aftermath of the shooting on Facebook Live. That video has now been viewed more than 5 million times. The video begins after Castile has been shot and officers are surrounding the vehicle. Reynolds says in the video that her boyfriend was just trying to show the officer his ID when he was shot "for no reason."
The officer is only partially seen, holding a gun on Castile, but can be heard screaming that he told him not to "reach for it."
The video runs more than nine minutes and follows Reynolds from the vehicle to the moment when she's handcuffed and placed in the back of a squad car. There, the video picks up again and she reiterates her account of what happened.
(Warning: Video contains graphic images and language.)
At the end of the video, a young girl's voice (identified in the video as Reynold's daughter) can be heard comforting her mother.
The protests
Shortly after word spread about the video -- in which Reynolds calls for people to come to Larpenteur and Fry -- protesters arrived at the scene.
Some were calm, holding candles and building a memorial for Castile, while others demanded answers, chanting at police officers at the scene and calling for justice.
At one point, the crowd of protesters grew to more than 200 people. Once the scene cleared, and the victim's vehicle was removed, the crowd marched to the Governor's Mansion, where they demanded justice and said they would wait until Gov. Dayton came out and made a statement about Philando Castile's death.
On Thursday morning, Dayton emerged from his residence and spoke to the protesters, promising justice and calling the incident "a horrible, horrible tragedy."
Dayton said he spoke on the phone with White House Chief of Staff Denis McDonough to request that the U.S. Department of Justice launch an investigation independent of the Minnesota Bureau of Criminal Apprehension probe.
The victim's friends and family gathered outside Hennepin County Medical Center on Wednesday night, waiting to see Castile's body. That group eventually moved to the Hennepin County Medical Examiner's office.
Early Thursday morning, Reynolds said she was released from police custody. She joined those protesting outside Gov. Dayton's residence and spoke to the media, saying she was questioned like a "prisoner."
She gave an impassioned speech and called for justice for Castile, saying what happened "wasn't right, wasn't fair."
She said what happened will scar her 4-year-old daughter forever.
A vigil was held at J.J. Hill Montessori School, where Castile worked, Thursday evening. Thousands of people gathered then marched to Gov. Dayton's residence where they remained late Thursday.