BUFFALO, N.Y.-- Some teachers at Roosevelt Early Childhood Center School 65 have expressed concern about safety.
There have been several incidents within the last two weeks where parents have been buzzed into the building and allowed to roam around the school.
Buffalo Teachers Federation President, Phil Rumore, said this should not be happening at any school, "especially in this day in age where the number one concern are people entering the schools, whether they are a parent or not."
On October 18, a student's father went to a classroom and said: "I want my son now. I'm in the middle of a custody battle with his mother and I'm taking him with me NOW," according to an internal document obtained by 2 On Your Side.
"No one is supposed to enter a teacher's classroom or be sent to a teacher's classroom while a teacher has students," Rumore said.
In another claim, a parent confronted a teacher about how his son was disciplined.
When 2 On Your Side's Claudine Ewing reached out to the superintendent's office for a response, we received a email that a matter was handled to ensure safety, but it wasn't about Roosevelt Academy, it was about an incident at Lorraine Academy last week.
Rumore said, "We have to make sure anybody buzzed into the school, you can see them, the office can see them and identify them then there should be somebody close by to see that the person comes into the school office."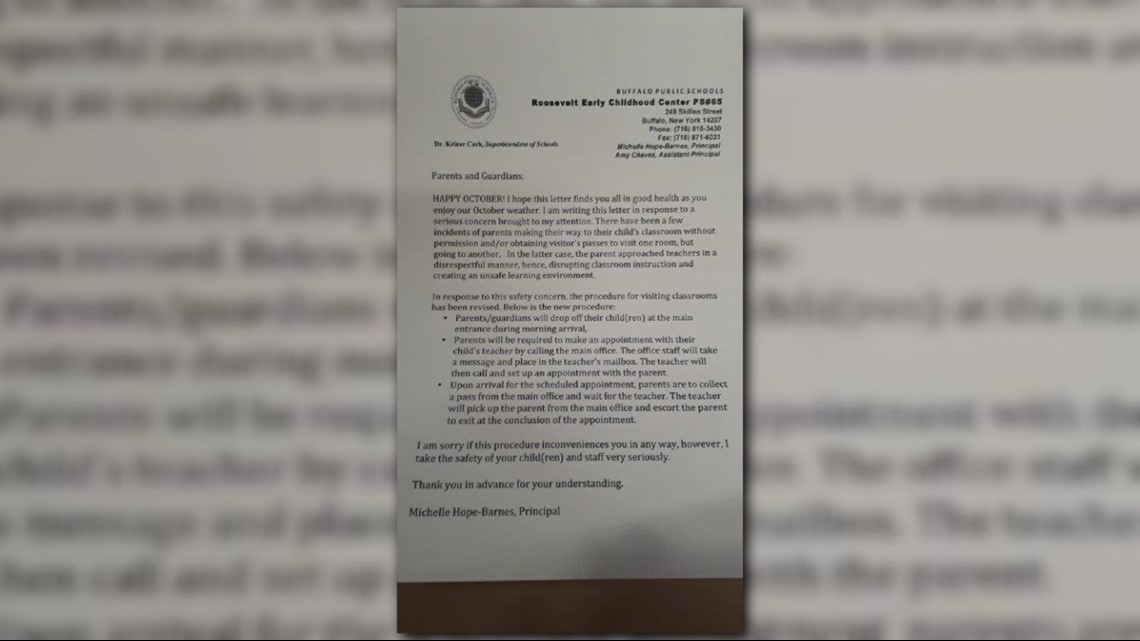 Late Monday, parents were sent a letter from the Roosevelt ECC principal, Michelle Hope-Barnes, informing them that effective immediately, parents will be required to make an appointment with their child's teacher by calling the main office. Upon arrival for a scheduled appointment, parents must get a pass wait for the teacher and be escorted to a classroom and to the door when the appointment is over.