BUFFALO, N.Y. — Crystal Boling Barton's name has been synonymous with McKinley High School since the late 80s. She hasn't worked in more than two years.
Most recently the Buffalo Public School district said she misappropriated money, something she denied.
2 On Your Side was able to confirm that some of the money in question pertains to purchases for an African-American exhibit and conference at McKinley High School.
The district's charges against her include claims that Barton reimbursed herself thousands of dollars without proper documentation, used petty cash for for clothes and jewelry, and never reported a shortage in a school bank account among other claims.
Since then Barton filed a complaint with the New York State Division of Human Rights.
Hearings started this month and will resume next year.
Barton alleges discrimination and sexual harassment. Her complaint is against Superintendent Dr. Kriner Cash and the school district's attorney, Nate Kuzma.
In the filed document, Barton claims "the district was paying female associates less than the male associates for the same work."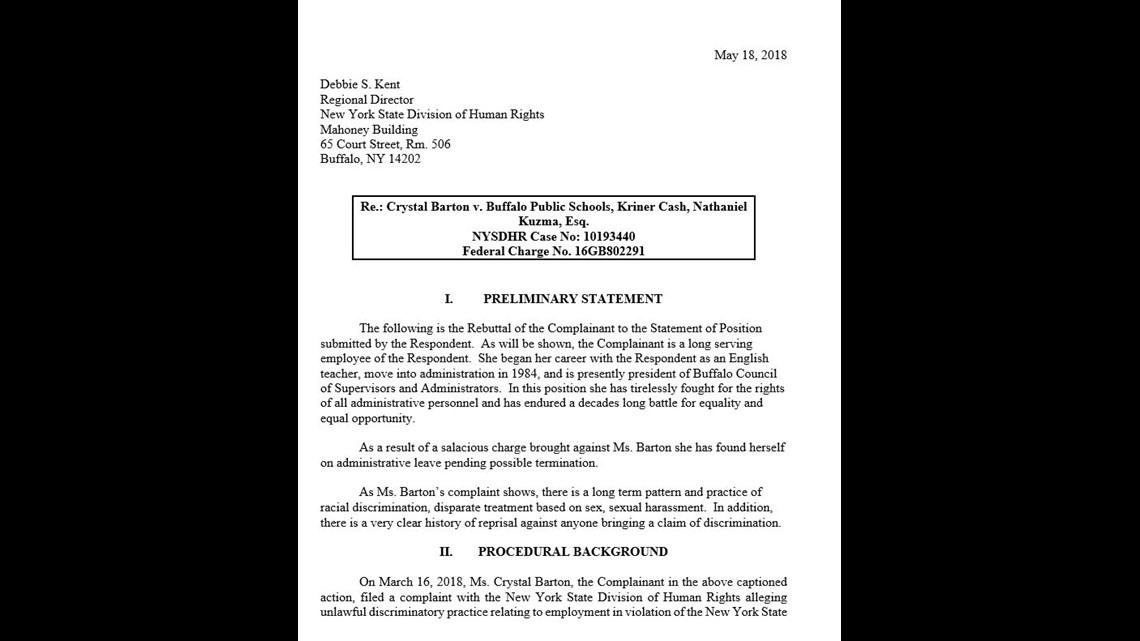 After a 2016 grievance meeting, she claims Dr. Cash made her feel uncomfortable in the presence of the chief of staff Darren Brown Hall. It is where she says the superintendent commented to her, "I'm going to have to take you and Darren for dinner and a drink."
Barton quickly replied, "I don't drink."
The district issued this statement regarding the allegations in the New York State Division of Human Rights complaint.
Dr. Kriner Cash is a nationally respected, highly accomplished public education leader who came to Buffalo for one purpose only - to improve and reset the culture of a poor performing, poorly perceived school district.
In over 40 years of holding leadership positions throughout the country, Dr. Cash has never had a complaint filed against him of any kind. The claims being brought by this employee against the district and Dr. Cash are random, incoherent, and fabricated--following on the heels of very real and serious charges against the employee after an exhaustive outside investigation. The District expects the employee's retributive claims to be fully and completely dismissed.
In the words of Dr. Cash, "The culture we have created for the district over the past four years does not tolerate corruption or discrimination of any kind. We hold everyone accountable to the same high professional standards. This employee has been charged with very serious misconduct. You cannot lose your moral compass in this work. We will remain focused and unrelenting in holding all staff accountable and on improving outcomes for all children and families."