A 29-year-old New York State Trooper was shot and killed early Monday after responding to a suicidal person barricaded inside his Corning residence.
Trooper Nicholas Clark was among the responders to a 3:30 a.m. 911 call that sent law enforcement to 10041 Welch Road.
During the response, Clark was fatally shot.
"This is a terrible loss for the New York State Police," NYSP First Deputy Superintendent Chris Fiore said at a Monday afternoon news conference in Painted Post attended also by Gov. Andrew Cuomo.
During the response, troopers along with Steuben County Sheriff's deputies and Corning police officers set up a perimeter and attempted crisis negotiation tactics, but were unable to make contact with the suspect inside, according to Fiore.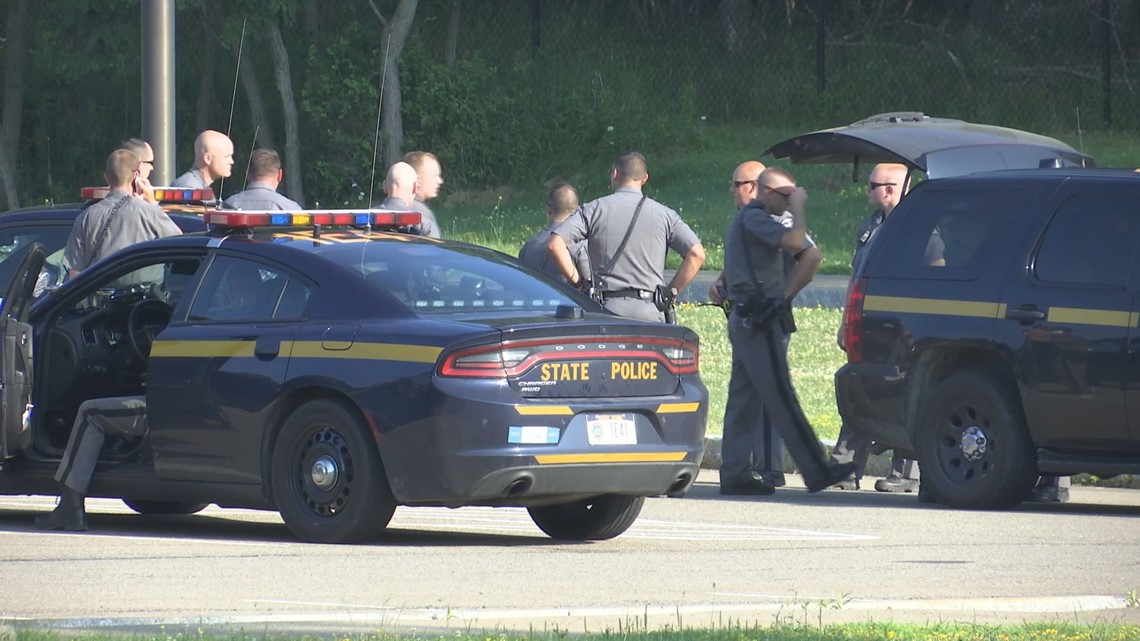 The suspect, 43-year-old Steven Kiley, was later found dead from a self-inflicted gunshot wound. Kiley had been listed as principal of Bradford Central School District, but his name and photo were removed from the school's website by Monday afternoon.
Fiore said the 911 call was made by Kiley's estranged wife, who reported he was contemplating suicide and believed to be armed.
Authorities have not identified the weapon used in the trooper's shooting.
The investigation remains active, Fiore said.
Governor offers "Thoughts and Prayers"
"This was a senseless and tragic act of violence," said NY Gov. Andrew Cuomo, who traveled to the State Trooper's barracks at Painted post to meet with police and brief the media.
Breaking from past practice, however, the Governor did not use the occasion of this shooting to call for stricter gun control or tout the NY Safe Act.
He did say though, that the incident underscores the dangers faced by police officers.
"We have lost 13 troopers lost in five years. There is no answer to this, there is no point. It is just sad and painful. To the Clark family and to his fellow state police, we offer our thoughts and prayers," Cuomo said.
Trooper Remembered as Standout Athlete
Clark, of Troupsburg, was "an outstanding athlete in high school and college," Fiore said.
He attended Canisteo-Greenwood High School where he was a two-time state wrestling champion and standout football player. He spent one year at University of North Carolina at Greensboro on a wrestling scholarship before transferring to Alfred University, where he was an All-American linebacker at Alfred University and, according to a 2012 report posted on the school's Facebook page, he was invited as a free agent to Buffalo Bills mini-camp that spring.
At the time, Clark's bio on the Twitter account attributed to him listed one goal: playing in the NFL. In the years to follow, Clark's goal would change.
He graduated from the New York State Police Academy in 2015 and in August 2017, he transferred to the Bath barracks, New York State Police Troop E Commander Major Richard Allen said Monday. As a lifelong Steuben County resident, this move brought with it a new goal, to give back to the community where he grew up.
"He was very proud to serve the citizens that he called friends and neighbors," Allen said.
Congresswoman Claudia Tenney, of New York's 22nd Congressional District, tweeted Monday afternoon her condolences to the trooper's family and colleagues.
"It is at times like these that we come together and pause to extend our gratitude in all law enforcement across the nation who risk their lives every day to protect us and to keep us safe," Tenney said on Twitter.