BUFFALO, N.Y. — Buffalo Police say a Franklinville man is in custody for an incident that happened during a protest on Hertel Avenue in North Buffalo on Friday.
Michael Cremen, 47, of Franklinville, is charged with harassment, criminal possession of a weapon and a hate crime charge of menacing.
According to a complainant filed with Buffalo Police, Cremen and another man were in the middle of the street at the intersection of Hertel and Parkside, using racial slurs and threatening the protesters. At one point, he did display a knife and pushed one of the protesters. He could be heard shouting the n-word.
Ben Siegel was the man who was shoved. He was part of a group on bikes who encountered two gentleman and they were spewing hateful racial slurs.
"As we approached them they became very defensive," Siegel said.
Siegel lives in the North Buffalo neighborhood.
"The protesters did not instigate or start or fight," he said.
In the video shared on social media, two men can be seeing trying to block protesters from advancing up Hertel Avenue at Parkside Avenue. One of the men is shouting racist obscenities to the group and is holding a knife in his hand.
Some protesters used their bikes to protect themselves as they moved forward.
Police are on the scene and are talking to the men and telling protesters to continue on.
WARNING: Video contains offensive language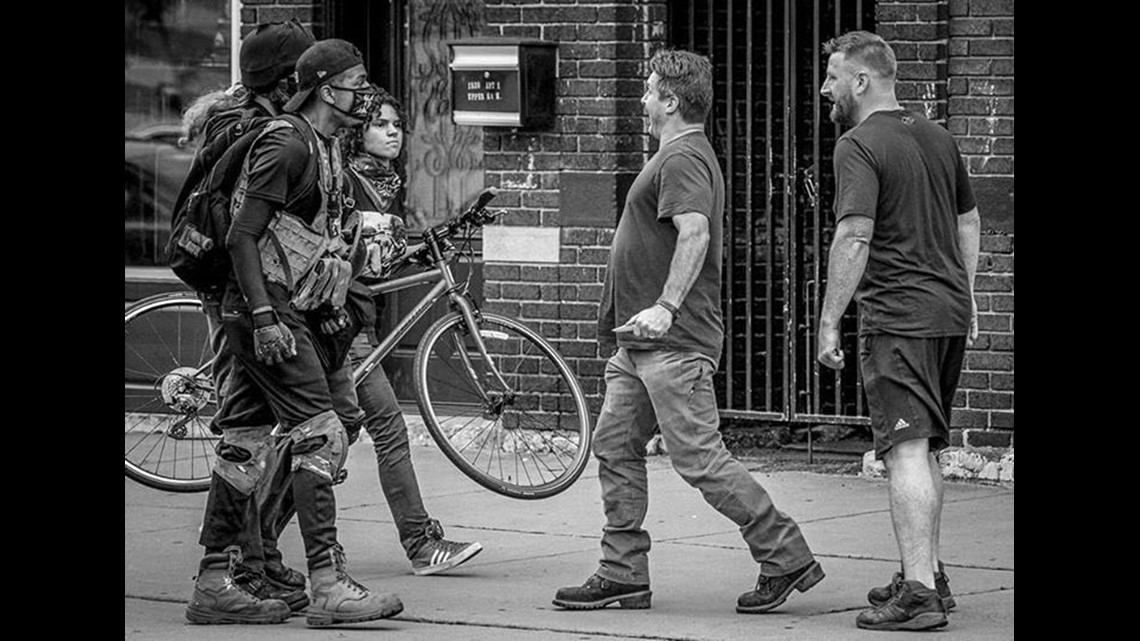 When asked about the action of police at the scene, Buffalo Police Captain Jeff Rinaldo said, "If you look at some of the video, there was no real fists being thrown or anybody being attacked, that quickly ended so the officers did what they were supposed to do and monitor it. And had this thing escalated, had violence started they would have intervened and called for additional resources and stopped it at that point."
Many of the officers were working a traffic detail.
Rinaldo said the officers body camera video will be reviewed. If any departmental policies were violated, it will be handled, according to Rinaldo.
Siegel says he approached one officer and said, "There's a gentleman threatening people with a knife and his (police officer) reaction was shrugged his shoulders."
The situation was a concern for Siegel and others.
"This is two days after Kenosha where a white man murdered two people and then walked by police officers armed, and the similarities, although this is much smaller, are there," Siegel said. "Two days after and we're asking for help. Should I have said there is a black man back there holding a knife threatening people, would the reaction be different? I don't know."