CHEEKTOWAGA, N.Y. — A Cheektowaga Police officer taken to the hospital after being hit by a car is out of surgery and recovering the department shared 12 hours after he was reportedly injured.
Officer Troy Blackchief, 45, was part of a larger response for Cheektowaga and Depew Police, who were responding to reports of stolen vehicles around 4:30 a.m. Monday.
Depew Police began the pursuit near Walden Avenue and Dick Road. Cheektowaga officers assisted when the chase entered their town and went northbound on Union Road toward the NY-33.
According to Cheektowaga Police Chief Brian Gould, Officer Troy Blackchief attempted to deploy so-called "Stop Sticks" which are used to deflate the car tires of fleeing vehicles during a police chase. Instead, he was hit by one of the vehicles stolen from Depew Gould said.
Officer Blackchief was aided by officers at the scene and shortly after taken via ambulance to the Erie County Medical Center. As of Monday afternoon, he was out of surgery and was listed in critical but stable condition.
Chief Gould said Blackchief is a 17-year veteran of the department and has a wife and three kids. He's also one of two officers credited with saving a dog from Ellicott Creek in 2021.
Police said the alleged suspect's vehicle, a Jeep Grand Cherokee with NY license plate KKS5300 was located on Nicholson Street in the City of Buffalo Monday evening. It was towed to the Cheektowaga Police Department for processing by crime scene investigators.
Earlier, the department had put out a notice for information on the vehicle.
Crime Stoppers WNY has offered an up to $5,000 reward for information leading to the arrest of the suspect or suspects responsible for this crime.
The CPD said anyone with information to please call Lt. Dan Albrecht at 716-686-7461 or text our confidential tip line to TIP411 (847411) and start your message with CPDNY.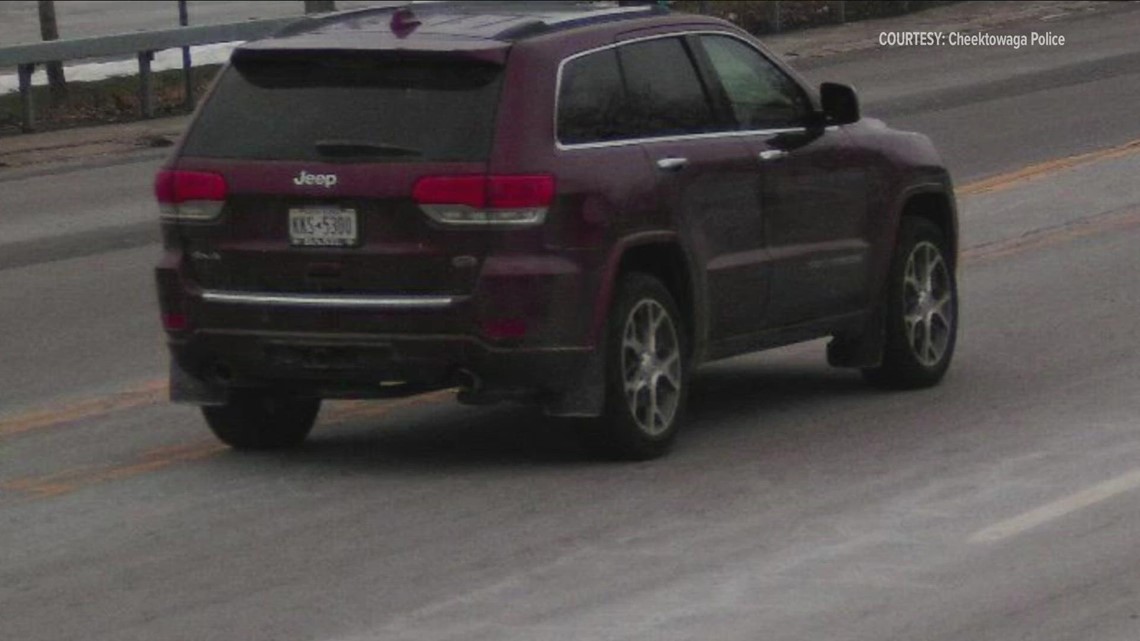 Another suspect vehicle was located abandoned at a gas station on Kensington Avenue and Century Road. No suspects are in custody at this time.
Cheektowaga Police had closed Union Road near the NY-33 while they investigated. The affected portion was reopened around 10:45 a.m.