BUFFALO, N.Y. — New York Gov. Kathy Hochul faces a major battle with fellow Democrats threatening to kill key portions of her $227 billion budget.
Hochul defended plans to build affordable housing, finance a new Bills' stadium with taxpayer funds and reform New York's bail laws in a one-on-one interview with 2 On Your Side's Maryalice Demler.
"I understand the fundamental premise behind the original bail reform laws, and I stand by them," Hochul said.
But Democrats who control the State Senate and Assembly disagree. They just released their alternative $233 billion budget taking aim at Hochul's plan to rework the state's bail reform law that went into effect in 2020.
"I need people to reach out to their legislators, senators, and assembly members, and I need them to say, support Governor Hochul's plan to make our streets safer," the governor declared.
Hochul calls New York's three-year-old bail reform law confusing because it requires judges to use the least restrictive measure possible to guarantee criminal defendants return to court. That less restrictive standard often eliminates bail for defendants charged with a crime.
Critics of the law cite state data they claim shows bail reform led to an increase in criminals on the street who reoffended.
Hochul wants to update the law to give Judges more power "and also to give judges the discretion they want to have, give them the clarity they need" over bail decisions, she explained.
Senate Majority Leader, Democrat Andrea Stewart Cousins, who leads the opposition to Hochul's proposal, told The Buffalo News, "We've always been interested in fighting crime," and pointed to a study by John Jay College that showed the current bail reform law reduced the amount of crime committed by repeat offenders.
Part of Hochul's push to make New York streets safer includes what she calls "common sense" gun laws. The U.S. Supreme Court's recent decision to overturn New York's more than 100-year-old law preventing citizens from carrying concealed weapons has Hochul pushing for new gun restrictions.
"We're focusing on preventing crime and making sure that people have the background, the training, and have gone through a series of tests to make sure that they won't hurt other people if they have a gun," she added.
'We're talking about all levels of housing'
Affordable housing is a cornerstone of Hochul's budget proposal, but she also faces pushback on her plan to build 800,000 units across New York.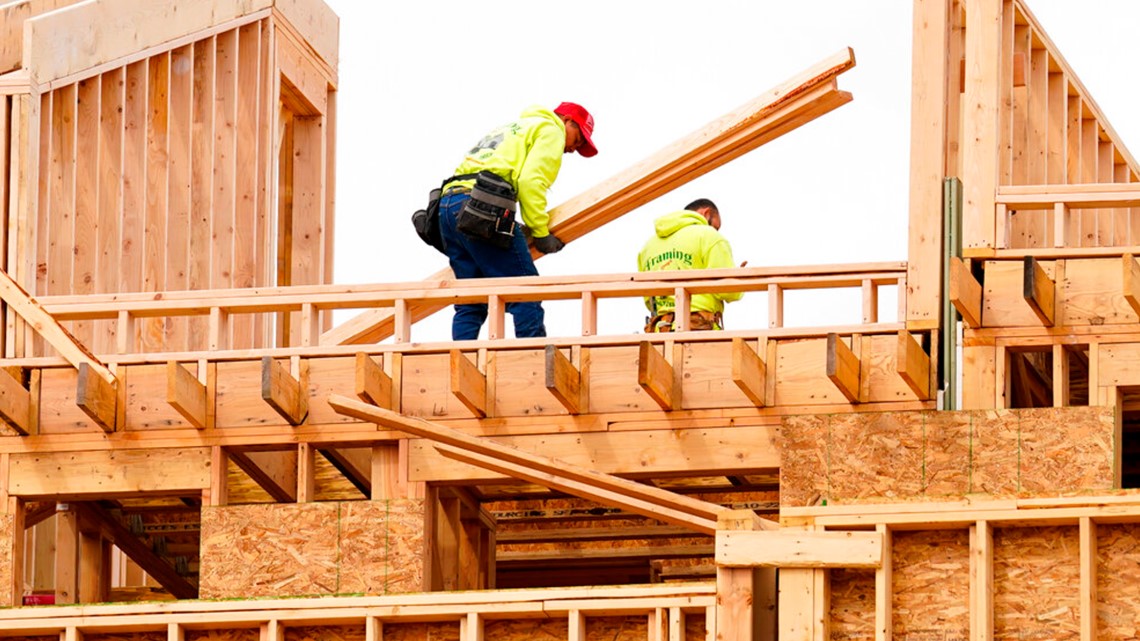 Democrats opposed to the proposal have aligned with local elected officials who claim it would allow the state to override local zoning ordinances. Hochul told Demler she was ready for the fight.
"I know all the ways that communities can encourage housing to be built, not just affordable, we're talking about all levels of housing … and so that's not going to happen if we don't start building," she said.
Hochul claims her affordable housing plan is essential if New York State wants to grow its economy and provide homes for people companies recruit for jobs here.
The economic argument is similar to her defense of the plan to help finance a large portion of the $1.4 billion new Buffalo Bills stadium with taxpayer funds. Local leaders opposed to the deal say the stadium should have been built in Buffalo to help revitalize less affluent neighborhoods instead of building it in the more affluent and current home of the Bills, Orchard Park.
"Having eight games played at a stadium, I don't know if that's the catalyst that Buffalo needs," Hochul pointed out.
She added that the deal needed to close quickly, and returning the Bills to Buffalo would have caused more problems than people realized.
"I guarantee there would be litigation because people will be displaced from their homes who live there now," she said.
Hochul was the first woman to be elected governor of New York when she beat Republican Lee Zeldin last year.
"You look at the state legislature today, when I was an intern back in the late 70s for the Assembly, there were so few women, and I was the only young woman working in an office," she recalled.
Looking toward the future and the pending budget battle with her political party, Hochul said, "I love the state, with all my heart and soul, and at the end of my term, I want people to say that yes, she made our lives better."