BUFFALO, N.Y. — When Aimee Yavno lived in San Diego, California, she tried every style of roller derby there was.
One style in particular really stuck; Renegade Roller Derby.
When she moved back to Buffalo to be with family, Yavno decided to start a renegade team of her own.
"I didn't want to stop playing roller derby, but the only style of roller derby they had, I didn't want to play. So I said, 'If I want to keep playing I have to start a Renegade team,' " Yavno told 2 On Your Side's Karys Belger.
Renegade Roller Derby was first started in 2004 in Phoenix, Arizona. Players from multiple leagues decided to play a less-restricted form of the game and came together to form their own league.
There are 10 teams in the league. Sister teams are located in Arizona, Oregon, and California. Buffalo's team, the Nickel City Renegades, is the only team on the East Coast.
Before she could play other teams in the Renegade League, Aimee Yavno had to first build a team that could compete.
Yavno, who goes by Psyko Kupkake on the track, got a few friends together to try and recruit skaters. When the time came for her to go to the board, she took a chance in order to get on the schedule.
"When we had to make the schedule for the following season with the league, I went to the board and said, 'I have a team, and I want to be on a schedule,' and I literally had nobody, and no location, and was just like, 'If I build it they will come'."
Along with Nicole Bitmead, also known as Reverend Ruckus, Yavno was able to recruit just enough players to make a team. New Skateland Arena on East Ferry Street in Buffalo became their home base.
"We had a bunch of misfit toys and a bunch of girls that were trying really hard to play, and it was a mess, but everybody had a really good time. And fast-forward five years later, and here we are." Yavno told 2 On Your Side's Karys Belger.
A long way from where they started, the Nickel City Renegades are the second-best in the Renegade League. The team is also five years old, which makes it the youngest.
Renegade Roller Derby was created to allow skaters to play a less-restricted version of the game. The skaters on the Nickel City Renegade team told 2 On Your Side that most of the rules are "common courtesy rules."
In Renegade Roller Derby, players are allowed to use moves that would typically be outlawed. Teams are made up of four blockers and one jammer.
The jammer is the only one who can score points. They do this every time they break through the pack.
"People think it's like, brawls, but there's a lot of skill and practice and strategy that goes into it," Erin Mungovan told 2 On Your Side.
As with Women's Flat Track Derby Association matches, gameplay begins with a once the whistle is blown.
Traditionally, the first jammer to break through the pack is considered the lead jammer. They can call off the jam at any time by placing their hands on their hips. This move is rarely used in Renegade bouts.
Renegade teams are sometimes co-ed. Men have joined the Nickel City Renegades over the last few years. Jake Schneider just finished his first season with the team.
He told 2 On Your Side that despite his previous athletic experience, Renegade Roller Derby still took some getting used to.
"I mean I watched roller derby like on tv when I was a kid but I didn't really have any idea," he said.
Ask any of the skaters what they enjoy most about Renegade Roller Derby, and they will tell you that it's the bonds formed off the track that matter most.
"Renegade's such a family. Even when we play against each other, it's such a strong family feel," Kristen VanHouten said.
Teammates take responsibility for teaching new members the ins and outs of the game.
Since the Nickel City Renegade Rollergirls are the only team on the East Coast, they often have to travel in order to play other teams.
The skaters fund-raise to help pay for these trips. Erin Mungovan tells 2 On Your Side that the teammates really bond when they travel.
"It's just like a fun, extracurricular like a hobby but, um, we all try to take it seriously for each other so we can all be our best," Mungovan said.
Nickel City Renegades are rolling over Buffalo's roller derby standards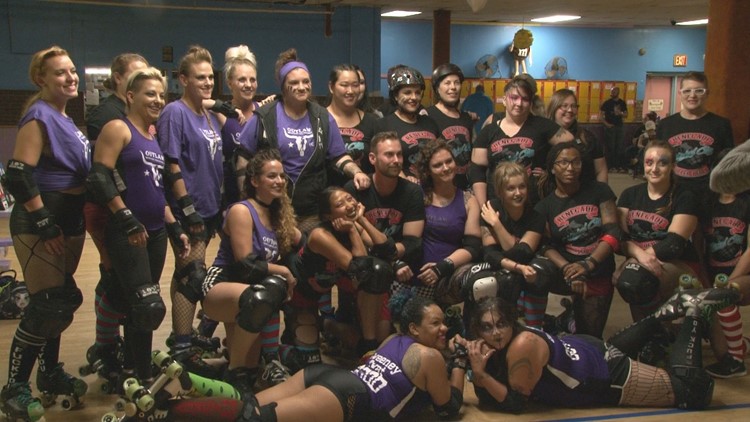 The season runs from April until November. More info about the team can be found here.