BUFFALO, N.Y. — The renovation of the Donna Fernandes Amphibian and Reptile Center is almost complete and will be unveiled to the public in less than two weeks.
"She was a wonderful champion for the zoo, did a lot of great exhibit renovation. One of Donna's loves were the little animals in the world. The bugs, the amphibians, the reptiles. This building really reflects her passion for creating environments where animals can thrive, where everyone can become more closely connected," said current Buffalo Zoo president and CEO Norah Fletchall.
The building was constructed back in 1942 but was in serious need of updating. Animal habitats were improved, and there's a new heating and water filtration system. Educational elements such as digital displays and information posters have also been added.
The zoo kept some of the original details like the floor and brass railings near each animal habitat.
In all, 40 different species will call the new center home, including native animals that are the subject of ongoing conservation work. Some of the animals were previously housed at the zoo. There are also some new species, like a Komodo dragon. There's also a Komodo dragon selfie wall for visitors to pose in front of for a picture.
A huge, colorful mural takes up one wall inside the upgraded facility. There's an amphibian that's painting a large reptile face. Hidden in the mural are nods to Western New York, such as the Buffalo skyline, Niagara Falls, and even a chicken wing.
There are a number of species in the center that are aimed at getting people to better understand certain animals and overcome their fear of them.
Sasu is a reticulated python, and Oberyn the bushmaster snake is the longest venomous snake in the Western hemisphere. Ameila is an indigo snake, appropriately named because that's the color she looks in the light. Then there's Twitch the eastern diamondback rattlesnake and his roomie, Tasha the tortoise.
Sneak Peek: Donna M. Fernandes Amphibian and Reptile Center at the Buffalo Zoo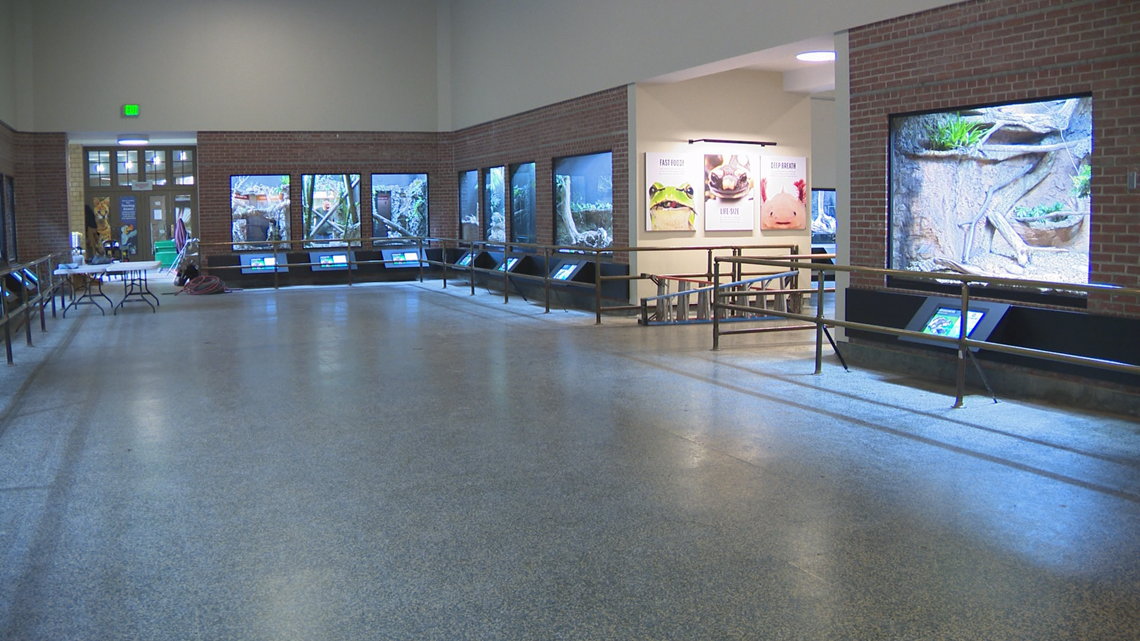 MORE ON WGRZ.COM
Inside the Buffalo Zoo: Polar Bear Training Session
Behind the Scenes at the Buffalo Zoo: Grungie the Hyena Gets His Physical