BUFFALO, N.Y. — Joe Sciandra and Sandi Robinson opened an alcohol-free bar in the Lovejoy neighborhood of Buffalo.
Indeed, an alcohol-free bar.
"Speakeasy Buffalo is a great atmosphere where people can come and eat in a sober environment."
Speakeasy Buffalo is a bar and restaurant on E. Lovejoy near Davey Street and prides itself by serving mocktails, non-alcoholic mixed drinks.
On the surface, it may sound like an absurd business proposition to open an alcohol-free bar, but data suggests fewer and fewer people are drinking alcohol.
Non-alcoholic beer sales have increased, on average, 3.9% for the last five years. Additionally, Generation Z is buying and drinking alcohol 20% less than Millennials, and Millennials are drinking substantially less than their Generation X and Baby Boomer counterparts.
"Last night we served a strawberry daiquiri to a young man," Robinson said. "He couldn't believe that there wasn't alcohol in it. It was fun for him, and he said he never thought he'd be in a place like this."
Part of the appeal that the owners of Speakeasy Buffalo hope for is a good mixed drink with fresh ingredients.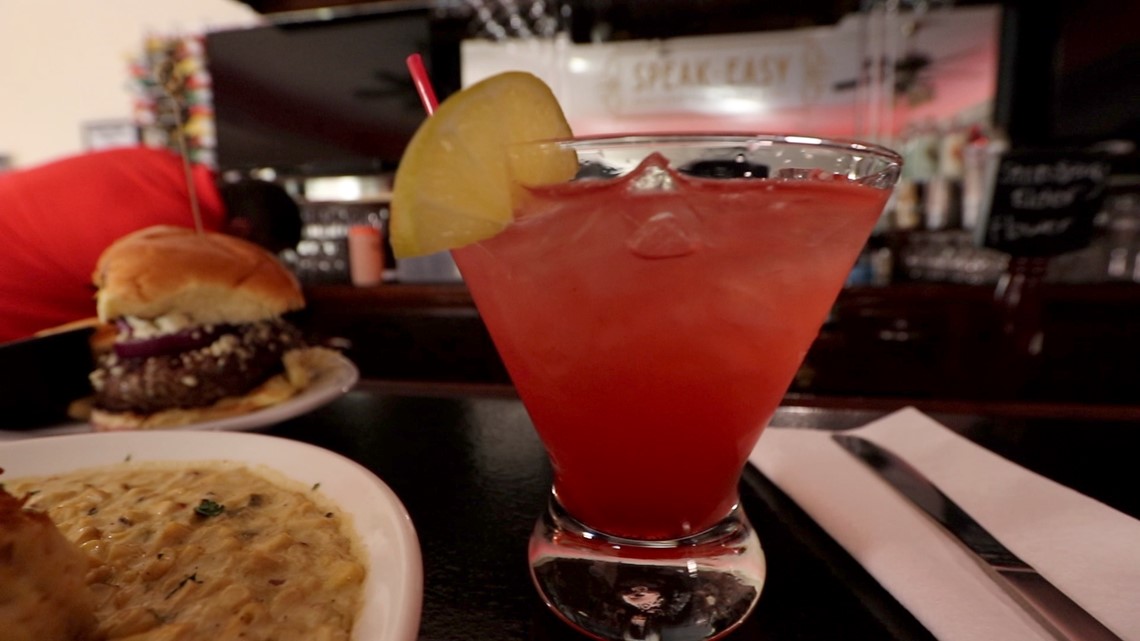 Robinson makes simple syrups and ginger beer about once a week. It's a painstaking process that would make some chefs question their sanity week to week.
"Sometimes I ask myself the same thing as I'm peeling lemons and ginger for four hours," Robinson said. "However, one of the things I looked at as we were looking at non-alcoholic drinks. They were filled with sugar. If you look at processed syrups, they're chock full of corn syrup and preservatives. I thought, 'Well, how hard can it be?' "
Robinson said that if you get a mixed drink at Speakeasy Buffalo, chances are the ginger beer or syrup was made within the week. Peak freshness.
Helping bring Lovejoy back to its historic status as a thriving neighborhood is a goal for Speakeasy Buffalo. Sciandra purchased the building, and others in Lovejoy, after moving into the city proper after years in the suburbs.
"We feel a passion for investing in Lovejoy," Sciandra said. "We purchased this building, and we acted on an opportunity to do something different, not only for us but for the community."
Foodies would consider this a niche establishment that would thrive in other areas of the city. But for Robinson, the history of Lovejoy being a tight-knit, railroad neighborhood played a role in her desire to open.
"The street was lined with store-fronts and bars," she said. "People can tell you great stories of the neighborhood. Some wonderful people have opened up businesses up and down the strip and continue to try and increase businesses here."
All the owners of Speakeasy Buffalo have been impacted by someone they know with an addiction to alcohol. These personal relationships were the motivating factor for the owners to open their doors.
Robinson is an alcohol recovery coach and says Speakeasy Buffalo is a safe space for those battling addiction to come and enjoy good drinks and good food.
"This is an alternative," she said. "If you look at the sober movement or just looking to cut back, or doing an alcohol fast, this is your place.
You can learn more about the food and drink options at Speakeasy Buffalo by visiting their website.