BUFFALO, N.Y. — In an age where online gaming has captured the attention of millions of players, like Fornite, which has over 250 million players all over the world, there's a shop in a growing section of the West Side that's trying to encourage friends, family, and strangers to gather and game.
Gather & Game's co-owner, Joe Petri, describes his shop as "a retail shop that has a game library, with about 170 open-box games for people to play. We do board game tournaments, we do role-playing game nights. ... It's a community space for people to play, and game, and meet other gamers."
Petri and his wife Jeanenne, who are Western New York natives, moved back to the West Side about 10 years ago from Brooklyn. Joe says they both hoped to move into a neighborhood that reminded them of what they were leaving, and they found that home on the West Side.
About eight years ago, the Petris opened up their bookshop, Westside Stories. The pair wanted to be a part of the retail renaissance that was happening on the West Side and in particular Grant Street.
"We just wanted to contribute to that sense of it being a walking community with vibrant and fun things, and we thought books are for everybody or should be for everybody, so we thought it would kind of be an easy choice for us to decide what to leap into," Petri said.
Slowly but surely, it wasn't just games they began to sell at Westside Stories.

"We started to stock a few games, we carried Catan, some magic cards ... games that we loved," Petri recalled.
Then when space opened up right across Grant Street, it seemed like fate.

"As that piece continued to grow, we realized it would start to impact the book inventory, or it would have to find its own home," Petri said.
When you walk into Gather & Game, you may notice it's quite different from a lot of shops. That includes an entire game library wall, which like a library, you can check out.

"We get a lot of people that are thrilled just to be able to open up the box, see the parts, see the components ... you know, be able to sit down with the rule book for a minute, and see what they're getting," Petri said.
During the week, the game library is free and open to play until 5 p.m.
Or, for just $3, you can have an all-day pass. A whole year membership is only $25. Or, you can couple up with someone and pay $40 for a year-long couples membership.
Another unique feature of the shop: if you don't know how to play a game, the staff is more than happy to teach you.
"All of our games are stickered with what staff members know which game. So when you come in, you know, you can talk with whoever is working to figure out what new games you wanna learn and we can sit down and help you get started," Petri explained.
Gather & Game by Westside Stories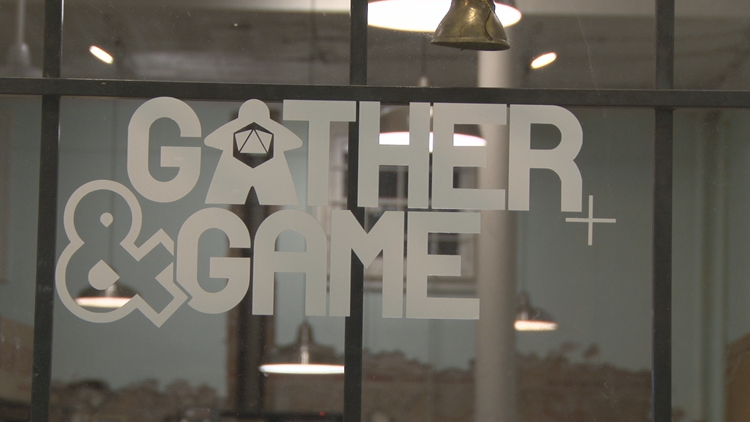 At least three days a week, the shop also hosts game nights, like "Keyforge Wednesdays," "Learn to play" game nights on Thursdays, and tournaments every Saturday.
You'll notice there are a variety of tables around the shop for individuals, as well as groups to play, including large tables in the backroom for role-playing games.
(cue Billy Mays) But wait, there's more!
Gather & Game also operates a small cafe, with drinks and treats sourced from other local shops in Western New York, such as Breadhive Bakery.
This is just another way the Petris are supporting their neighbors too.
"We had gotten into board games initially because we loved 'em, and that seemed to make sense for the store over there. The kind of products we stock then, too, are treats and are the things we love, too from the neighborhood," Petri said.
The shop has things to satisfy every self-proclaimed geek and nerd, and everyone in between. In addition to board and card games, the shop also sells all kinds of gaming accessories, T-shirts, and more.
There truly is something for everyone. When you stop in, you'll find a personalized touch and a home for those who love to have fun and game.
You can find Gather & Game at 212 Grant Street in Buffalo.