BUFFALO, N.Y. — We are a little more than a week away from the World's Largest Disco in downtown Buffalo, and before you boogie, you're going to want to make sure you don't pay for a ticket online that doesn't exist.
The World's Largest Disco has been sold out since the end of August. Seven-thousand people have general admission and VIP tickets. Founder Dave Pietrowski told 2 On Your Side thousands are on a waiting list, so if you're one of the people still looking for a ticket, we want to make sure you aren't scammed.
"You want to be at the event of the season. This is the event of the season. So, people will pay more than the face value of the ticket, but you want to make sure that the ticket is what it's supposed to be," says Melanie McGovern from the Better Business Bureau.
The World's Largest Disco tickets are all physical tickets. There are no electronic ones. Pietrowski says no one's ever shown up at the door with a fake physical ticket, and if you're contacted by someone who says they have an electronic bar-code ticket, don't be fooled.
"You want to maybe take somebody with you to meet the seller to make sure the ticket is authentic before you give them any kind of money. That's where people run into trouble. If you send money, most of the times, especially if it's Western Union, or wired, or a gift card, you can't get that money back, so you obviously want to protect yourself when you're buying that ticket, but you want to make sure you see the ticket before you buy it," McGovern said.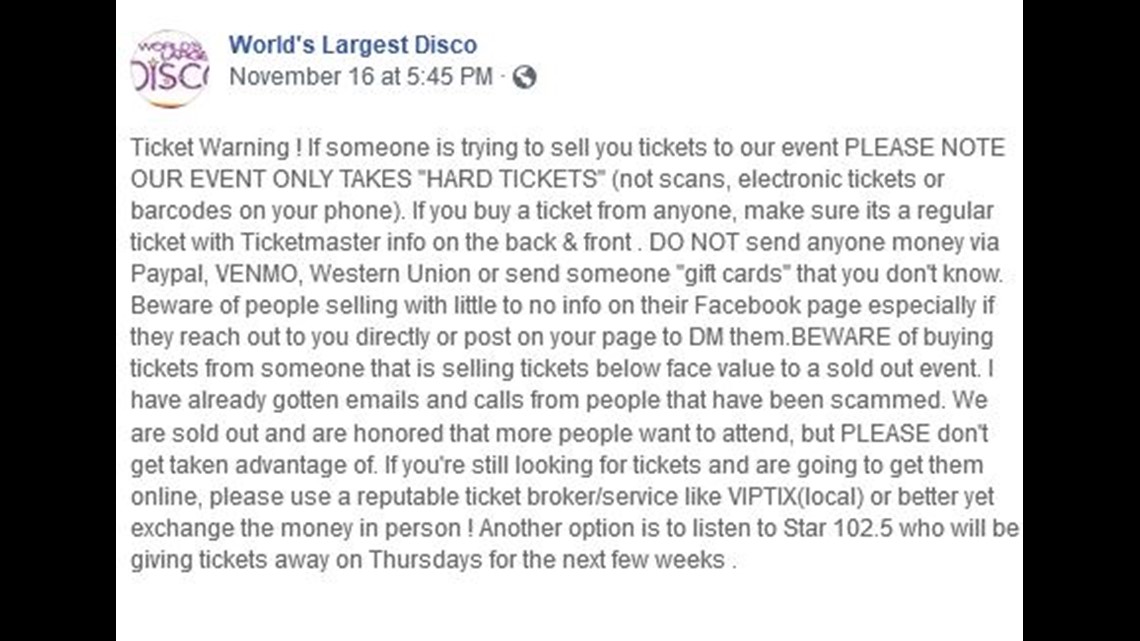 Pietrowski says scammers are preying on people who post on Facebook that they're still looking for tickets. He's heard from people who've given out personal info and have been told to go to Target to get gift cards to use as payment. That should throw up red flags.
"Make sure you know who you're sending that money to before you send it, and connect it to a credit card so if there is suspected fraud, you know, most of the time, credit card companies offer more protection than your debit card will, so it's always good to connect any peer to peer payment app with a credit card," McGovern said.
You can find tickets online still. Pietrowski says Ticketmaster is a good place to look.
If you're buying one, do it in public and use the same safety precautions you'd use if you were selling or buying anything online. Also, make sure the physical ticket has Ticketmaster info on the back and front.