Buffalo, NY — Down along the Chautauqua Wine Trail, several vineyards are harvesting their grapes a little early this year.
"Sunshine and heat has been great to get those grapes ripe," said Beth Margolis, the Marketing Director at Liberty Vineyards and Winery. "The heat has just been helping get everything moving a little bit quicker."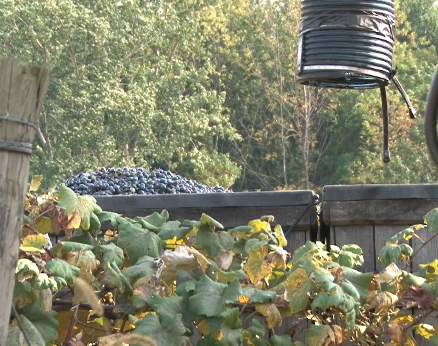 The record stretch of sunshine and record heat this month have caused many grapes to ripen early so grape harvesters are busy at work to get those grapes off the vine.
Beth Margolis is the sixth generation at Liberty Vineyards in Sheridan and says the vineyards were planted in the 1860s, and some of those original vines are still there producing grapes.
Margolis also says now with much colder air moving in, the current record warm Lake Erie water temperature of 72 degrees will help the vineyards stay warm enough.
"That's really great .. because we are in a micro-climate and that's why we can grow grapes here," Margolis said. "Because of Lake Erie we stay just a little warmer in the Fall and it allows us to get everything ripe and harvested."
And apparently, the wine that will be made later this year with the grapes being harvested right now is going to have a different flavor because of the heat. "Should help get the sugars up higher and make for really nice quality wine," Margolis said.
Cheers!