BUFFALO, N.Y. - The Buffalo Bills upended the local news cycle on Friday when they announced they had dealt Sammy Watkins to the Los Angeles Rams.
Not one, but two blockbuster trades overwhelmed social media, causing the entirety of the Bills fan base to simultaneously tweet and post Facebook statuses about why they thought this was either a terrible deal or a spectacular move for the future.
But while you, the experts, were contemplating the pros and cons of the front office decisions, there were other folks in Western New York with much more important things to worry about.
That would be the business owners who run sports apparel shops.
Patrick Kennedy, a manager at "Sports Obsession" at the Walden Galleria, suddenly needs to find a way to get rid of nearly 80 Sammy Watkins jerseys in stock.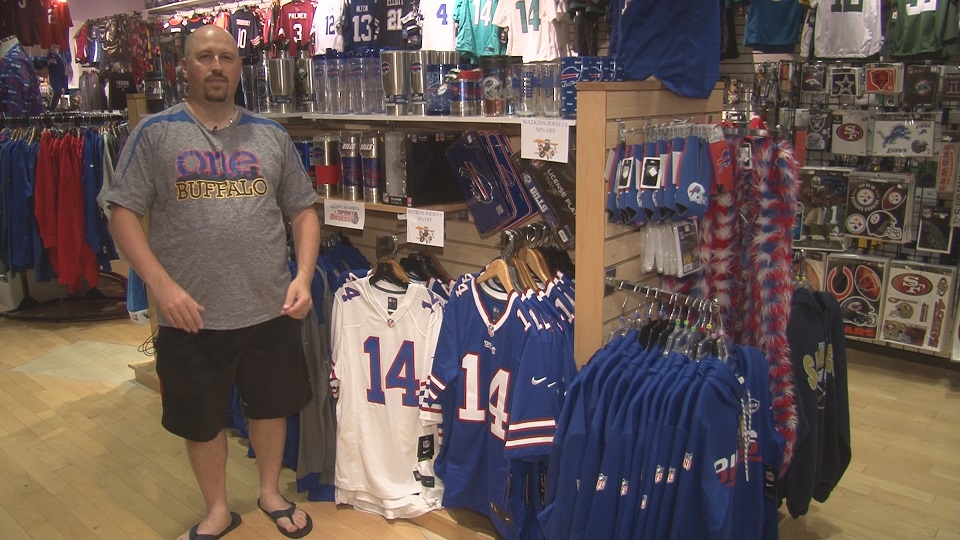 His first survival tactic was placing a 50 percent discount on the jerseys.
Unfortunately, they'll probably still lose some money on the deal.
"For us, we take a little bit of a hit," Kennedy said. "But some of the other local stores -- that specialize in Buffalo apparel -- they have to take a hit for all their merchandise."
And it's not that easy to recover when you lose a marquee jersey like Sammy Watkins. That's because manufacturers like Nike only produce jerseys for a select number of players on each team, and it takes a while for the companies to decide they'd like to start making another player's jersey.
So you're not going to be able to just replace Watkins, who has been one of the top sellers in the Buffalo market.
Kennedy has been through this before, of course.
"We've had Mario Williams in the past, even when we had the big Fitzpatrick deal, everyone got on this big Fitzpatrick chain. 'Fear the Beard', jersey sales, then all the sudden that just came to a halt," Kennedy said. "Traded away and we all got stuck with his apparel."
Now, he's just stuck with some Watkins bobbleheads -- those are on discount too -- and more #14 jerseys than he knows what to do with. Luckily, he's already sold a couple for half-off, to a few fans who either love cheap jerseys or really want to savor the Sammy Watkins Era in Buffalo.
So, until that next star comes along, Kennedy will just have to make due with McCoy jerseys and Tyrod Taylor. Ah, the life of a sports merchandise store. Trades happen, players leave, and you just have to move on.
What's the most outdated jersey in your closet? We asked our viewers on social media, and the responses were priceless.