JAMESTOWN, N.Y. – On Tuesday, Jamestown Police announced that Keith Robbins, the man identified as a person of interest in the death of his wife, Shari has been captured.
As that search continues, Shari Robbins' family, close friends and co-workers now find themselves growing anxious by the minute, uncertain of Keith's whereabouts or intentions. Multiple people told 2 On Your Side that Shari and Keith had been in the process of a nasty divorce, and some of them feared for Shari's safety.
Shari, a 36-year-old mother of two, worked as a beautician and certified nursing assistant for Heritage Ministries' skilled nursing facilities in Chautauqua County.
David Smeltzer, the executive director of Heritage Ministries, worked closely with not only Shari, but also Shari's mother, who is a longtime Heritage employee.
"The biggest thing is just that unknown for the family," Smeltzer said. "To know that he's still out there, and know what he's capable of, it's concerning to all of us."
As they struggle to make sense of the tragedy, a few dozen Heritage employees and residents have been meeting with pastors in order to cope.
As a beautician, Shari Robbins was particularly close with many of the nursing home residents.
"Who knows you better than your hairdresser?" Smeltzer said. "She just touched so many of our residents' lives because of it. She really had that personal relationship with so many people."
Smeltzer and Heritage Ministries have helped start a GoFundMe page for Shari Robbins' family. Donations have already surpassed $4,500 as of late Monday night.
Smeltzer fondly remembers Shari Robbins as a devoted mother to her 13-year-old son and 11-year-old daughter. At Heritage Park in Jamestown, their pictures hung from the mirror in the beauty salon where Robbins worked with residents. On the salon's front door, a sign has been posted: "In Memory of Shari Robbins. Rest in Peace My Friend!"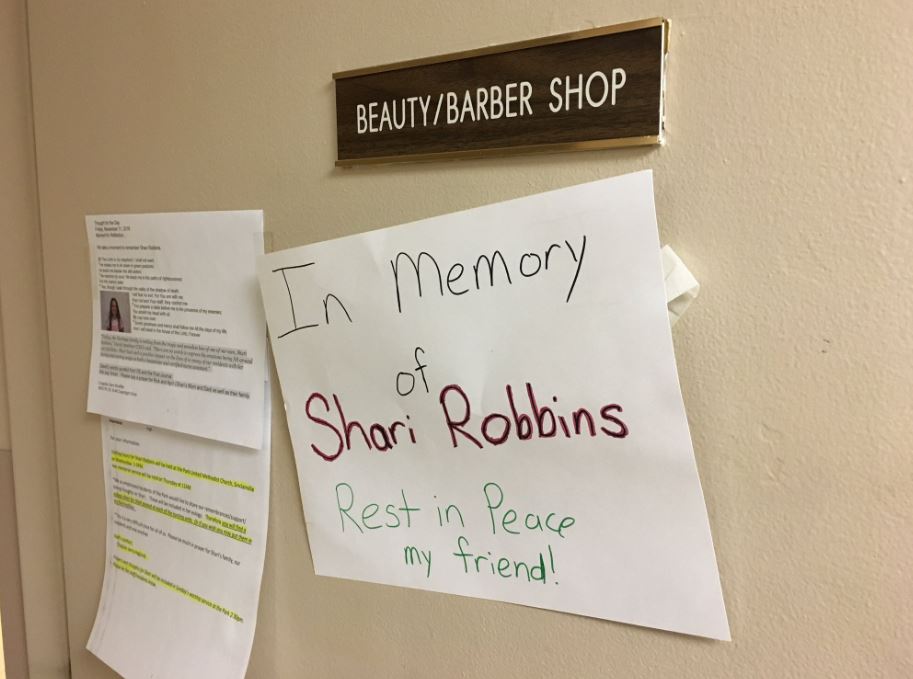 "She was fun-loving, always at her kids' events. Football games for her sons, or when her daughter had something going on, she was always with the kids," Smeltzer said. "They've lost their mom, and I'm sure there are going to be many unexpected financial needs."
Heritage Ministries held its own memorial service for Shari Robbins on Sunday.
With the viewing and funeral scheduled this week, Smeltzer is hopeful police will be able to provide an update on the investigation soon.
"We just wish it was over, one way or the other," Smeltzer said. "We just wish it was over."