BUFFALO, NY – After the recent announcement by the Central Terminal Restoration Corporation (CTRC) that it was dumping Harry Stinson as the preferred developer for the art deco landmark, it appeared to most that Stinson's $250 million plan to turn the place into mixed use property had pretty much been derailed.
To everyone, perhaps, except Harry Stinson.
"We're not going away and we're going to carry on with it," Stinson told reporters, while standing with some partners in his Canadian firm outside of the Central Terminal, which he planned to turn into a massive retail, hotel, and office complex with town houses on the grounds of the property.
Stinson was granted "preferred developer" status by the CTRC and the City of Buffalo one year ago.
He was granted a six month extension to that status in November, as he formulated his plans and rounded up investors.
On May 5, three weeks before that extension expired and with Stinson seeking another 6 month extension, the CTRC sent out a press release to announce that it was cutting ties with Stinson and moving in a different direction by commissioning a comprehensive study by the Urban Land Institute to guide future development plans.
"To be honest, we were blindsided by this announcement," Stinson said on Tuesday.
However, Stinson insists his plans are back on track at the terminal.
"Even in the last few hours, communications have continued with the CTRC," Stinson insisted.
"In fact, they offered us a seat at the table during the Urban Land Institute study process which is coming up," added Doug Swift, the developer of Buffalo Riverworks, who has joined Stinson in the Central Terminal project.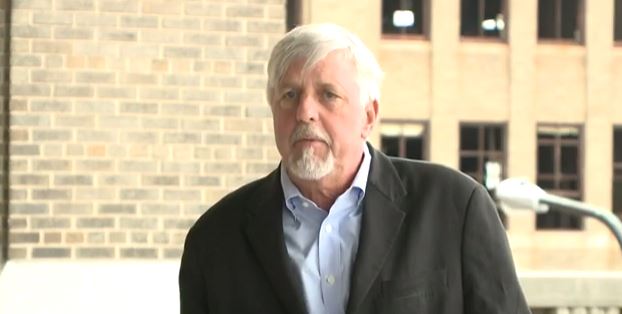 "We embrace that process…and we think it's an interesting opportunity to learn more and redefine our relationship going forward," Swift said.
There were no representatives of the CTRC at Stinson's news conference, and calls and emails to a spokesperson for the group seeking comment on Stinson's remarks remained unreturned as of late Tuesday afternoon.
"The City of Buffalo and the State of New York are splitting the cost of the Urban Land Institute study," noted Mayor Byron Brown. "And I don't believe Mr. Stinson will have any role in that," Brown said.
Stinson and his partners believe that certain members of the CTRC, which has controlled the building for nearly 20 years, were nervous about releasing control of the building to Stinson, which would have been the next step in the process.
"A critical step fort this building now is a transition of control," said Stinson. "We were weeks away from doing that…it was coming on the time that they were to hand over the keys…but that's a big step in all this."
Added Swift, " "they (CTRC) are now at the 11th hour of making that decision and I think they want to have some input from outside that may exceed the board's capacity."
"This is a big decision for them," said Stinson. "So we can understand why they might say, 'okay time out here…let's find a bunch of suits to endorse what we're doing, you know? "
By "suits" Stinson was referring to officials with Empire State Development and the city who are paying for the Urban Land Institute study.
He also expressed confidence that once the study is complete, it will point the CTRC back to his company and his plan.
"CTRC owns the building, but it's their mandate is to transfer it to a development group that can properly redevelop it. That would be us, and we're ready to move forward," he said.
Meanwhile, Stinson claims there are several more businesses interested in becoming part of the Central Terminal development, included but not limited to a subsidiary of Rich Products Corporation and film studio, whose operation would take up about half of the available space at Central Terminal.