BUFFALO, N.Y. – Most Buffalo police officers, according to the department's own data, will probably retire without ever having fired a gun at a suspect in the line of duty.
Police shootings, while perhaps the most pressing topic in American law enforcement right now, are exceedingly rare among members of the Buffalo Police Department. During the past five years, for example, Firearms Use reports reviewed by 2 On Your Side revealed fewer than two dozen instances where police officers targeted suspects with gunshots. An on-duty officer has not killed a suspect since 2012.
Even so, every time a law enforcement officer fires a weapon at a suspect, a fatality is possible. The consequences – as seen in, say, Ferguson or Charlotte – are not only potentially severe, but a matter of public interest. Therefore, with the heightened national attention on police conduct and use of force procedures, 2 On Your Side has attempted to track every single shot fired by Buffalo Police since 2011, utilizing the state's Freedom of Information Law to request department records otherwise shielded from the public.
Click here for a full list and synopsis of each police shooting involving suspects, sorted chronologically.
The records showed the following:
Only a small percentage of the Firearms Use reports since 2011 indicated an officer had fired a gun at an actual suspect. On 18 different occasions, police officers fired a total of at least 19 shots at suspects or vehicles, or during routine patrol in unspecified circumstances. Many of the situations involved armed suspects or suspects wanted for felonies. Some reports, however, do not specify whether the suspect was armed with a weapon.
The rest of the Firearms Use reports involved officers firing their guns at animals in the line of duty, an issue 2 On Your Side has previously investigated in two separate reports from 2014 and 2015. Buffalo Police have now shot 116 dogs since 2011, killing more than three-quarters of those dogs, according to reports compiled over the course of three open records requests. The department began a video training program for animal encounters in late 2014, following 2 On Your Side's initial investigation, which has led to a dramatic decrease in the frequency of incidents. However, Buffalo Police officers continue to shoot dogs at a pace of about one per month. According to Lt. Jeff Rinaldo, the department is still in the process of training every officer for dog encounters. So far, more than half of the department's officers have received that training.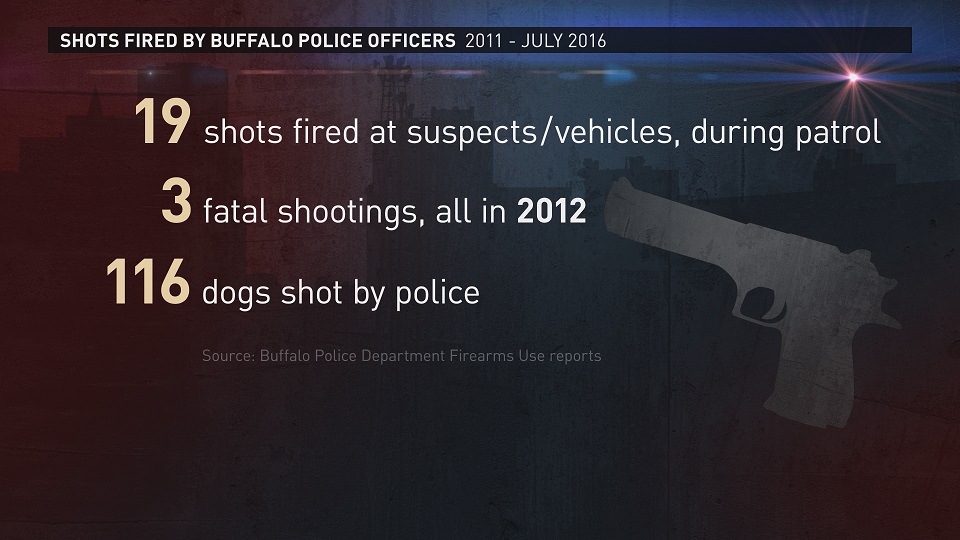 The Buffalo Police Department has rarely, if ever, voluntarily released information to the public about officer-involved shootings of dogs or other animals. The department has often released information about officer-involved shootings of suspects, particularly in high-profile cases, but the Firearms Use reports bring incidents to light that had never been widely publicized.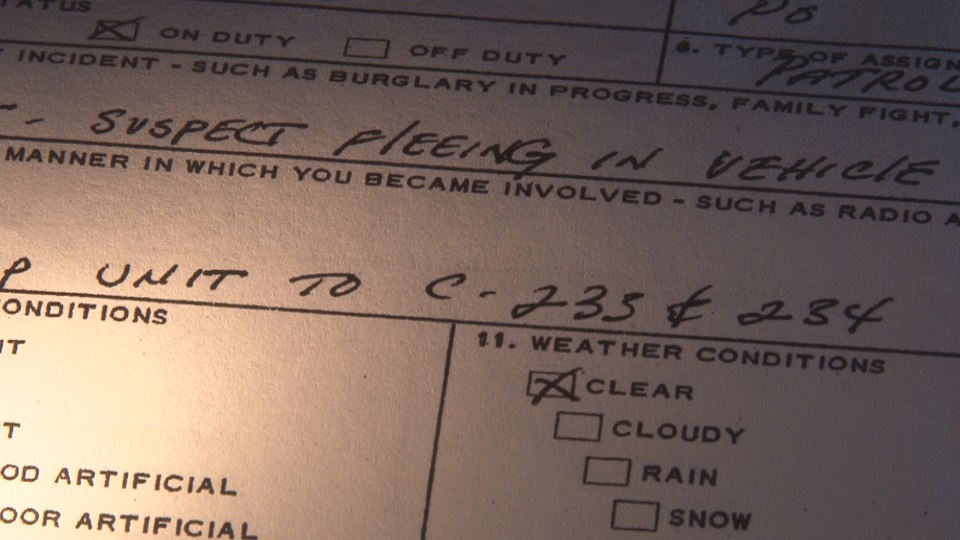 On Feb. 28, 2015, for instance, an officer filed a report after assisting on a domestic call on the East Side, just south of Bailey and Genesee. According to that Firearms Use report, the officer fired one shot at the "suspect fleeing in a vehicle," after being implicated in an assault case. There was no protective cover, the officer wrote, but the shot was necessary to "protect self." It's unclear if the suspect had a weapon, but under the section asking what type of weapon the opponent used, the officer wrote, "none."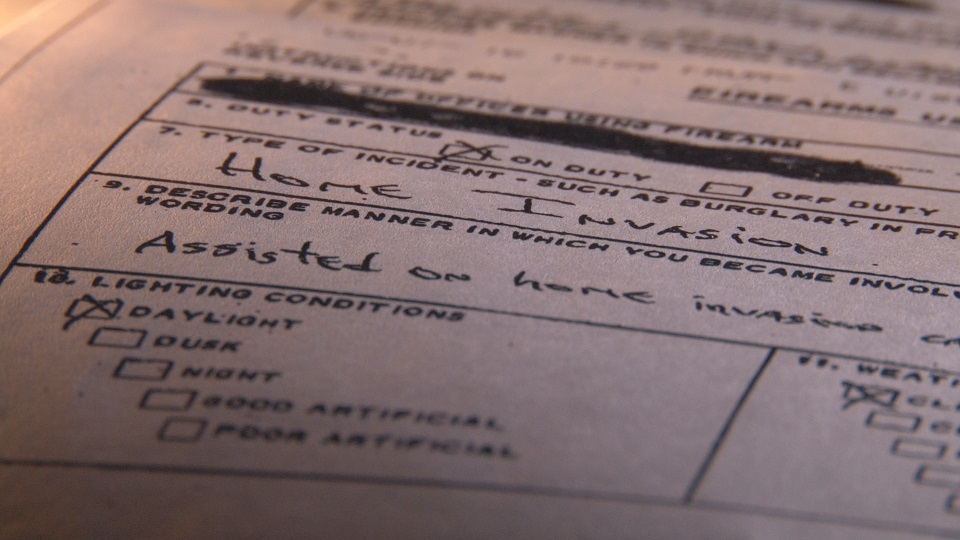 On June 6, 2016, police did publicize the fact that a suspect had opened fire on an officer after a foot chase in the University District. However, the information distributed to the press never mentioned the fact that an officer also returned fire, shooting a round at a suspect from 25 feet away. That officer, who was responding to an armed home invasion call, indicated in the Firearms Use report that the shot was fired in a backyard. The officer did not have time to "sight and aim," according to the report, but a fence did provide protective cover. The suspect was not wounded.
The collection of Firearms Use reports also reveals new details about previously reported police shootings, demonstrating the dangerous nature of the job. On Sept. 8, 2015, police responded to California Street on the city's West Side. "Male caller said there is a home invasion robbery going on," the report claims. According to that report, the officer critically wounded the armed suspect, firing one round from approximately 30 feet away. Buffalo Police immediately notified the public following this officer-involved shooting.
Some reports provided only vague details, like on Nov. 17, 2012, when an officer simply wrote that one shot was discharged at 1:50 p.m. near Niagara and Forest on the West Side. Similarly, on June 16, 2012, an officer only wrote that one shot was discharged while exiting a patrol vehicle at an unknown address.
The full stack of Firearms Use reports, however, may be somewhat incomplete. Certain cases, like the shooting of 17-year-old Wilson Morales in 2012, do not appear in the records provided by police. 2 On Your Side also requested all Firearms Use reports from July 20 through Oct. 2016, but an officer in charge of records at the department said it has not yet filed any reports during that time period.
2 On Your Side had scheduled an interview with Buffalo Police this week, but a department spokesperson abruptly canceled the interview in objection to our partner organization Investigative Post's story about the use of force training in the department.
However, the Firearms Use reports alone provide some insight into police shootings in Buffalo, even though the data is extremely difficult to place into a national context. It's nearly impossible to track these police shootings across the country or to compare data between cities, due to the lack of a national database. Some departments, like the Dallas Police Department, Cincinnati Police Department and Philadelphia Police Department, have started publishing details of their officer-involved shooting reports online. The Washington Post has also attempted to log every police shooting in the United States, relying on public information and media reports.
Just this month, the Federal Bureau of Investigation announced a pilot program to finally develop an online database of police shootings, starting in 2017.
Adam Cohen, the Special Agent in Charge of the FBI's Buffalo Office, said the agency will roll out the program in phases.
It will begin by tracking data from federal agencies before moving toward select states and local law enforcement. Eventually, the FBI hopes it can create a full national database for the public to view.
By law, agencies already must report fatal encounters with police, but the pilot program will now track non-fatal encounters and instances of firearms discharges with suspects as well. It will also initiate the process of collecting other use of force data from law enforcement involving the use of Tasers, batons or other blunt force interactions with suspects.
"There has not been a good reporting mechanism for the number of incidents," Cohen said, "so the big challenge is to try to get a good number so we know where we're starting."
It could take several years for the FBI to study meaningful data, Cohen said.
But once that data is collected, it could reveal trends in police shootings by race, gender, socioeconomic status or other demographics.
"In light of recent events, it's important for the Department of Justice and the FBI to really understand what issues are out there, so we can begin to address those issues," Cohen said. "We don't have a way to understand, 'is there a problem? And what is the scope of that problem?' We need the data, in order to come to some conclusions about what is taking place. And then come up with solutions to address any problems that are found."
Photojournalists Dave Harrington and Franco Ardito contributed to this report.