Carl Paladino is out.
Thursday, a ruling from State Education Commissioner MaryEllen Elia came down. It orders
Paladino "removed from the office of member of the Board of Education of the City School
District of the city of Buffalo."
The twice-elected Paladino has frequently made news with the sometimes outlandish
things that he has said. His ouster from the board centers on something he wrote.
Paladino authored an article for Artvoice. In the lengthy piece, Paladino disclosed a
conversation which happened in behind closed-doors, executive session at a board meeting
last October.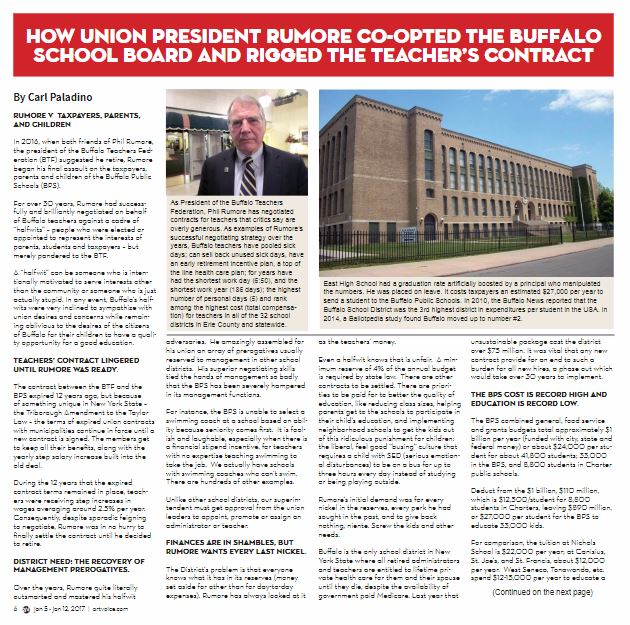 The article detailed at least a portion of a conversation about a possible teachers strike,
while contract negotiations were on-going with the Buffalo Teachers Federation.
Paladino chronicle a back-and-forth about what he considered a strong desire by
threat was non-existent.
During hearings held in June, witnesses verified Paladino's depiction of the conversation
was accurate.
Of the ten allegations filed against Paladino in the petition to remove him from office, this
was the only one that stuck.
Elia's written opinion states, the Artvoice disclosure of that conversation "revealed (a)
potential vulnerability" of Cash which could hamper future negotiations. Such disclosures of
confidential information during executive sessions are violations of state law.
This substantially is the reason for Paladino's ouster.
Former Chancellor of the NYS Board of Regents, Robert Bennett, says while Elia is likely
technically correct in her ruling, he says leaks of executive session discussions happen
regularly.
"The rule we lived by was that when you call an executive session, the understanding was that in
time you're supposed to say what you did in executive session," Bennett said.
Bennett calls the removal of Paladino on an executive session breech a "very weak
standard".