BUFFALO, N.Y. - At first glance, the building at 155 Chandler Street in Black Rock looks like a lost cause.
Graffiti covers the exterior. The roof has partly collapsed, windows have shattered, and much of the structure remains charred from a fire that tore through the structure more than a decade ago. This place was once an impressive manufacturing facility at the turn of the 20th century, but those days have long since passed.
Photos: Old Black Rock Factory transformation
Photos of an old Black Rock factory in Buffalo that will soon be transformed into a 21st century technology hub. (WGRZ/Franco Ardito)
Photos of an old Black Rock factory in Buffalo that will soon be transformed into a 21st century technology hub. (WGRZ/Franco Ardito)
Rocco Termini, a prominent Western New York developer with Signature Development, is probably one of the first people to have even stepped inside 155 Chandler since the fire in the mid-2000s.
"Most people that walk in here," Termini said, "think I'm crazy."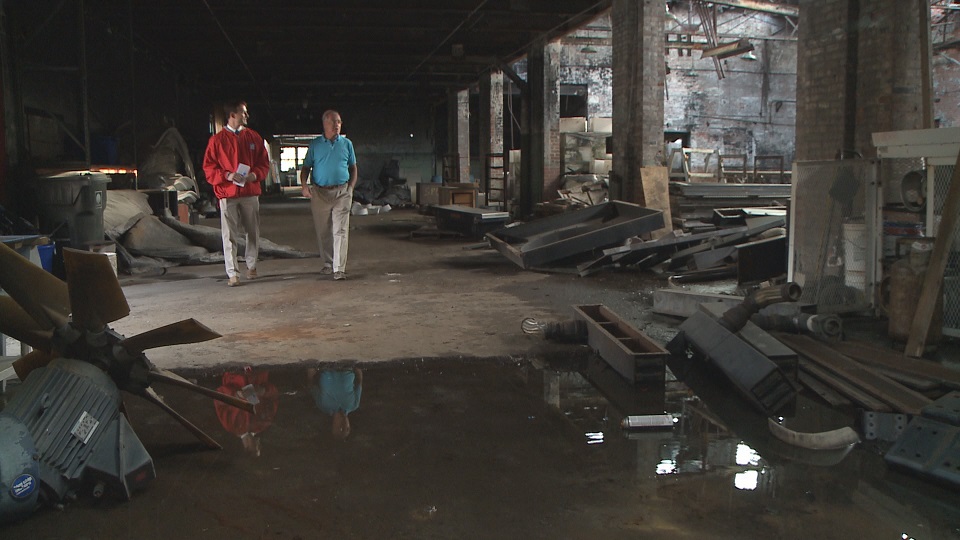 Undaunted by the building's poor condition, Termini received approval last week from the Buffalo Planning Board to move forward with a $13 million renovation, which will transform this old factory building into a high-tech startup hub. When the facility opens in June 2017, Termini will rent the property to multiple 21st-century technology companies, including Utilant, which develops software for major insurance companies throughout the world.
The remodeling project will reflect its tenants by including a courtyard with a swimming pool and volleyball courts.
"This building will be specifically designed for people in the software industry," Termini said. "They're used to 'Google-ilzed' space, they're used to the West Coast, where they have all these amenities."
On adjacent properties, Termini plans to add a brewery and possibly apartments, as well as parking spaces.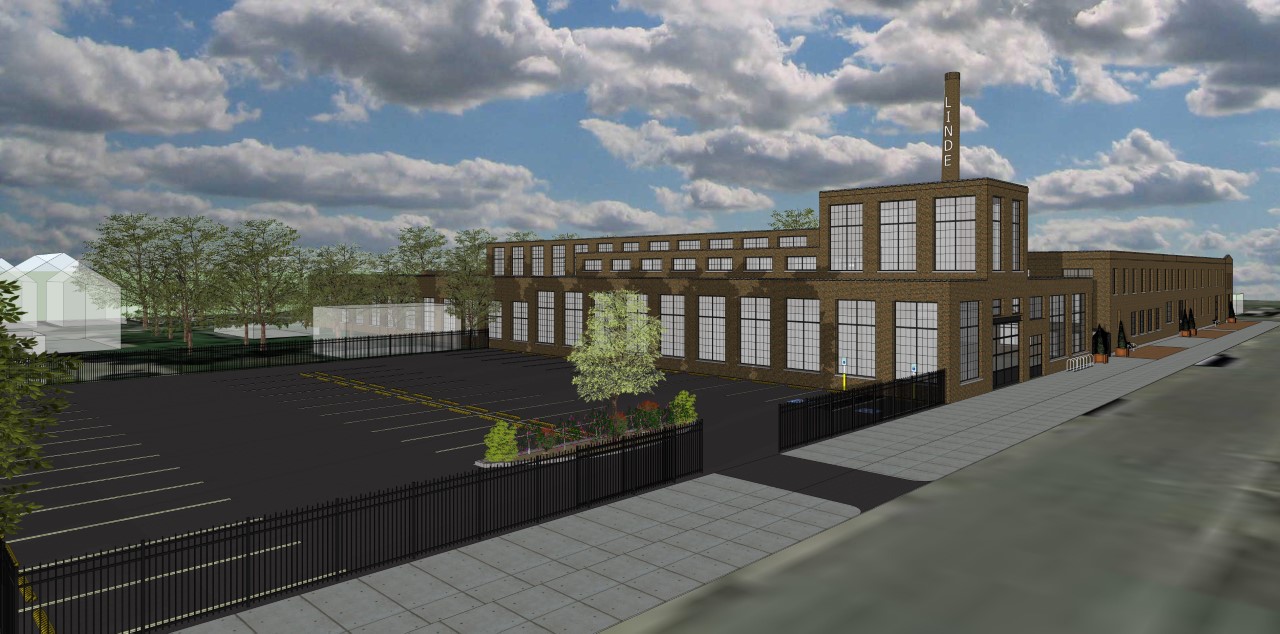 "I think this is really going to be a catalyst for developing this whole area into a business incubator street," Termini said, noting that Chandler Street is in close proximity to Elmwood Avenue, Wegmans and Buffalo State College. "People don't even know this block exists. People who have lived in Buffalo -- people who live four blocks away -- don't even know this street exists!"
The 155 Chandler Street building originally opened in 1902 as a facility for Linde Air, which manufactured industrial gasses (Linde was eventually bought by Praxair). The name "Linde" is still printed on the chimney, a visible reminder of the past. On the front of the building, the words "Inkwell Printing" and "G & R Machinery & Equipment Company" still hang from signs, too, even though those companies moved out years ago.
Although the building has a rich past, it's time to enter the next generation.
"We're going to be going from manufacturing industrial gasses," Termini said, "to manufacturing intellectual property."
Kevin Boyle has lived around the corner in Black Rock for eight years, and he's never seen any movement at 155 Chandler-- or most of the other structures on the street, for that matter. The project could bring some life to his neighborhood, he said.
"There's a lot of open area here and a lot of great buildings," Boyle said. "I don't know why they're not utilized."
However, a few small businesses have moved to Chandler recently, and the street appears poised to build on the development of Amherst Street, Black Rock and North Buffalo. This week, the Western Scajaquada Coalition will unveil a $150 million plan for the redevelopment of Black Rock Harbor, which spans the area roughly from Forest Avenue to Amherst Street along Tonawanda Street.
"Bringing new businesses to this area has been fantastic," Boyle said, "and with Amherst Street being developed, this seems like a logical choice."
Termini said he's applied to add 155 Chandler Street building to the National Register of Historic Places. As a part of his renovation project, he will also push for inclusion in the state's START-UP NY program.
Construction will begin in December. Within six months, the transformation will be complete, and people like Kevin Boyle will no longer have to walk by an empty building on their way home in Black Rock.