BUFFALO, N.Y. — Chris Greco spent the past four nights in Las Vegas with his wife, celebrating their wedding anniversary over a long getaway weekend. On the final night of their trip, they attended the Michael Jackson ONE show by the world-famous Cirque du Soleil.
It was performed at the Mandalay Bay Resort on the south end of the Las Vegas Strip.
The show stopped abruptly after about an hour. Greco, a Williamsville native, had no clue what was happening. Neither did anyone else in the audience. SWAT officers then stormed the room, and suddenly, it became apparent that an active shooter situation was unfolding somewhere in the building. Furiously scanning social media on their phones, they would all soon learn a man was opening fire from the 32nd floor of the Mandalay Bay hotel.
Greco was stuck in the theater for almost three hours on lockdown with the rest of the Cirque du Soleil audience. One woman went into a seizure; another appeared on the verge of a heart attack.
"Everyone says it all the time, it's never gonna happen to you. All the sudden, it's there. You're there," Greco said, moments after stepping off a plane at the Buffalo Niagara International Airport on Monday afternoon. "The most, scariest moment."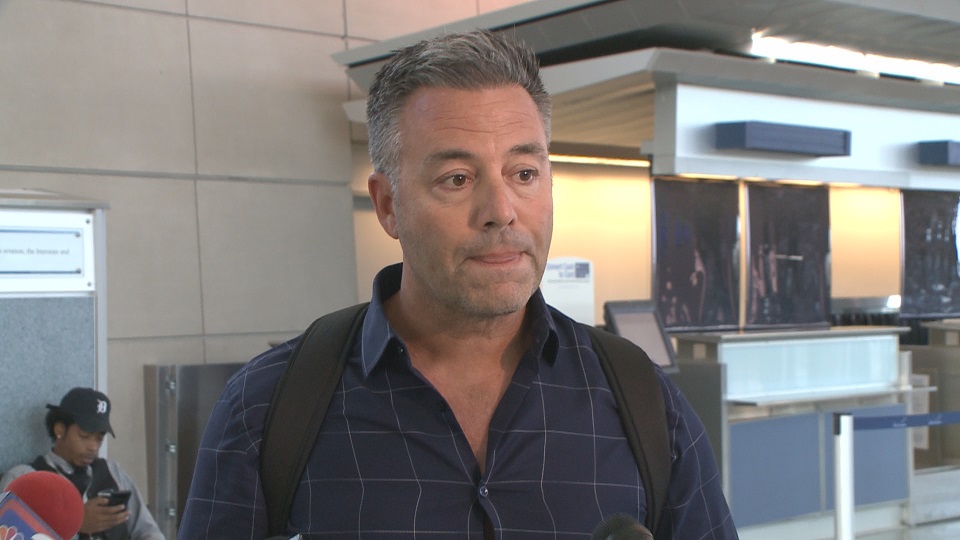 Greco was among a group of at least two dozen people flying from Las Vegas to Buffalo late Monday afternoon. As they walked into the concourse of the airport, many of the passengers could barely speak because they were so overcome with emotion. Some said they weren't anywhere near the shooting but heard people talking about it on the plane. Others say they were nearby, somewhere within a few miles of Mandalay Bay, and could not believe they were witnessing such a horrific scene with their own two eyes.
Greco was by far the closest to the shooting.
As he arrived on the ground in his hometown, he immediately recognized and appreciated his safety.
"Completely blessed beyond belief. We were praying," Greco said. "It was incredible."
Scott Glenn, a Lewiston native, was also on that Southwest flight from Las Vegas to Buffalo. He'd also taken a long weekend with his wife, but they were staying in a hotel on the other end of the Las Vegas strip.
They learned about the shooting by watching the 11 p.m. local newscast.
"I could see out my window, and just the massive amount of police start to come to the scene," Glenn said. "I could see it in the distance, how they just shut down the strip. It was a pretty amazing thing to watch."
When he woke up on Monday morning, Glenn expected long lines at the airport in Las Vegas. There was a heavy police presence, but he didn't experience any major delays. Still, there was an understandably somber tone resonating throughout the airport as he checked into his flight and navigated security.
On the way to the airport, he'd even heard a first-hand account of the shooting from his taxi driver, who was at the outdoor concert on Sunday night.
"Just awful, awful, hearing the stories from everyone," Glenn said, "just an awful situation."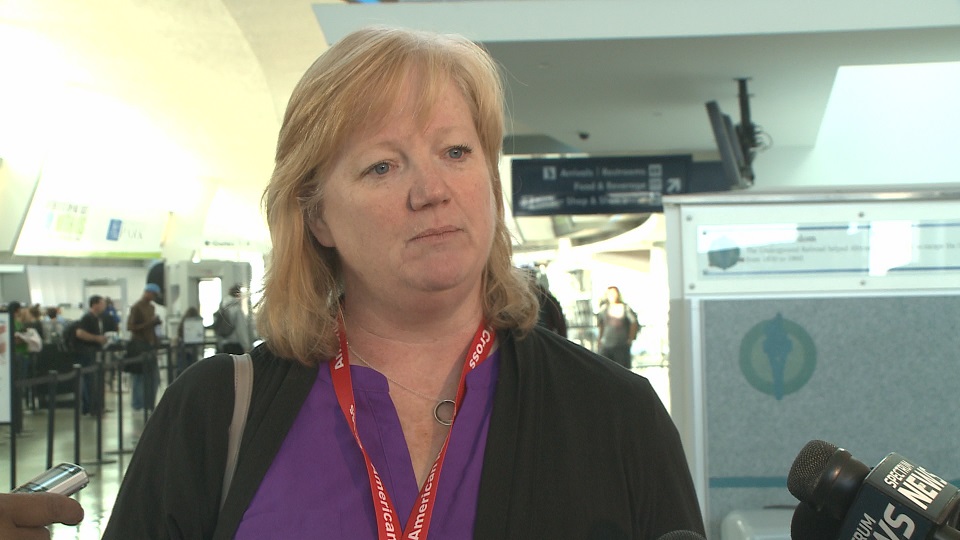 Just as he was arriving home, local Red Cross volunteer Tara Hughes of Kenmore was heading in the opposite direction. She arrived at the airport Monday afternoon to catch a flight to Las Vegas, where she'll help lead a family assistance center alongside at least 50 other Red Cross volunteers (that group will include another Kenmore native, Peggy McGee Smith).
Working directly with the city of Las Vegas, the family assistance center will provide mental health and spiritual support to anyone who needs it.
Hughes has three decades of experience as a trauma therapist and a licensed clinical social worker. Previously, she has assisted efforts in the aftermath of the Sandy Hook shooting, the Pulse nightclub shooting and the Boston Marathon bombing.
"I come at this with a lot of experience, so I know what to expect, and I know what I'm going to see out there. Being able to prepare my staff once I get out there is part of my challenge," Hughes said. "It can be difficult."
With so many victims — and so many thousands of witnesses who endured the first-hand trauma in Las Vegas last night — there will be a lot of work to do and a lot of support to provide.
And the scars can't be erased even for people like Scott Glenn, who didn't witness the shooting directly but was close enough to understand how lucky he was to leave Las Vegas safely.
"I can't wait to go home and see my kids," Glenn said, "and get back to normal Buffalo life."