The two North Tonawanda High School students, captured in the now infamous Instagram video showing one punching the other repeatedly, are currently suspended from school because of their actions during and leading up to this.
"That is how it works," admits Sarah Stone, the older sister of Drew Stone who was punched repeatedly. "That's how you learn from your mistakes. But to not offer counseling with their repercussions, you're just sending a message, 'Here...here you go. Have your five days off of school, and we're done with you."
Drew Stone suffered a concussion in the confrontation. Sarah Stone accepts that her brother has been in his fair share of trouble.
"It's just like a cycle that keeps happening and happening and happening. Eventually, when you've been bullied for so long, you become the bully," she said.
But Sarah tells Channel 2 more needs to be done to address the bigger problem.
"It isn't just a handful of bullies. It isn't just my brother. It isn't just the kid that hit my brother. It's a culture. It's a mentality that these kids have. Now, this poor kid (referring to the student who hit her brother) is going to be bullied. He is being bullied by not only children but by adults. Now school for him is going to be torment. What are they going to do to change that? How can you expect the parents to do it all when you do have them 8 hours a day, too? It's a community issue."
In two official statements following the incident, the North Tonawanda School District stated they are "working with the families to offer support and ensure this does not happen again."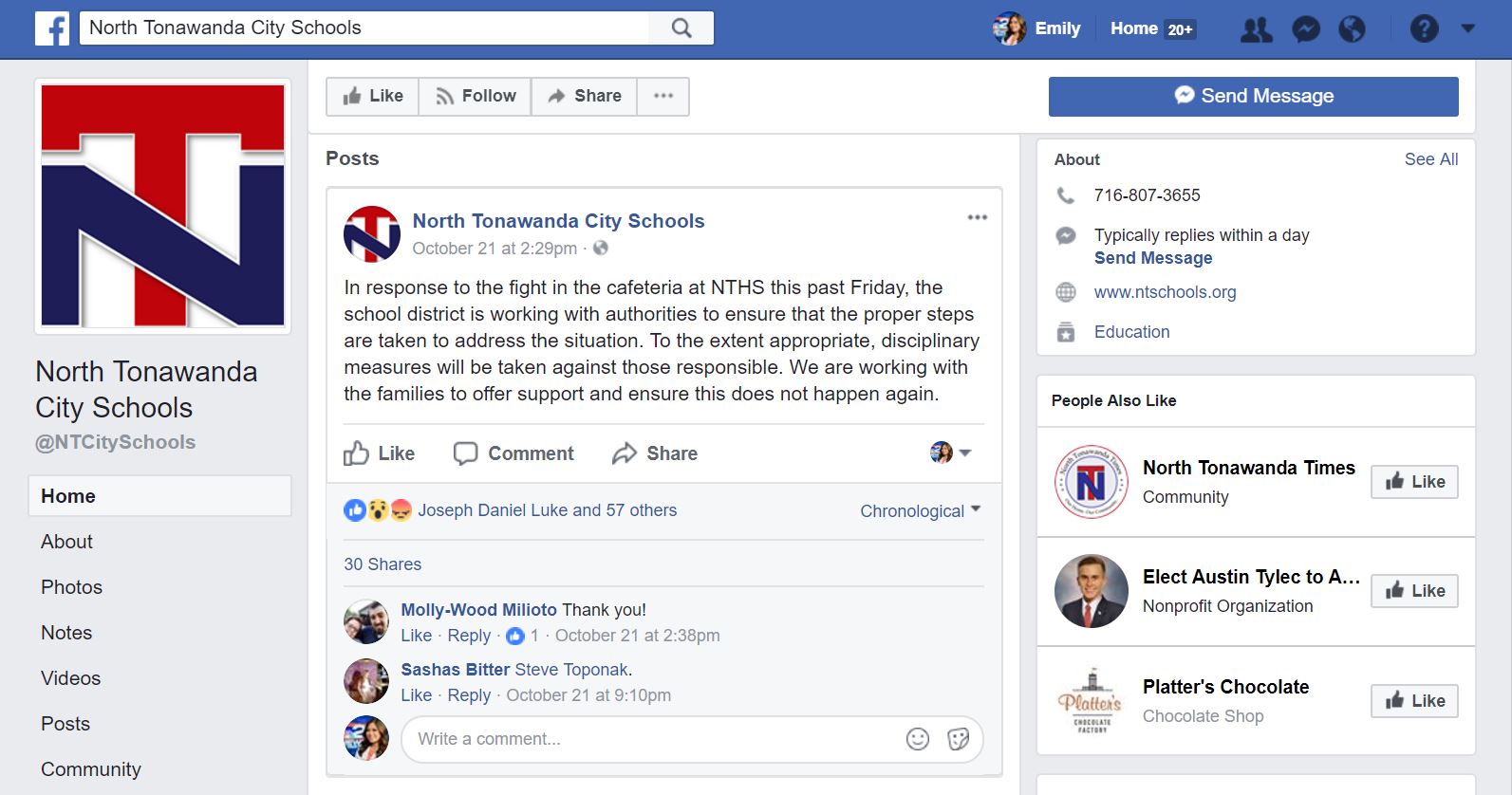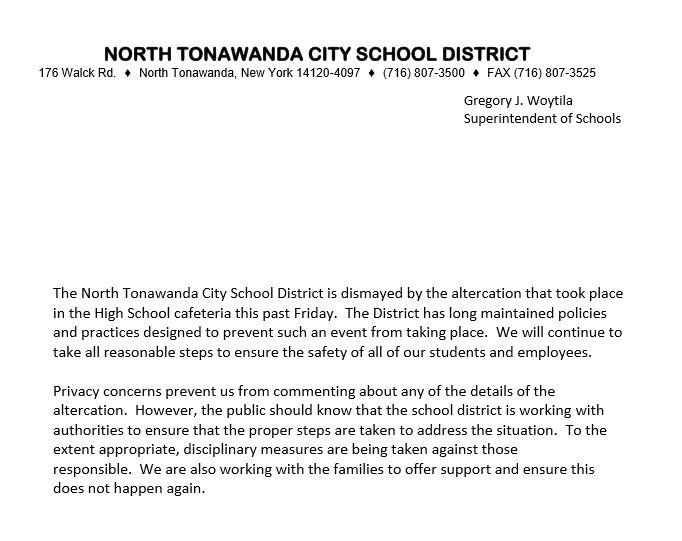 Sarah claims that is far from the truth.
"They haven't gotten any counseling," she said. "They haven't had the school reach out to them and say, 'Hey, we're here if you would like to come in, let's talk about what happened.' Nobody is giving them what they need, and they just want to sweep it under the rug, and we just going to keep doing this same cycle, over and over and over."
2 On Your Side reached out to Superintendent Greg Woytila and requested an on-camera interview for the third time this week. For the third time, he turned us down.

He did, however, give an updated official statement which reads a bit differently from its prior versions.

It states, "We will continue to work with all involved, including the authorities, to ensure respect and civility between peers is paramount."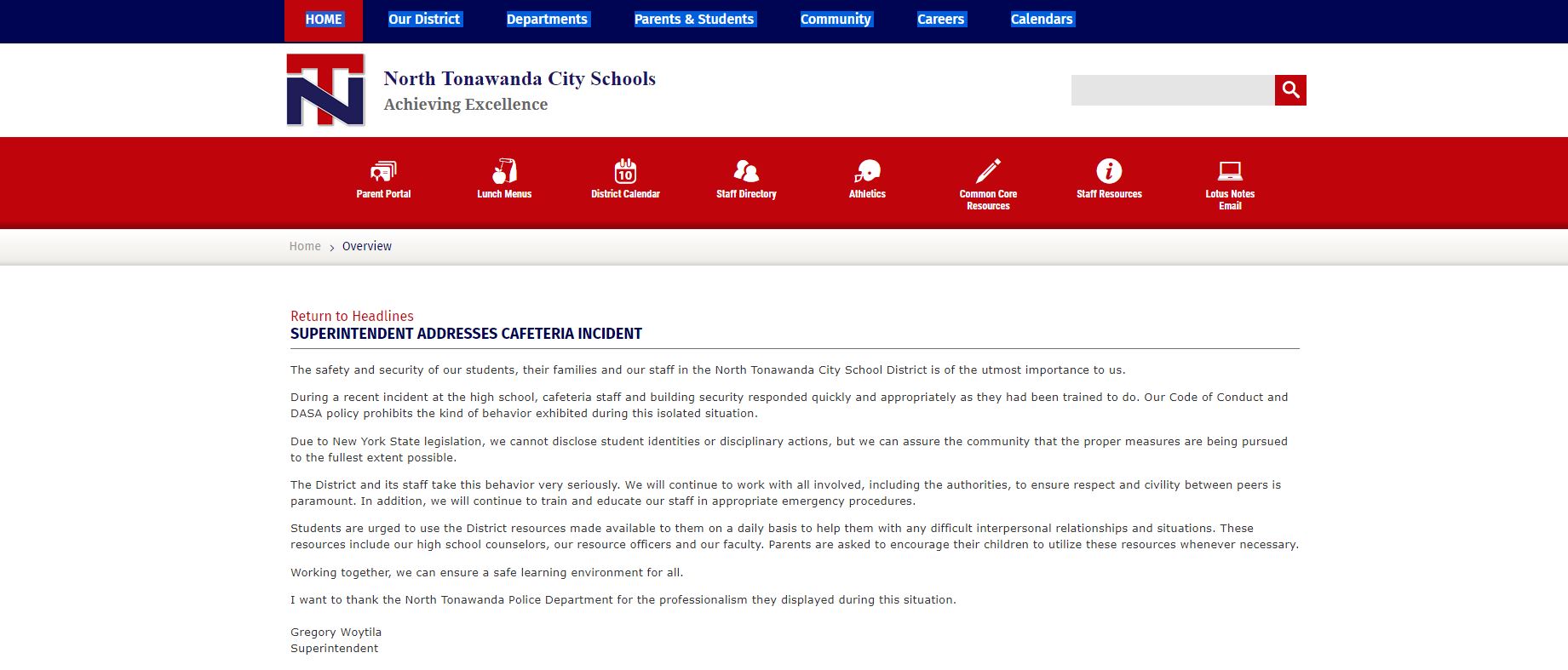 But Sarah is worried about this, especially given the police chief's response earlier this week, in which he stated, "We have nothing. We're done with it as far as I'm concerned."
"They don't want to deal with it," Sarah Stone said. "What happens if the aggressor gets beat up now? Is the police chief going to look at him and go, 'Oh, well you instigated it before, this is what you deserve.' I mean, that's the message he's sending. How the police handle them, and how they deal with them, just makes it worse, I think."
A Superintendent's Hearing was scheduled for Thursday, which apparently must happen within five days of an incident.

Earlier this week, Woytila told Channel 2 it involves not just the Superintendent, the school district attorney, and witnesses, but the two students and their parents, as well.

The Stone family claims they were never invited to participate.
"The school is a place that has our children eight hours a day...for what 165 days a year?" said Sarah, exasperated. "It is a place that they should feel safe. A place where they should learn a lot of these skills. And it's just as much a parent issue, as it is a school and superintendent and school board and administrative issue...as it is a police issue. We all together as a community need to address it and figure out a way that we can give these kids an outlet to learn how to deal with it."